Ok, se avete cliccato su questo link è perché siete alla ricerca di una buona motivazione per iniziare Secrets and Lies.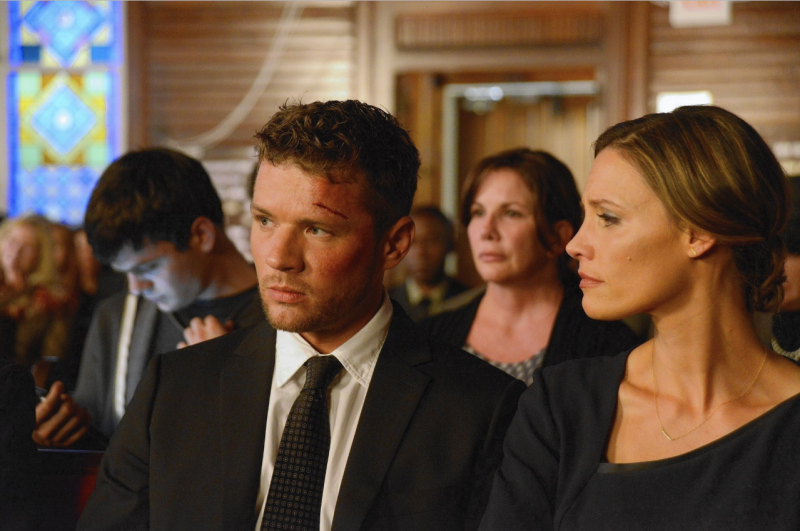 Sappiate che, di solito, valuto le Serie Tv che guardo in base alla quantità di patatine (o Pop Corn, oppure una qualsiasi altra golosità normalmente vietata dall'associazione nutrizionisti italiani) che mi costringono ad ingurgitare.
Mi spiego meglio, più una Serie mi prende, a prescindere dal genere, e più sono portato a dover sgranocchiare qualcosa per mantenere alta la concentrazione e non perdermi nessun passaggio/filo logico/ragionamento. Per fare un esempio, a causa delle elucubrazioni di Frank Underwood il display della mia bilancia ha iniziato a girare vorticosamente stile Ruota della fortuna. Ed è elettronico. Non siamo qui però per parlare dei miei disturbi alimentari. In una personalissima classifica che va da "Mambo Kids dell'Eurospin" a "Potatischips panna acida e cipolla dell'Ikea" (fidatevi, non esiste nulla di più buono nel campo degli snack ipercalorici) Secrets and Lies arriva perlomeno al livello "San Carlo Rustiche", il che la rende appetibile anche per palati più o meno fini, alla Carlo Cracco diciamo, ma senza esagerare. Non è una serie da gourmet, però propone diverse portate capaci di lasciarti il desiderio di scoprire come diamine andrà a finire.
Stiamo parlando della prima stagione, e anche se la Serie è tra quelle più a rischio cancellazione nel 2017 il primo capitolo merita di essere visto per diversi motivi. Prima però riavvolgiamo il nastro e cerchiamo di inquadrare la trama a grandi linee e senza spoileroni, che son qui per convincervi ad aprire il pacch a guardarla, mica a rovinarvela.
Allora, tutto è ambientato in uno di quei classici quartieri della medio/alta borghesia americana, di quelli dove la gente lavora quando le pare e piace ma può permettersi ville a ventordici piani con dependance e un macchinone pro capite parcheggiato sul vialetto del garage (mai nel garage, sempre nel vialetto). Una mattina, il padre di famiglia Ben Crawford è nel bosco che circonda il quartiere a fare jogging, quando si imbatte in una scena alquanto macabra: trova il corpo senza vita di Tom, il figlioletto di 5 anni della vicina di casa, Jess. Corre a lanciare l'allarme, ma ci sono un paio di problemi: non si ricorda nulla della sera prima – passata a far bagordi – e la detective incaricata di indagare, la squisita Andrea DoloresUmbridgeCrudeliadeMon Cornell, fin dal secondo zero si convince che sia lui il colpevole.

Secrets and Lies prosegue con 10 puntate all'insegna dei colpi di scena, dove chiunque abbia mai varcato le porte di questa sorta di Wisteria Lane viene sospettato/indagato/accusato di aver commesso il delitto. Da Ben ai vicini, passando per la sua famiglia fino ad arrivare al fattorino di Amazon, tutti sono potenziali assassini, in un turbinio di rivelazioni che conducono alla sconvolgente verità (io ero convinto che fosse stato il Colonnello Mustard in veranda con la spranga, ma a Cluedo sono sempre stato una chiavica).
Se quello che avete letto fino ad ora non vi ha ingolosito, ecco i 5 motivi per cui vale la pena di vedere Secrets and Lies.
È UNA SERIE DAI CONFINI BEN PRECISI
Sia spaziali che temporali. Ho adorato True Detective, e anche se questo prodotto non gli si avvicina nemmeno per sbaglio, ne raccoglie comunque qualche spunto interessante. La storia inizia e finisce nell'arco delle 10 puntate, mentre nella seconda stagione (andata recentemente in onda su Rai 4) si parla di tutt'altro, con solo la detective Cornell a fare da trait d'union tra le due. Non ti costringe a rimanere in attesa trepidante di un nuovo capitolo per scoprire dove intende andare a parare, ma ti strizza l'occhio promettendoti che, se questo è ciò che ti piace, avrai nuovo pane per i tuoi denti.
Ho parlato anche di confini spaziali. Tutto ruota intorno ad un isolato, una Las Vegas del terrore dove quello che succede tra quelle quattro case rimane in quelle quattro case. Segreti e bugie (come da titolo), passati turbolenti e antiche ostilità, tutto condensato in pochi metri quadri. Una storia alla Agatha Christie insomma, che ti mette tutte le carte in tavola spingendoti ad indagare dal divano, arricciandoti con le mani unte di Potatischips i baffi e facendo lavorare le sceluline grigie. Tutto molto figo!
IL PROTAGONISTA DI SECRETS AND LIES: MATTHEW RYAN PHILIPPE
A proposito di figo. Forse vi ricorderete di lui per capisaldi del filone thriller tardo adolescenziale come "So cosa hai fatto (l'estate scorsa)" e "Cruel Intentions". È facile intuire a quale pubblico la sua tartaruga addominale d'ordinanza vada a puntare. Ammetto di aver sospettato in più di un'occasione che la mia ragazza fosse tanto ansiosa di vedere un'altra puntata di Secrets and Lies più per lui che per la storia, ma ho poche prove.
Al di là di qualche forzatura (tipo la figlia maggiore che sembra più vecchia di lui), il personaggio è abbastanza riuscito. Uno di quegli eroi maledetti con molte macchie e qualche paura che tanto piacciono alle ragazze (appunto). Ama la sua famiglia almeno quanto quelle degli altri, e per difenderla fa tante di quelle castronerie da riempire il "Manuale dell'imperfetto innocente".
Ma lo è davvero, innocente? Mah…
LA PERSONA PIÙ CATTIVA DEL MONDO, ANDREA CORNELL
Avete presente lo stereotipo della poliziotta dura e inflessibile, costretta ad essere ancora più stro severa per rimanere a galla in un mondo schifosamente maschilista? Eccovela servita!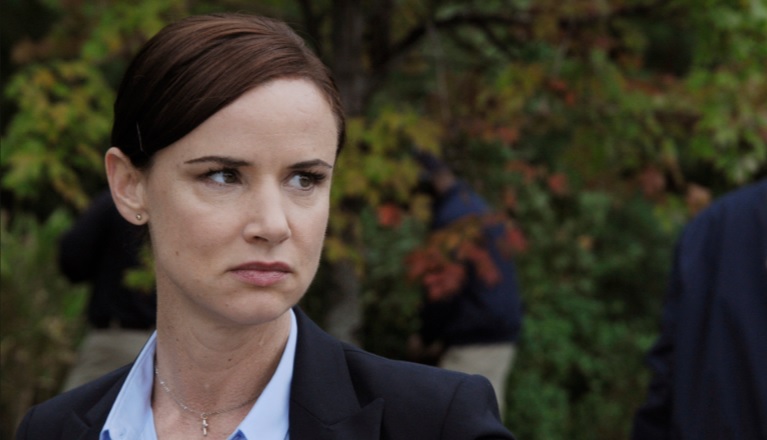 Una stile The Closer, per intenderci, ed in effetti Juliette Lewis assomiglia molto da vicino a Brenda Johnson, solo senza muscolo cardiaco nel petto. Di lei si scoprono le cose peggiori, ma la prima che balza all'occhio è il corso da Ninja che deve aver frequentato in un viaggio nel paese del Sol Levante. Appare all'improvviso, quando meno te lo aspetti, e ti osserva.
Ricordatelo quando aprirai la prossima finestra in incognito su Chrome.
EMOZIONI EMOZIONANTI
I protagonisti sono molto sentimentali, forse anche troppo. Ogni cosa è vissuta con un'intensità ai limiti della Soap, però tutto sommato non è fastidioso, anzi. L'angoscia di Ben diventa l'ansia di chi si immedesima in lui, consapevole dei propri limiti di uomo ma altrettanto certo di star pagando ad un prezzo troppo alto gli errori commessi in passato.
La relazione con la figlia minore farebbe scendere una lacrimuccia anche al Robin Williams di Mrs Doubtfire; la moglie è meno empatica, passa per quella odiosa ma tutto sommato finisci col capirla, dai, almeno un pochino.
I PLOT TWIST
Le vere star della scena però sono loro: signore e signori, un bell'applauso per i colpi di scena. Alla terza puntata hai già perso il conto delle rivelazioni e degli stravolgimenti, succede davvero di tutto e di più. Ci sono più scheletri nell'armadio da quelle parti che in casa di Jeffrey Dahmer, ma la sceneggiatura tutto sommato rimane in piedi lo stesso senza diventare eccessivamente assurda.
Secrets and Lies è comunque una Serie Tv da non prendere troppo sul serio, anche se credo che quello fosse l'intento di chi l'ha scritta, un piacevole passatempo in vista di ben altre occupazioni seriali diciamo. Ma in fin dei conti ne vale davvero la pena.
In conclusione, un solo monito mi sento di lasciare a chi decidesse di lanciarsi nella sua visione:
ragazzi/e, non fidatevi davvero di NESSUNO.
Nessuno tranne me, quando vi consiglio le Potatischips.
Una bomba, davvero.
VUOI ALTRI CONSIGLI SERIALI? LEGGI ANCHE: