Per la rubrica #ConsigliSeriali, oggi vorremmo trattare di The Get Down, una serie di Netflix che parla di sogni, di musica, di libertà e di identità ma sopratutto di espressioni della propria condizione di poveri, emarginati, ghettizzati.
The Get Down è infatti ambientata nel Bronx – nel ghetto – di New York alla fine degli anni '70 ed ha come protagonisti dei ragazzi comuni con in comune la speranza di una vita migliore. Incontriamo presto Ezekiel Figuero (Justice Smith), metà nero, metà portoricano, un personaggio costantemente diviso, prima tra com'è e come si mostra, poi tra il suo amore per Mylene e quello per la musica e successivamente tra la possibilità di far carriera e quella di far musica, comunque rischiosa.
Infatti in questo ghetto, i sogni sono spesso distrutti, l'intelligenza derisa e le ali tarpate e le persone sanno che han solo l'un l'altro. È un luogo di perdizione in cui è scontato che finirai a fare il criminale, magari al Les Inferno – una discoteca, covo di gangster – è un luogo in cui le case vengono date alle fiamme per riscuotere i soldi dell'assicurazione, è un luogo in cui la povertà viene messa lontana da occhi indiscreti e circondata da una ferrovia invece che un muro, ed il treno è l'unica cosa che può fare il giro dei quartieri, dei territori, senza rischiare i propri averi o peggio, solo perché sei nella zona sbagliata.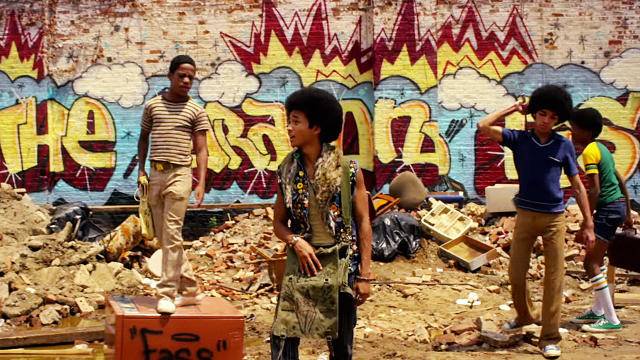 The Get Down riesce a introdurre diversi generi rimanerendo fedele al proprio concetto, senza storpiarli o perderli di vista, è un mix ben congegnato e sa dipingere una realtà complessa. Passa dal mondo della politica, rappresentato da Francisco "Papa Fuerte" Cruz, interpretato da Jimmy Smits (Miguel Prado di Dexter e Nero Padilla di Sons of Anarchy) un portoricano boricua (membri di famiglie risiedenti in Portorico da generazioni), al mondo della fede di suo fratello, il Pastore Ramon Cruz, interpretato da Giancarlo Esposito (Gus Fring di Breaking Bad). "Papa Fuerte" ha un progetto: vuole "provvedere alla sua gente" del ghetto, costruire per loro delle vere case e dargli una vita migliore. Ma vuole anche aiutare la figlia del fratello, il pastore oppressivo, sua nipote Mylene, a fare carriera con la sua voce angelica nel mondo della disco, e quindi ci scontreremo anche con il mondo delle case discografiche.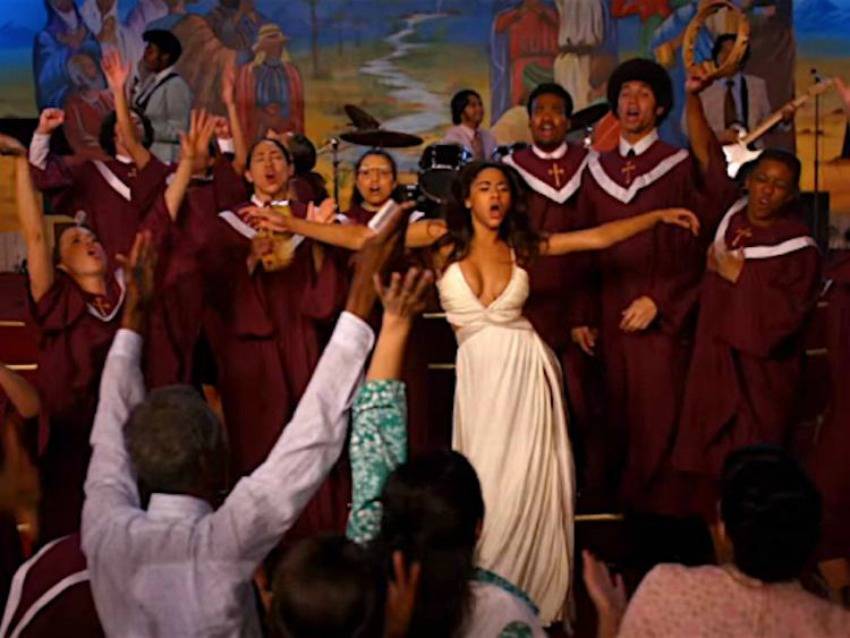 Seguendo Mylene (Herizen Guardiola) troviamo gli altri grossi elementi in gioco in questa serie; per farsi conoscere, lei va in un locale, il Les Inferno, per aver l'occasione di far sentire la propria voce a dei pezzi grossi. Facciamo un passo indietro. Questa Mylene è la stessa di cui è innamorato Ezekiel e per dimostrarglielo, lui riesce a rubare un vinile della sua canzone preferita, un disco raro, ma in quest'atto viene contrastato dall'enigmatico Shao 007, anche conosciuto come Shaolin Fantastic (Shameik Moore): un misterioso writer kung fu che fa parkour in giro per la città. Questo era stato mandato a recuperare il disco in missione dalla leggenda Grandmaster Flash, che si divide il ghetto con Kool Herc e Bambaataa e gli Zulu.
Ezekiel e Shao si incontrano di nuovo davanti al Les Inferno – Shao infatti lavora per Fat Ann, la capa dei criminali – e, dopo un acceso scontro iniziale, decidono di stringere un patto a seguito dell'eccellente parlantina del protagonista. Shaolin Fantastic lo fa entrare nel locale dove può raggiungere Mylene, e qui veniamo introdotti al mondo della disco di quegli anni. Una musica sgargiante come gli abiti indossati dai fan del genere, in un locale altrettanto colorato che nasconde però un sottofondo molto più oscuro.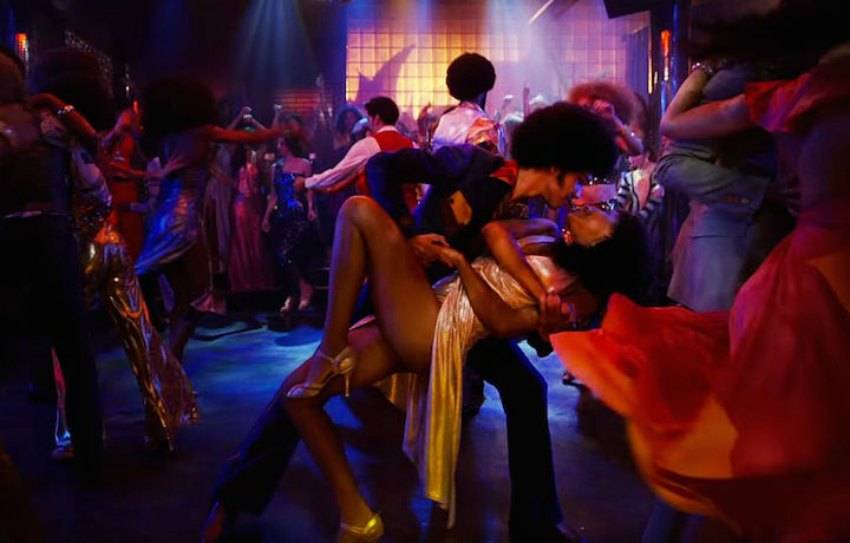 Nei locali di quel tipo, ma anche nell'industria discografica, in quegli anni girava tantissima cocaina, che è tra le altre cose, buona parte dei traffici dei gangster padroni del locale. E infatti, la serata viene proprio rovinata a causa dei loschi affari dei criminali.
Shaolin Fantastic però stava cercando un paroliere, un Wordsmith, un MC, e vedendo in Ezekiel una possibilità lo segue; inoltre il disco ce l'ha ancora il protagonista e Shao deve recuperarlo. Così lo va a cercare e lo trova insieme ai suoi amici: Marcus "Dizzee" Kipling (Jaden Smith, figlio di Will), un writer che disegna i titoli delle puntate sul treno, Ra-Ra Kipling, un ragazzo pieno di ottimi consigli e Boo-Boo, stranamente responsabile nella sua giovane età, tra loro fratelli. Li chiedono perché ci tiene tanto ad avere quel vinile e gli risponde "For the get down". Stupito che questi non sappiano di cosa sta parlando, li invita alla festa di Grandmaster Flash, dove si sentivano i primi Beat e quello che diventerà lo Scratch. Il maestro ha promesso a Shaolin di insegnargli a fare il DJ se fosse riuscito a portargli il disco e a procurarsi un MC. Ed è da questo gruppo di ragazzi che nascono i Get Down Brothers.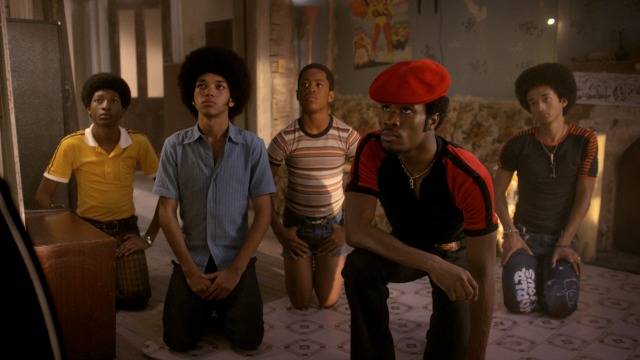 Tra l'altro Grandmaster Flash, quello vero, ha collaborato alla creazione di The Get Down, ovviamente concentrandosi sul suo personaggio e gli aspetti musicali. Anche il rapper Nas aiuta come produttore ed interpreta la parte di Ezekiel "da grande" che fa da introduzione ad ogni puntata, presentandola attraverso le rime, da sopra un palco ad un suo concerto, come se ogni episodio fosse una canzone. Oltre a queste leggende, anche Kurtis Blow è andato sul set ad aiutare i giovani attori ad imparare la storia del hip-hop, dove tutto ha avuto origine, per avere un contesto, un'ambientazione che ci ricorda "Notorious B.I.G." o "Straight Outta Compton".
Sono comunque tempi in cui il DJ era il vero protagonista della serata e lo si vedrà nel rapporto che ha con i compagni – in particolare Ezekiel – come ci ricorda la citazione:
"In order to fly a dj must trust his wings"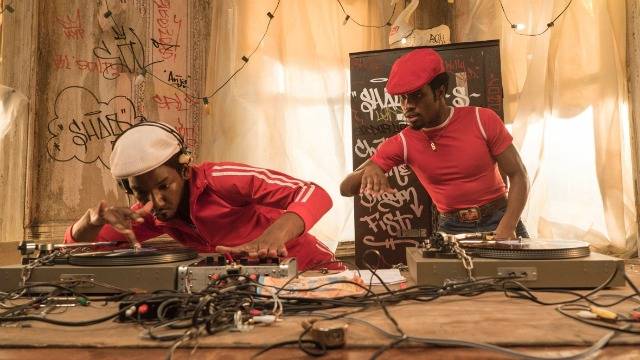 Il regista, Baz Luhrmann (conosciuto anche per "Il Grande Gatsby", "Romeo + Giulietta"), ha passato una decennio a sviluppare il concetto di The Get Down, ed è produttore esecutivo insieme a Shawn Ryan, Stephen Adley Guirgis, Catherine Martin, Thomas Kelly, Paul Watters e Marney Hochman. Luhrmann, come regista, si contraddistingue per l'uso assiduo del montaggio (con le scene dell'epoca) e di stacchi e animati movimenti della macchina da presa, modalità che in The Get Down sono particolarmente enfatizzate nei primi due episodi, diretti appunto da Baz, mentre nelle successive puntate le eccessività di Luhrmann che possono esaltare oppure essere indigeste, calano, in quanto occupava un ruolo meno primario. Queste, unite alla precisione dei dettagli e dei costumi insieme alle scenografie sgargianti – nel caso della disco – o decadenti nel caso del ghetto, dell'inizio del hip-hop – seguite da un'uso elegante e colorato della fotografia e della colonna sonora rendono questa serie coinvolgente e particolare, oltre ad evidenziare le contraddizioni del mondo trattato.
Purtroppo però è uscita solo metà stagione, vedremo come proseguirà in inverno, nel frattempo "Hope for a treasure".