Manca sempre meno al 5 aprile, data di debutto per la seconda stagione della serie tv Chilling Adventures of Sabrina, prodotta dall'azienda Netflix. Dopo il silenzio radio durato ben due mesi dallo speciale natalizio, A Midwinter's Tale, sono state rilasciate le prime immagini della seconda stagione. Immagini che lasciano intendere ciò che molti fan avevano ipotizzato già dalla stagione di debutto: Sabrina Spellman sarà coinvolta in un triangolo amoroso.
Ma cerchiamo di ricapitolare il tutto: la protagonista è coinvolta in una relazione amorosa con Harvey Kinkle (Ross Lynch). Relazione che si complica quando Sabrina confessa la sua vera natura al ragazzo: ovvero essere metà strega e metà umana. Nel corso della stagione, però, la nostra protagonista incontra Nicholas Scratch (Gavin Leatherwood), un giovane stregone che frequenta l'Accademia delle Arti Occulte. Fra i due personaggi c'è una evidente chimica che, secondo le immagini rilasciate, verrà "esplorata". Ma il giovane e innocente amore fra Sabrina e Harvey non sembra essere semplicemente finito.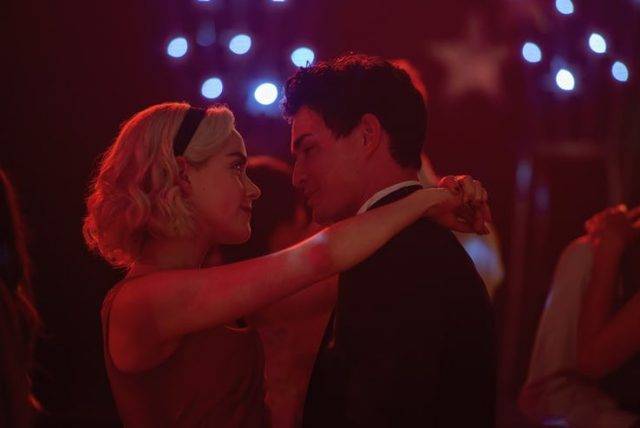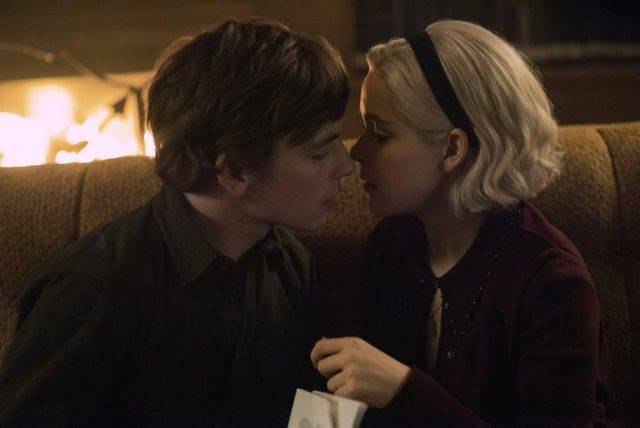 Molti appassionati della serie televisiva, nel corso della prima stagione, avevamo fatto notare come ci fosse più complicità fra Sabrina e Nicholas, piuttosto che con il personaggio interpretato da Ross Lynch. Vedremo dunque nella seconda stagione l'attrice Kiernan Shipka interpretare, ancora una volta, una Sabrina Spellman divisa fra i due mondi che ama: quello degli umani e quello delle streghe.
Sappiamo inoltre che la produzione di Chilling Adventures of Sabrina fosse alla ricerca di un attore per interpretare il Signore Oscuro. Una notizia che conferma l'idea che la protagonista avrà un incontro con questa entità.
L'ambientazione dark, macabra ma con quella punta di comicità, verrà ancora una volta presentata al pubblico. La domanda che in molti si pongono è: quando avverrà questo famoso crossover con la serie tv Riverdale?