Tra le novità di Amazon Prime Video più attese dell'estate, Carnival Row è stata una di quelle più pubblicizzate, per la quale inizialmente si parlava addirittura di una diretta collaborazione di Guillermo del Toro. I nomi di Orlando Bloom e della top model britannica Cara Delevingne hanno subito stuzzicato l'attenzione di un pubblico sia maschile che femminile.
Questa serie, realizzata da René Echevarria (Star Trek: The Next Generation, Medium e Dark Angel) e Travis Beacham (Pacific Rim), si è presentata come un fantasy dalle tinte noir, con un budget consistente e tante pretese.
Noi l'abbiamo recensita in anteprima ad agosto, con un'analisi che ha provato a far luce sull'eterogeneo e straripante mondo di Carnival Row.
Dopo il rilascio degli otto episodi, però, se ne è parlato molto poco.
Dal gran rumore di quest'estate al silenzio degli ultimi mesi, si ha come l'impressione che questa serie sia passata un po' in sordina. Così, senza infamia e senza lode. Eppure il potenziale era – e resta tuttora – altissimo.
Carnival Row è un fantasy che attinge dalle definizioni di più generi.
Le atmosfere vittoriane e l'attenzione riservata a costumi, ambientazione, comparse potrebbero renderlo un period drama, se non fosse per la sconfinata calca di strane creature che affollano le strade di Burgue, la straripante cittadina in cui è ambientata la serie.
C'è dentro un po' di tutto: la critica sociale, i ritmi da thriller, gli intrighi politici, la love story, la ricerca di sé stessi.
Il filone principale della trama è quello che prende forma, episodio dopo episodio, attorno a Orlando Bloom, che interpreta l'ispettore della Gendarmeria, Rycroft Philostrate. Veterano di guerra, Rycroft è un investigatore silenzioso e scrupoloso, che si muove con destrezza tra le strade di Burgue alla ricerca di un filo conduttore che lo porti alla soluzione dei suoi casi. La morte di una cantante, un essere fatato trovato sventrato sul ciglio della strada, apre le porte a una serie di omicidi del tutto sconnessi tra loro solo all'apparenza.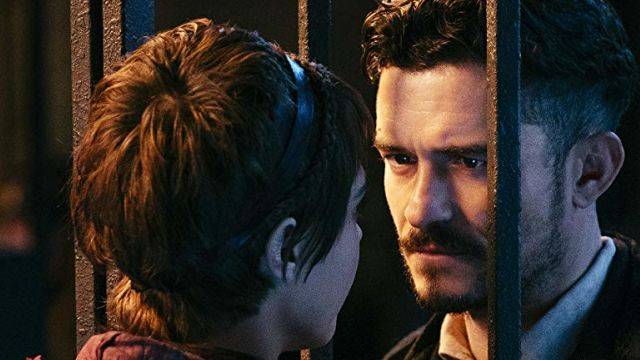 Attorno al filone principale, che è quello dei casi irrisolti di Rycroft e del suo amore tormentato con Vignette (Cara Delevingne), ruotano una miriade di altre storie, che spesso si frappongono le une alle altre in maniera confusionaria e caotica.
Ci sono gli strascichi di una guerra tra esseri umani e creature fatate che aleggia sempre sullo sfondo, riecheggiando un conflitto che sembra sempre imminente e irreparabile. C'è una società piena di pregiudizi e fanatismo, che bandisce ed espelle, isola e respinge il "diverso". Ci sono gli angoli sudici e depravati della Carnival Row, in contrasto con l'austerità e la solennità delle aule del potere. Ci sono raffinati ereditieri che ostentano una ricchezza ormai perduta e uomini con le corna in cerca di approvazione nell'alta società. Ci sono gli scontri in Parlamento, le dinamiche familiari che si inceppano, congregazioni segrete, fanatici religiosi, giovani ambiziosi, artisti di strada, lupi mannari, prostitute e figli di papà. C'è tutto un universo che all'inizio spaventa e disorienta, ma poi risulta sempre più familiare e schietto.
Carnival Row ha tutte le carte in regola per essere una grande serie. Eppure, almeno per il momento, non è decollata. Perché?
La versione italiana uscirà il 22 novembre. Per ora, su Amazon è disponibile la versione originale sottotitolata. Lo scarso interesse mostrato in Italia potrebbe essere legato al fatto che non tutti gli appassionati del genere hanno visto la serie.
Ma questa è una motivazione poco convincente. Sicuramente con la versione italiana, Carnival Row conquisterà una fetta di pubblico in più, ma il fatto che se ne stia parlando così poco ha probabilmente delle ragioni più specifiche.
Innanzitutto, relative al genere. Il fantasy è stato spremuto fino all'osso da colossi intramontabili come Game of Thrones e tanti altri, per cui il paragone sarà sempre una costante all'ordine del giorno che penalizzerà le nuove proposte.
Ma non è chiaramente solo quello.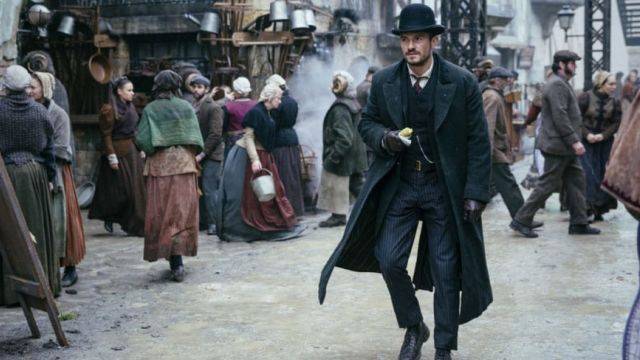 Carnival Row è una serie che vuole essere allo stesso tempo semplice e stratificata, sovraccarica ed essenziale. Patisce un inizio un po' lento e confuso: i primi episodi fanno girare la testa e la narrazione in medias res contribuisce a rendere tutto molto disorganico e poco chiaro, per cui è difficile entrare in empatia con i personaggi. È tutto sussurrato, accennato, lasciato intendere. Ma se si ha la pazienza di andare avanti, diventa tutto più chiaro. Fin troppo.
I meccanismi alla base del mondo di Carnival Row sono semplici, elementari. La critica sociale che si vuole portare avanti – incentrata tutta su tematiche attuali quali il razzismo, l'accettazione del diverso, l'integrazione – è fin troppo essenziale. Manca purtroppo di profondità, di un'anima più complessa e tormentata che possa tenerci incollati allo schermo e conquistarci del tutto.
Ma, in ogni caso, vale la pena guardarlo.
Orlando Bloom e Cara Delavingne in questa serie se la cavano piuttosto bene. Scenografia e fotografia sono eccezionali, curate in ogni minimo dettaglio. Le atmosfere dark e pittoresche, vagamente vittoriane, riescono a dare vita a un mondo opprimente e caotico, con cui è facile legare dopo aver superato l'impatto dei primissimi episodi.
La seconda stagione, già confermata, presenta delle novità e potrebbe aprire a spunti ancora più interessati.
Intanto, godetevi i primi otto episodi su Amazon.