Californication è sesso.
Californication è whiskey.
Californication è famiglia.
Californication è droga.
Californication è narcisismo.
Californication è rock and roll.
Californication apre gli occhi sulla felicità che sembra sempre sfuggirci di mano.
E spiega, a modo suo, il perché.
Californication è stato il prodotto più irriverente della TV dai tempi di Sex and the City e, a un anno dalla sua fine, ne si sente ancora la mancanza sul piccolo schermo.
Politicamente scorretto, senza filtri, amaro e sublime al tempo stesso, questa vita di un Bukowski televisivo è riuscita nel suo scopo: farci appassionare a un personaggio totalmente sbagliato, almeno sulla carta.
Nella Los Angeles degli sceneggiatori e degli strip club, in cui l'heavy metal si fonde con le impossibili storie d'amore dei film e niente è venduto a buon mercato, nemmeno la droga, Showtime è riuscita a farci riflettere più di quanto avremmo voluto iniziando la serie.
Californication ci accompagna nel viaggio più difficile, quello che nessuno vuole mai mostrare, quello che inizia dove di solito si termina con una dissolvenza. Prendono il "lieto fine" delle fiabe e ci mostrano cosa succede dopo il bacio del vero amore, quando l'inevitabile uragano di stronzate e complicazioni che chiamiamo Vita, irrompe a separare labbra e anime.
I thought we were a fucking fairy tale, but if you're careless with something long enough you know it breaks. And that's how I feel.
Broken.
Completely and utterly broken.
Hank Moody è un fallito, un beone, un drogato da tante cose, dal sesso in particolare. Ce lo presentano così, come l'inevitabile sfacelo delle tante personalità dello spettacolo del nuovo millennio. In una città detestata che però l'ha reso, a sua insaputa, un prodotto perfetto per le sue sfumature di nero.
Hank Moody aveva avuto il suo happy ending, e l'ha perso. Karen l'aveva già salvato da se stesso, l'ingenua utopia ribelle di un amore senza leggi e confini con cui sfidare il mondo si è già consumata e adesso restano solo ceneri.
È un uomo disilluso, come tanti nel suo genere. Eppure continua a lottare, per andare avanti, o meglio per tornare indietro, per ritrovare quell'atmosfera da bosco incantato, per riconquistare la moglie e la figlia, disperse chissà dove in un passato che è troppo presente e in un luogo oscuro che assomiglia fin troppo alle ville scintillanti della Valley.
Nella città degli angeli e dei diavoli, la vera trasgressione è riconquistare la propria famiglia.
– What does Hank wants?
– Wants to close his eyes, wakes up in his own bed next to the love of his life, listening to the sweet, mellifluous sound of his daughter heavy metal guitar coming from the bedroom next.
Lo dice e lo ridice, a se stesso, agli altri, a chi dovrebbe e a chi non dovrebbe: la sua felicità è lì e lui farà qualsiasi cosa per riprendersela. Ma la vita dopo la fiaba non può essere come prima e per Hank Moody sembra che non sia mai finita. Si ritrova in un loop continuo, circolo vizioso per cui for years I woke up, fucked up, said I'm sorry, passed out and did all over again.
È perennemente sull'orlo del precipizio pronto al salto che lo divide dalla terra promessa, ma non salta mai. La verità è che ha paura e quello che vuole davvero, non lo vuole come desidererebbe.
Ci ho riflettuto ed è facile parlare di storie a lieto fine, ma se nella realtà uno non si impegna, se continua a fare casini, alla fine credo che non resti molto altro da fare che urlargli "vaffanculo" o un'altra espressione equivalente.
Chiedete a chiunque cosa voglia nella vita e questa persona finirà per rispondervi: la felicità. Pochi saranno così diretti, ma se scavate a fondo nei loro desideri si ritorna sempre qui.
Ci si illude che la felicità possa prescindere da noi. Che possa essere qualcosa da cercare, continuamente cercare: un sogno, una meta, una persona, un lavoro.
– Che cosa pensi di trovare a New York?
– La felicità.
Vaghiamo per il mondo alla ricerca di quell'emozione, dimenticandoci che siamo gli unici a possederla. D'altronde è più facile sentirsi erranti, cercatori nell'esplorato, piuttosto che ammettere di avere già quello che si desidera, ma di non riuscire ad affrontarne le conseguenze.
Vediamo la felicità solo quando e dove vogliamo.
Hank Moody è perennemente circondato dal suo sogno di staccionata bianca e giardino ben curato. A volte è dritto davanti a lui, qualche volta due passi indietro, più spesso lo circonda in sogni annaffiati di whisky. Ma lui finisce sempre annegato in piscina. Karen che appare e scompare, meravigliosa visione e sublime sirena che lo richiama verso ciò che potrebbe, ma non.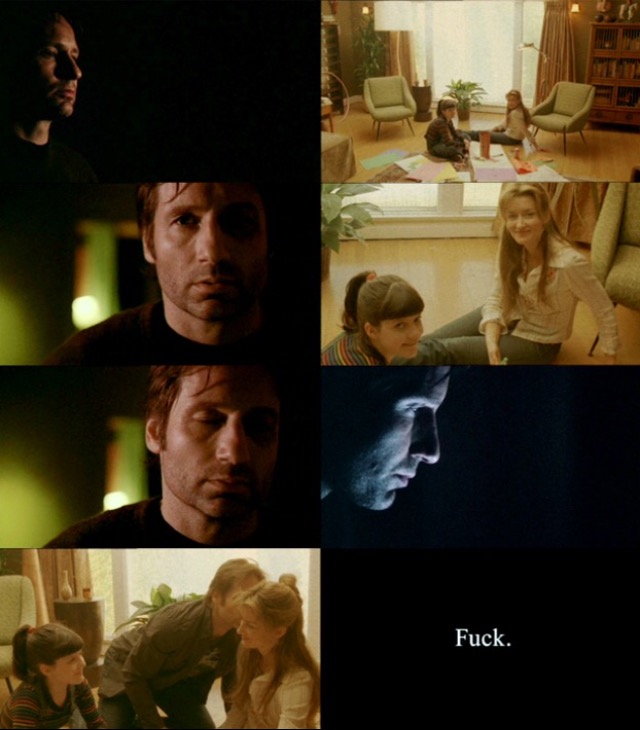 Tutto quello che desidera è proprio lì, ma non può sopportare la paura e la responsabilità che questo comporta, e finisce per rovinare tutto. Ancora, ancora e ancora. E a chiedere scusa. Ancora, ancora e ancora. Per essere felici bisogna volerlo davvero.
L'uomo ha sempre avuto bisogno di un capro espiatorio per i fallimenti o le mancanze della sua vita: chiamatela religione, chiamatelo Fato, Fortuna, Destino, Sfiga. È sempre colpa di qualcun altro.
È sempre "io stavo facendo la cosa giusta ma poi è andato tutto a rotoli, non so perché".
Troviamo delle scuse alle nostre paure.
Finché davanti a quel burrone capiamo di non averne più bisogno. Realizziamo di non dover per forza saltare. Che quello iato che ci separa era solo una scusa, una in più.
Hank Moody ci mette 7 anni e una quantità di sciocchezze inimmaginabili.
Californication prende per mano noi, lui e tutti i personaggi che popolano Hell-A. Ci vuole portare in un viaggio alla scoperta della felicità. Non conduce nessuno ad essa, nessuno la raggiunge davvero. Perché se c'è una cosa che ci hanno insegnato è che il lieto fine dura solo un momento, quello che succede dopo vale molto di più.
Così, chi lo sa se Hank Moody, sceso da quell'aereo, sarà finalmente felice o finirà per inciampare nell'ennesimo errore. Di fatto, ora ha una consapevolezza e noi con lui. Adesso è disposto a volere la felicità. Non solo a dichiararlo.