# #
Capelli ossigenati, giaccone di pelle, smalto nero e quell'ironia aspra che tanto l'ha contraddistinto dal suo eterno rivale Angel: di chi parlo? Di William the Bloody, il nostro indimenticabile Spike, interpretato da James Marsters. Vampiro sanguinario e inizialmente nemico di Buffy, si rivela poi uno dei suoi più fedeli alleati nella lotta contro il male.
# #
Quando si parla di Spike in relazione a Buffy, il pubblico si divide inesorabilmente. Sì perché a partire proprio da Sarah Michelle Gellar, interprete di Buffy, in molti sostengono che l'amore tra quest'ultima e Spike non sia minimamente paragonabile a quello che aveva con Angel.
Tralasciando questa assurda diatriba che non avrà mai fine, spostiamo la nostra concentrazione sul Vampiro più biondo di Sunnydale che innegabilmente ha conquistato la simpatia di tutti.
# #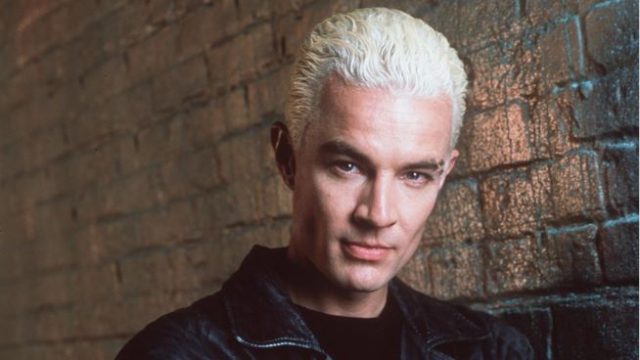 Come resistere al suo fascino da cattivo ragazzo? Prima a cascarci è Drusilla, la vampira che lo ha trasformato, che insieme a Spike forma una delle coppie più iconiche della serie. Drusilla si presenta come una vampira squilibrata che vive in un mondo tutto suo, si esprime attraverso frasi criptiche e a tratti infantili e indossa vestiti di velluto dai toni scuri appartenenti a un'epoca lontana. Insomma: una vera Dark Lady. Lei e Spike ci appaiono come una cosa sola, almeno finché lei non decide di piantarlo. Proprio a questo punto il personaggio di William Pratt, il vero nome di Spike, acquisisce intensità.
All'inizio Joss Whedon aveva pensato di inserire il personaggio di Spike come un villain temporaneo, che sarebbe apparso solo in qualche episodio della seconda stagione, trovando presto la sua fine ucciso dalla cacciatrice. Il regista degli attuali Avengers non aveva però preso in considerazione la reazione del pubblico che ha subito amato questo vampiro insolito.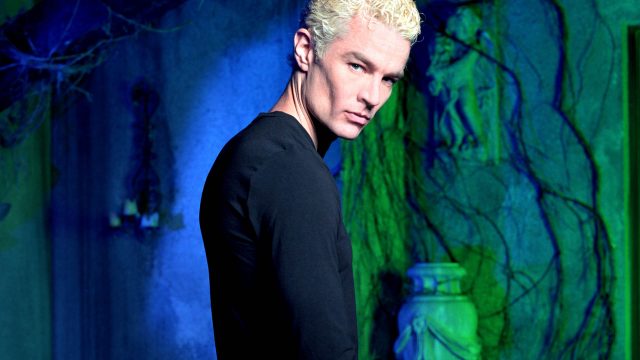 Nonostante l'aria da dannato e il look aggressivo stile anni '80 – ripreso dal cantante Billy Idol – Spike non riesce proprio a essere considerato un villain. Persino nei momenti in cui lo vediamo combattere contro Buffy, per il controllo di Sunnydale, noi non gli crediamo fino in fondo. Dalla quinta stagione in poi non può neanche più essere cattivo dato che gli viene installato un chip nel cervello che non gli permette di mordere o fare del male a esseri umani. Il ché è anche un po' comico. Infatti questo personaggio che tutto dovrebbe essere meno che comico, ha nella simpatia il suo asso nella manica. Basti pensare ai litigi divertenti con Xander Harris. Ma c'è molto di più.
Penso che ci troviamo tutti d'accordo nel dire che il background e l'evoluzione di questo personaggio siano ben articolati, possiamo quindi usare il termine poliedrico. In questa personalità complessa trovano spazio il bene e il male.
Spike è il vampiro che arriva Sunnydale con il solo intento di uccidere e distruggere, ma è anche lo stesso vampiro che salva il mondo nell'ultima stagione. Un mostro innamorato degli esseri umani.
Un mostro privo di anima, prima costretto a reprimere il suo desiderio di sangue, vuole riaverla indietro. E lo fa proprio per l'amore di un essere umano.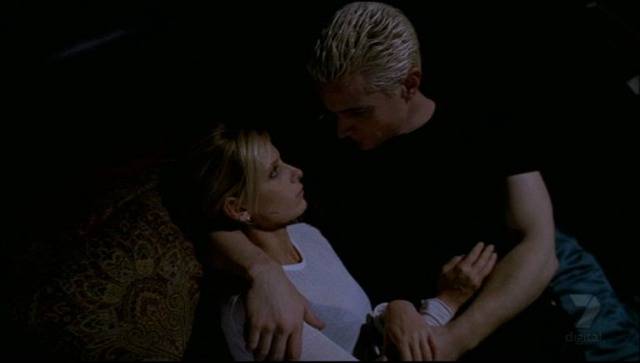 Dopo essersi reso conto di non poter amare Buffy come lei merita, essendo privo della cosa principale che permette all'essere umano di amare davvero, lui decide di riprendersela l'anima. Questo lo porta ad affrontare prove indicibili e a cofrontarsi con i fantasmi del passato, che lo tormenteranno una volta riacquisita la sua parte umana.
Una parte che lo rende fragile, vulnerabile e per questo lo completa. Il dolore e quei sentimenti che prima poteva solo rievocare dai ricordi di una vita passata, d'ora in poi gli pioveranno addosso come una grandinata senza fine.
William the Bloody è la versione più buona del vampiro Lestat.
Forse il paragone è un po' azzardato ma credo sia comunque fattibile. Chi ha letto e visto Intervista col vampiro ricordarà sicuramente Lestat, figura fascinosa e priva di scrupoli che va ad affiancare quella del vampiro Louis, il quale invece vive la sua immortalità come una maledizione. Quello che accomuna Spike a Lestat, così diversi nei costumi, è l'ironia sottile e la subordinazione, in qualche modo, a un personaggio completamente differente da loro. Nel caso di Spike parlo di Angel e in quello di Lestat mi riferisco a Louis.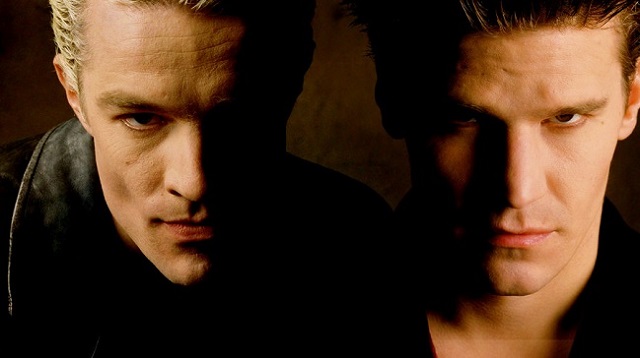 Angel e Louis vengono immancabilmente associati al ruolo dell'eroe tragico, destinati alla solitudine e al tormento. Una solitudine che si sono scelti per il troppo altruismo e per la consapevolezza di essere portatori di dolore.
Lestat e Spike sono l'esatto contrario. Loro camminano sicuri sulla terra di un mondo a cui non appartengono. Sono esseri privi di radici ma carichi di memoria e voglia di vivere nonstante i loro cuori abbiano smesso di battere da un pezzo. Quello che rende William the Bloody diverso da Lestat è il riscatto, ottenuto grazie al cambiamento che lo porterà a ritrovare l'essenza della sua anima e, a quel punto, sarà pronto a sacrificarsi per un mondo che in fondo ama da morire.