Dopo il ruolo di G.O.B. nella sit-com Arrested Development, Will Arnett ha goduto di un notevole rilancio di carriera negli ultimi anni per aver prestato la voce a Bojack Horseman. Il protagonista dell'omonima serie animata è un personaggio sopra le righe che non si discosta troppo dalla natura di molte stelle di Hollywood. Lo stesso Will Arnett, col suo difficile passato di alcolismo e instabilità emotiva, potrebbe tranquillamente essere il Bojack Horseman della realtà. Poi lo vedi sottoporsi all'autointervista di Wired e capisci che non è solo l'alcolismo a renderlo tale.
Il personaggio di Bojack Horseman sembra esser stato scritto pensando esattamente a Will Arnett.
In questo video è possibile apprezzare un numero incredibile di caratteristiche comuni tra l'attore e il cavallo antropomorfo più amato della tv.
La cosiddetta "autointervista" è un format utilizzato da Wired per rendere l'intervistato protagonista al 100% dell'intervista stessa. Le domande poste corrispondono a quelle più ricercate su Google dagli utenti. Scopriamo così durante l'intervista che l'attore che dà voce a Bojack Horseman condivide con questo personaggio la stessa autoironia beffarda, il sarcasmo e una buona dose di cinismo. E anche l'abilità di non azzeccarne mai una giusta. Quando si corregge enfatizzando il tono su "autocomplete interview" seguito da "See? I should autocomplete my intro" sembra di vedere Bojack alle prese con una delle sue fallimentari interviste.
Il video prosegue con battute in cui Arnett non perde occasione per ironizzare sulla ragione per la quale qualcuno dovrebbe guardare un video simile. Un sarcasmo molto simile a quello con cui Bojack Horseman tende a prendere in giro i suoi interlocutori.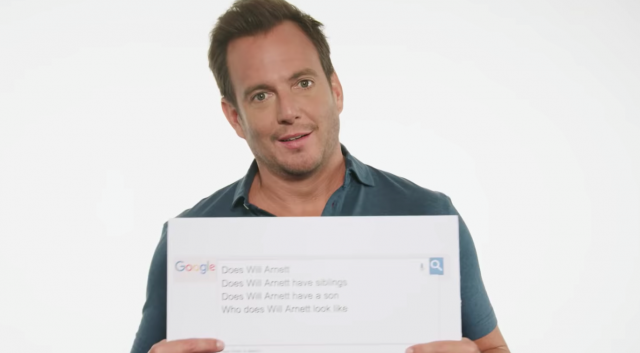 Prosegue con espressioni piene di stupore una volta scoperta la domanda "Will Arnett è imparentato con Michael Keaton?" – "Why?!" Reagisce l'attore prima di tentare un'imitazione del collega. Appare come il Bojack poco avvezzo alla modernità e alla tecnologia quando resta basito di fronte alla domanda che chiede se fosse nel videogioco Skyrim. E meglio ancora è la copia reale di Bojack Horseman quando alla domanda su quanto egli valga risponde "Tutto l'amore che c'è nel tuo cuore". Buttando poi via il cartonato della prima manche di domande.
Si trasforma al secondo giro di domande nel tipico Bojack Horseman timoroso di non piacere alla gente. Quello che nasconde una certa insicurezza dietro un muro di sarcasmo e cinismo.
"Andrà sempre peggio vero? Voglio dire, troverò domande sempre più cattive?"
Chiede l'attore una volta preso il secondo cartone.
Ma il bello arriva alla domanda che chiede se Will Arnett abbia fratelli o sorelle, cui l'attore risponde giocandosi la migliore delle poker face alla Bojack Horseman. "Si Will Arnett ha tre fratelli che ama moltissimo…e con cui non parla da dodici anni…" – seguono alcuni secondi di silenzio in cui l'attore sembra accennare delle lacrime per poi rispondere secco e tranquillo "…e non parleranno mai più con lui." Insomma anche Arnett, proprio come Bojack Horseman, non sembra essere un fan dell'unione familiare. Una forma di narcisismo, al limite tra la convinzione e l'ironia, emerge quando l'attore intona una canzone di Eddie Vedder definendosi il suo sosia alla domanda "Who does Will Arnett look like?"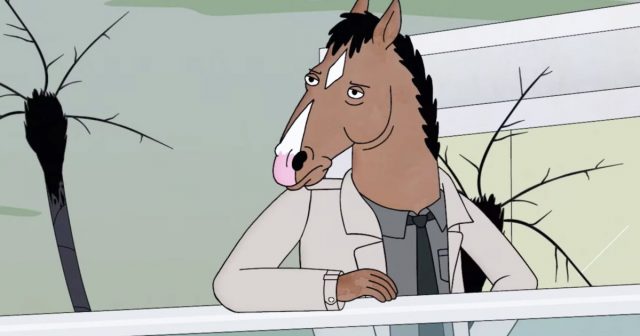 L' "autointervista" appare sempre più l'escalation di una fusione che porta la personalità di Will Arnett (o per lo meno quella mostrata) a coincidere sempre più con quella di Bojack Horseman.
Lo si evince dal sarcasmo con cui Arnett ironizza su com'è diventato famoso (aggrappandosi all'idea e grattandosi). O su quanto sia alto in "feet" (unità di misura usata nei paesi anglosassoni) rispondendo "Cento, se usiamo piedi di bambini". Molto da Bojack è l'autoironia nichilista con cui Arnett cerca di indovinare le domande prima di scoprirle. "How does Will Arnett…live with himself?" Ne è un esempio chiaro. Come anche la risposta alla domanda su come faccia a tenersi in forma. "Beh un'alimentazione bilanciata, dormo undici ore e mezzo a notte, poi…boh, no semplicemente non sono in forma." Il clou sembra arrivare al momento "asocialità" in cui a Google viene chiesto da un utente come fare a contattare Will Arnett. L'attore risponde seccamente "Non lo fai. Non contatti Will Arnett. E in più, non vuoi davvero farlo."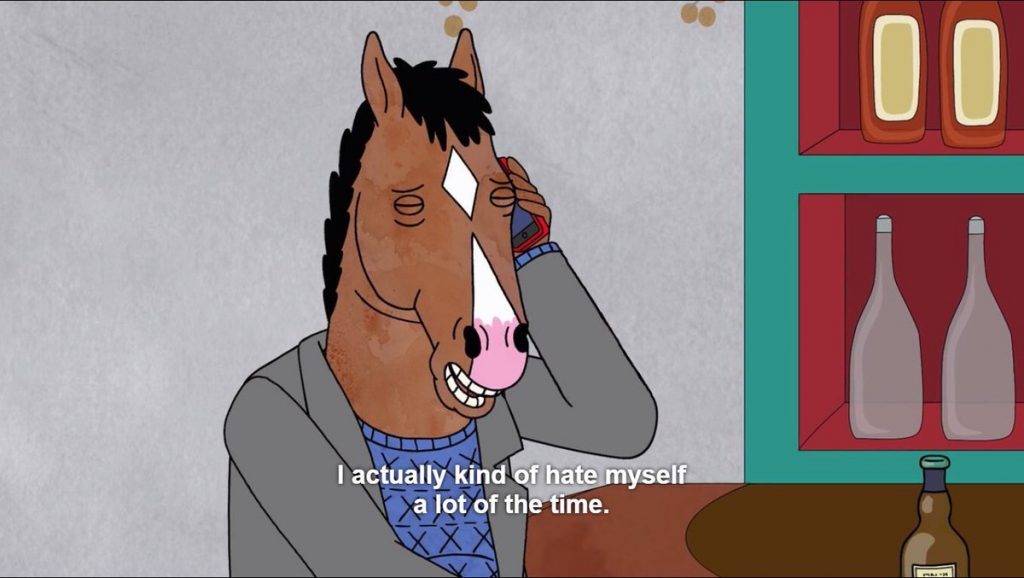 Reminiscenze sulla passione di Bojack Horseman per le persone in generale e sulla considerazione di se stesso ne abbiamo? Decisamente si.
Eppure il meglio arriva quando Arnett continua a cercare di indovinare domande proponendo "Will Arnett dov'è diventato un tale st****o?!" Ma la domanda chiede solo dove abbia frequentato le superiori. L'attore risponde ironicamente di aver frequentato un paio di posti perché "gli piace variare." Ammette dopo di aver lasciato il college enfatizzando subito la volontà di non porre troppo l'accento sulle cose che ha mollato nella vita. Essendo poi tutte correlate all'istruzione. Momento "amo/odio i miei fan" arriva con la domanda "Dov'è ora Will Arnett?" cui l'attore risponde con un francesissimo "Dove ca**o credi che sia?! Proprio qui con voi, le persone che amo di più al mondo."
Si prosegue con domande che iniziano con "What's/Who's Will Arnett" che l'attore apostrofa come quelle con cui è stato finalmente beccato.
"These are the top ones, now they gets me!"
In realtà sono domande che chiedono quale sia stato il suo primo film e quale il suo primo film animato. Apparentemente Arnett sembra ricordare a stento il suo primo film, ma per la gioia di tutti i fan di Bojack Horseman pone molta attenzione sul suo rapporto con le produzioni animate. Ammette come la difficoltà di queste ultime stia nel fatto che lo spettatore, non vedendo la faccia dell'attore, rischia di non affezionarsi al personaggio. Perciò è molto importante entrare davvero nello stesso, andando oltre il semplice doppiaggio. Arnett sostiene infatti di sentire in questi casi la necessità di capire quali caratteristiche del personaggio lo eccitino davvero. Comprenderle a fondo, a quanto pare, è ciò che lo spinge a calarsi nel personaggio al punto da sembrare credibile abbastanza.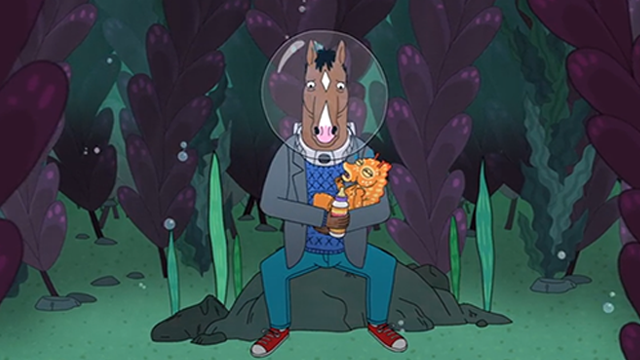 Dopo aver colto le profonde somiglianze tra Will Arnett e Bojack Horseman, emerse in quest' "autointervista", non è difficile immaginare quali siano state le caratteristiche di quest'ultimo in grado di suscitare l'interesse dell'attore.
In effetti non si riesce a capire se Will Arnett sia in grande sintonia col personaggio cui presta la voce o il contrario, tante sono le caratteristiche comuni. E il popolo del web sembra averle colte tutte. Tra i commenti al video dell' "autointervista" di Wired, un utente scrive "Wow! E così scopri che Bojack Horseman ha prestato la voce al personaggio di Will Arnett che, ironicamente, è pure un attore". Come dargli torto? Sembrano l'uno la versione reale/animata dell'altro.