I don't believe in rock bottoms.
BoJack Horseman 6 deposita nei nostri cuori e nelle nostre menti numerosi messaggi, ma forse la citazione del protagonista in merito al cosiddetto fondo del barile è un punto di partenza tanto triste quanto necessario.
BoJack afferma che non esiste un vero e proprio fondo perché c'è sempre la possibilità di raschiarlo e trovare dunque un altro fondo. Non è esattamente ciò che il nostro tormentato protagonista dimostra in questo finale? Darsi degli obiettivi, cercare di migliorarsi nel mondo di BoJack sono questioni temporanee: una volta raggiunto l'obiettivo, una volta battuto il proprio record, cosa rimane da fare? Battere il proprio record con un nuovo record, direbbe Todd (6×16). Facile a dirsi, però…
Un finale non necessariamente è conclusivo: anche BoJack Horseman 6 non mette tutti i puntini sulle i nella storia, ma alcuni filoni socio-psicologici iniziati nella prima stagione trovano la loro perfetta destinazione negli episodi finali. Interessante da questo punto di vista la parabola di percezione del pubblico della storia nei confronti del protagonista.
Ricorderemo come nella prima stagione il main topic per BoJack fosse il terrore di essere stato dimenticato: il libro di Diane prima e il ruolo nel film Secretariat dopo gli conferiscono non solo nuova popolarità, ma nuovo amore da parte del pubblico, che smette di considerarlo solo il cavallo di Horsin' Around. Questo idillio dura fino all'uscita della serie Philbert nella quinta stagione, con un conseguente ritorno nel dimenticatoio. La confessione in merito alla morte di Sarah Lynn paradossalmente gli conferisce inaspettato amore, per poi passare definitivamente all'odio di tutti dopo le interviste successive che dipingono il divo come un misogino (6×12).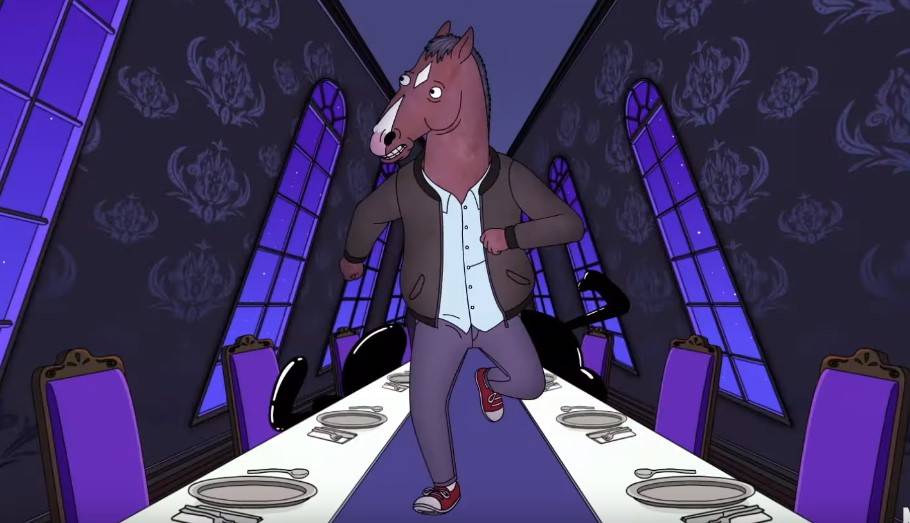 A proposito di questo, è chiaro il riferimento (non necessariamente polemico) a quello che sta accadendo a Hollywood negli ultimi due anni: storie di attori o produttori accusati di molestie che subiscono un processo da parte del pubblico prima che dalle corti. Il fatto che BoJack sia comunque colpevole e la frase di Princess Carolyn ("La gente ha la memoria corta") sembrano dare comunque una visione equilibrata sul tema da parte degli autori.
Possiamo da questo dedurre che BoJack Horseman 6 sia una stagione, almeno nella sua seconda parte, molto più sociologica che filosofica (tranne, chiaramente, per gli ultimi due episodi).
Infatti l'aspetto socio-psicologico emerge prepotentemente fino alla 6×14 e si sostanzia nell'importanza che tutti i personaggi danno al modo in cui vengono percepiti. 
Impossibile non partire a tal proposito da Diane e dall'episodio a lei dedicato (6×10). Il tema portante di Good Damage, oltre ovviamente al recupero psicologico di Diane, sembra essere il concetto di forzatura. Nel tentativo di scrivere il suo memoir, Diane cerca con insistenza le fondamenta del suo trauma, chiedendosi se alla base non ci fosse semplicemente una infantile necessità di maggiore attenzione da parte dei genitori. Questo atteggiamento implica un'inevitabile blocco della scrittrice, la cui derivante frustrazione emerge nelle conversazioni con il fidanzato Guy. La donna afferma esplicitamente che sta facendo di tutto per non accedere al suo lato oscuro, ma al tempo stesso questa costrizione è ciò che le impedisce di scrivere un buon libro. Di contro, diventerà autrice per ragazzi, nonostante la sentenza di Princess Carolyn: "Sad is what makes it you". Ma quella Diane è alle spalle.
A proposito di Princess Carolyn, il modo in cui viene percepita dagli altri conta meno del come viene percepita da se stessa. La gatta è senza dubbio uno dei personaggi più cinici della serie ma, paradossalmente, anche uno dei più tristi. In Angela (6×14) la donna si rende conto che la sua totale assuefazione dal lavoro l'ha portata a dimenticare i propri sogni: questa è una delle riflessioni più tristi di tutta BoJack Horseman 6. Proprio in quest'ottica è un sollievo riuscire a vederla raggiungere qualcosa che assomiglia a un lieto fine, con il matrimonio con Judah.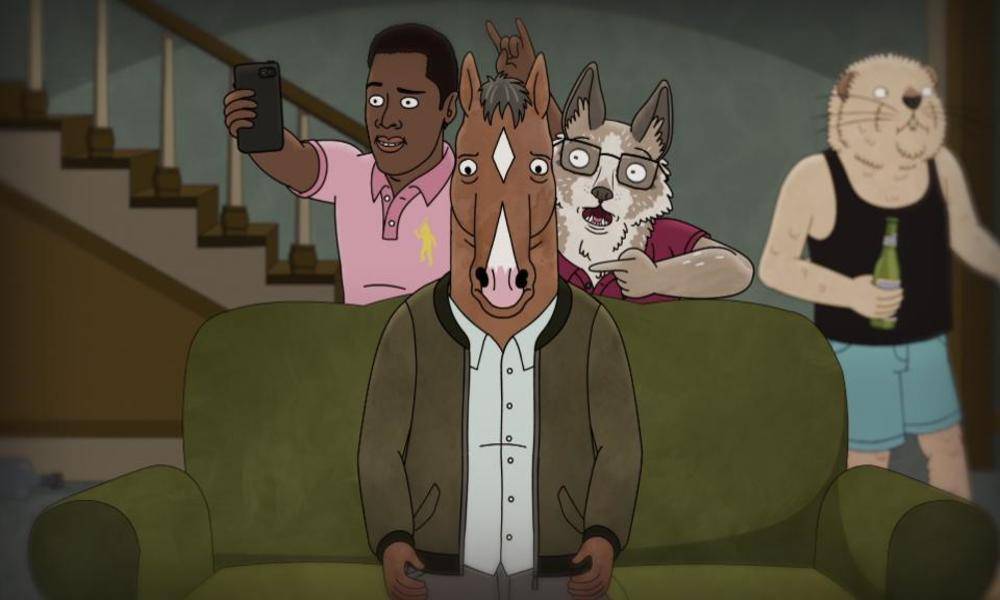 Un personaggio a cui invece non serve un lieto fine è senza dubbio Todd. La frase con cui BoJack si congeda dall'amico, "Non riesco a capire se dici cose stupide o intelligenti", riassume perfettamente la figura del ragazzo, a cui gli autori non hanno comunque rinunciato a dare della tragicità. Il rapporto coi genitori e la tematica dell'essere accettati per quello che si è sono i grandi temi della relazione complicata di Todd con il padre e soprattutto con la madre. Cosa c'è dunque di più psicologico se non il rapporto genitori-figli?
Ma come abbiamo accennato, BoJack Horseman 6 non rinuncia alla filosofia.
Anzi, concentrandola principalmente negli ultimi due episodi produce un effetto quasi più incisivo rispetto alle stagioni precedenti. Il focus non può che partire da The View from Halfway Down: titolo del poema letto da Secretariat/Butterscotch che dà il nome, ma anche il significato, all'intera puntata 6×15.
What now could slow the drop
All I'd give for toes to touch
The safety back at top
But this is it, the deed is done
Silence drowns the sound
Before I leaped I should've seen
The view from halfway down
I really should've thought about
The view from halfway down
I wish I could've known about
The view from halfway down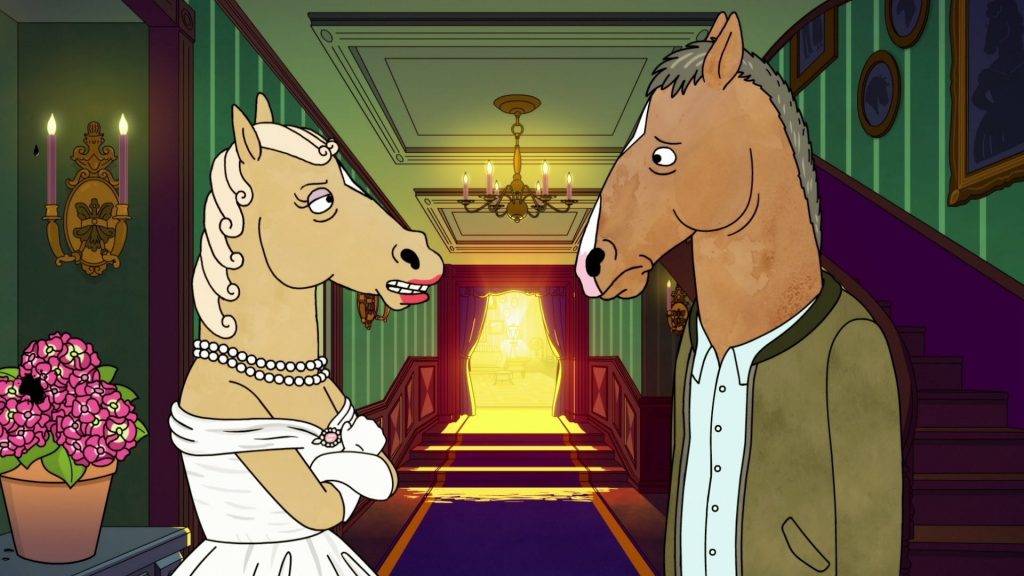 Il senso di irrimediabile impossibilità di tornare indietro grida la sua forza tramite questi versi che BoJack recita a se stesso nel suo sogno in compagnia dei morti. Il nichilismo che già era emerso nella conversazione tra il cavallo e il padre (questo con le sembianze di quello che per il protagonista è un eroe, Secretariat), esplicitato in un semplice "A cosa serve comportarsi bene se alla fine l'esito è sempre lo stesso per tutti, la morte?", sfiora in realtà l'epicureismo, con il concetto di godersi la vita perché se c'è la vita non c'è la morte e viceversa. Tuttavia si rompe questo schema nel momento in cui BoJack prosegue il suo sogno e assiste allo spettacolo che altro non è che la rappresentazione visiva del concetto di dipartita. Lui sta morendo ma non è morto: il dado sul suo destino è però tratto, e non c'è più niente da fare per questo. 
Cosa rimane dunque per BoJack? Nice While it Lasted, titolo dell'episodio finale nonché espressione ben applicabile all'intera serie, lascia in eredità uno struggente confronto-addio che il protagonista ha con ogni personaggio principale.
L'elemento comune tra tutte le conversazioni è la volontà di non rinnegare l'intenso passato che tutti condividono con l'attore, ma anche una chiara esigenza brutale quanto necessaria di mettersi alle spalle la vita avuta con BoJack Horseman. Princess Carolyn gli assicura che troverà un agente che si occuperà di lui (dimostrando di tenerci, ma al tempo stesso defilandosi), Mr. Peanutbutter mostra la sua doppia natura di cane e uomo, in quanto potenzialmente sempre presente come un fedele animale domestico ma realisticamente e tristemente assente come un essere umano.
E infine Diane, con cui BoJack ha (in un cerchio che si chiude con la prima stagione) una conversazione sul tetto della sala in cui si festeggia il matrimonio di Princess Carolyn. Uno dei dialoghi più belli dell'intera serie. Vero, struggente, reale e tremendamente definitivo. Il messaggio finale altro non è che l'eredità lasciata da BoJack Horseman 6, una delle serie più umane mai create: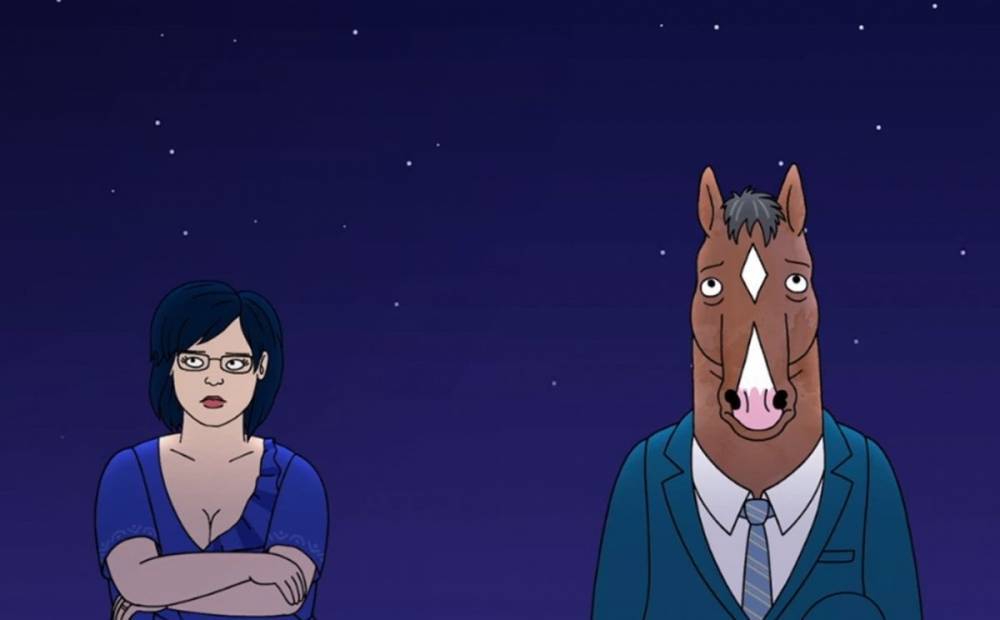 Mr. Blue
I have to go now
Darling don't be angry
I know that you're tired
I know that you're sour and sick and sad
For some reason
So I'll leave you with a smile
Kiss you on the cheek
And you will call it treason