# #
Lo si percepisce nell'aria, l'hype alle stelle per la terza stagione di Black Mirror. Proprio lo scorso venerdì è stato rilasciato il primo teaser da Netflix, che lancerà la serie il 21 ottobre.
E chi ci può biasimare? Black Mirror è la riprova dell'eccellenza made in UK, e continuerà sicuramente a stupirci con dodici nuovi episodi divisi in due tornate. L'acquisizione dei diritti da parte di Netflix e il conseguente aumento di budget prospettano una terza stagione tutta gustare.
Black Mirror, lo specchio nero, non è solo lo schermo della Tv, dello smartphone o del PC attraverso il quale noi tutti oggi guardiamo il mondo, ma anche e soprattutto un riflesso dell'epoca in cui viviamo, un riflesso di noi stessi e della nostra dipendenza dalla tecnologia. Badate bene, non necessariamente il nostro legame ormai imprescindibile con la tecnologia è un male da demonizzare, ma in alcuni casi può diventarlo. Quello che si propone di fare Black Mirror è una riflessione, una sorta di speculazione dai toni fantascientifici, di ciò che di oscuro si cela nella tecnologia e nel rapporto dell'uomo con essa.
# #
L'era dell'informazione rivela un umanesimo 2.0, ma cosa succede quando l'uomo diventa schiavo dell'etere, quando si perde il contatto con la propria umanità perché confusi da un alveare di pixel? Se il web ha il potenziale di catturare e conservare tutta la nostra storia, non possiamo dimenticarci che ciò che accade nella rete non può e non deve prescindere dalla realtà. Altrimenti, purtroppo, non siamo estranei alle conseguenze.
Black Mirror è una serie di poche parole, nel senso che spesso e volentieri lascia alle immagini il compito di essere eloquenti. Ciononostante non è povera di citazioni che in un modo o nell'altro impattano e ci costringono ad una riflessione su noi stessi e su ciò di cui ci circondiamo.
# #
The National Anthem – 1×01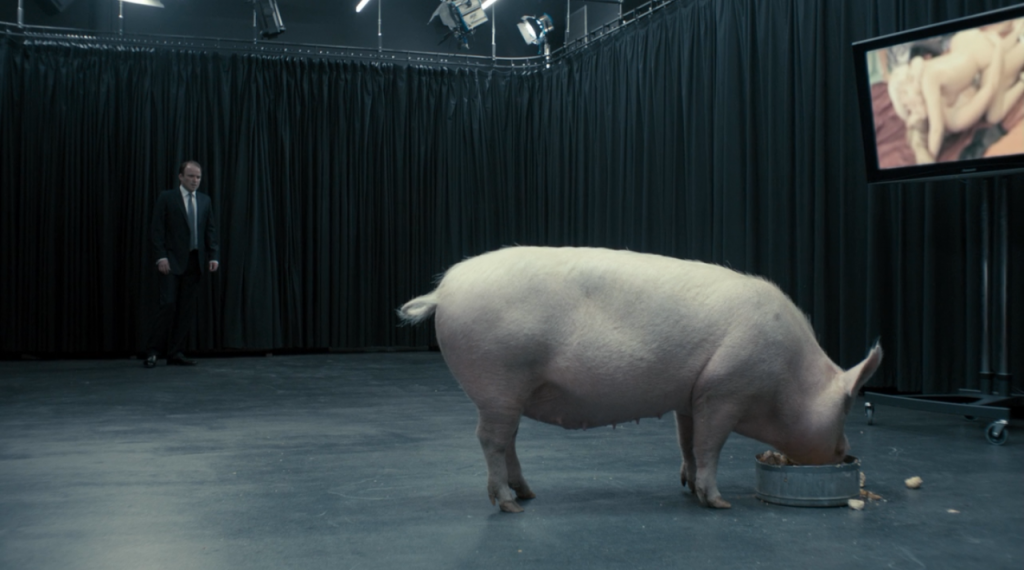 A seguito del rapimento della Principessa Susanna, Duchessa di Beaumont, al primo ministro inglese, Michael Callow, è richiesto di avere un rapporto sessuale con un maiale in diretta Tv nazionale per salvarle la vita.
Jane Callow: "I know people. We love humiliation, we can't not laugh."
Primo Ministro: "Nothing is going to happen."
J.C.: "It's already happening in their heads."
"Conosco le persone. Amiamo l'umiliazione, non possiamo non ridere."
"Non succederà nulla."
"Sta già succedendo nella loro testa."
Fifteen Million Merits – 1×02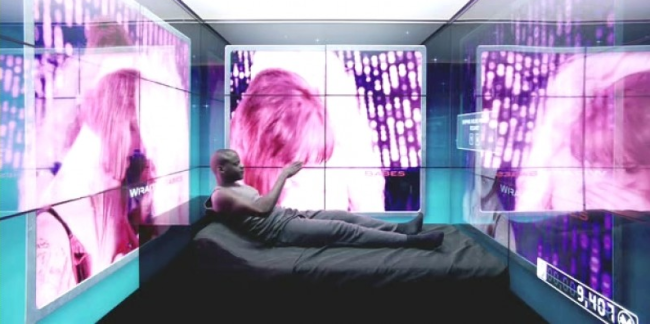 In un mondo immaginario, tutti devono pedalare e produrre energia per alimentare il loro ambiente, totalmente digitale e simulato, e ottenere in cambio una valuta chiamata Merits (Meriti). Tutte le attività giornaliere vengono periodicamente interrotte da pubblicità che non possono essere evitate se non con una sanzione pecuniaria. Solo il talent show Hot Shots dà la possibilità di evadere da quello stato di prigionia. Bing, il protagonista di questo episodio, non accetta più la sua situazione dopo che anche la sua amica Abi è stata manipolata ed incastrata dai giudici del talent.
Bing: "I just want something real to happen. Just once."
"Voglio solo che accada qualcosa di vero. Solo una volta."
"The future is bright."
"Il futuro è luminoso." Scritta su uno schermo.
"Because we're so out of our minds with desperation, we don't know any better. All we know is fake fodder and buying shit. That's how we speak to each other, how we express ourselves is buying shit.
What, I have a dream? The peak of our dreams is a new hat for our Dopple, it doesn't exist! It's not even there! We buy shit that's not even there. Show us something real and free and beautiful. You couldn't. Yeah? It'll break us. We're too numb for it, our minds would choke."
Bing ai giudici, mentre minaccia di uccidersi.
"Tutto quello che sappiamo fare è merce finta e comprare merda. Ecco come parliamo tra di noi, ci esprimiamo comprando merda… che non esiste nemmeno, compriamo merda che non esiste nemmeno. Mostrateci qualcosa di vero e libero e bello – non potete. Cosa, Ho un sogno? Il massimo dei nostri sogni è un cappello nuovo per il nostro avatar, che non esiste! Non è neanche qui! Compriamo merda che nemmeno esiste. Mostrateci qualcosa di reale e libero e bello. Non potreste. Vero? Ci annienterebbe. Siamo troppo inebetiti, le nostre menti si incepperebbero."