Better Call Saul non è semplicemente lo spin-off di Breaking Bad ma un piccolo capolavoro che conferma e innalza il valore indubbio di Vince Gilligan. Nell'era di Walter White abbiamo conosciuto Saul Goodman in maniera per così dire superficiale: l'avvocato dei criminali che maneggiava con sapienza la legge delle ombre e delle luci.
Better Call Saul ci dà la possibilità di scavare a fondo nell'anima del personaggio e delle sue molteplici e contrastanti sfaccettature.
Slippin' Jimmy, James McGill, Saul Goodman, Gene Takovic. Le mille sfumature che segnano il discrimine aleatorio tra l'essere buoni e l'essere onesti.
Oggi proviamo a entrare nei meandri del protagonista di Better Call Saul attraverso le parole di 5 canzoni che in qualche modo sembrano parlare di lui.
1) The Man Who Sold The World – David Bowie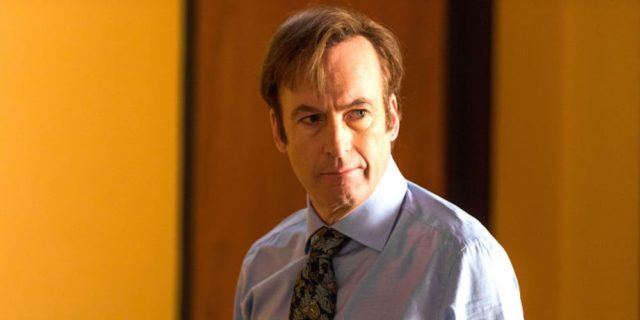 David Bowie è pittore e incarnazione del dissidio interiore che spesso ci porta a non dare ascolto al nostro Io, finendo per confonderci con una realtà omologata. Proprio così James McGill è l'uomo che vendette il mondo. Ma da cosa deriva questo dissidio?
James McGill in Better Call Saul rifiuta di dare ascolto alle sue inclinazioni, a quella personalità esuberante in bilico tra il lecito e l'illecito.
James sa che quella sua indole sprizzante produce guai e ferisce le persone che lo circondano, è per questo che decide di censurarsi aspirando a diventare quanto più simile possibile a suo fratello Chuck.
Chuck, la giurisprudenza e il mastodontico studio legale HHM sono la rappresentazione ingrigita e imborghesita della legge. Jimmy fa di tutto per scardinare la sua immagine da quella truffaldina di Slippin' Jimmy.
You're not a lawyer […] I know you. I know what you were, what you are. People don't change! You're Slippin' Jimmy!

Chuck
Ma lui non è fatto per quel mondo in bianco e nero, per quanto si sforzi di restare nella luce finisce sempre nella ragnatela della criminalità. Lui è piccolo in una società di colossi e non può che essere attratto da quel mondo di emarginati che reclamano un portavoce, un difensore. Per quante volte egli voglia rinnegare se stesso è posto sempre faccia a faccia con Slippin' Jimmy e con il brivido adrenalinico di liberare il suo essere e i suoi colori senza freni, inibizioni o finzioni.
You're face to face
With the Man who Sold the World