Lagertha è uno dei personaggi cardine di Vikings. È la prima moglie di Ragnar Lothbrok e una famosa shieldmaiden. Ha scelto la vita da combattente, guida eserciti in battaglia, uccide uomini più grossi e forti di lei e, allo stesso tempo, educa i suoi figli. L'immagine di donna medievale della società cristiana è completamente ribaltata grazie a lei.
Lagertha è il fuoco di Vikings, colei che rappresenta questa serie tv al meglio.
Ha sete di conquista, forza, furia, passione e astuzia. È una moglie innamorata, una madre premurosa e un'indomabile guerriera. Non rinnega il suo essere donna ma non rinuncia alla fisicità, all'ambizione e al potere, da sempre sfere appartenute all'uomo. Ecco perché litiga furiosamente con Ragnar quando decide di partire per l'Ovest senza di lei. La sua vita da contadina le basterebbe anche ma l'idea di scoprire nuove terre le piaceva parecchio. Perché anche se quella routine le andava bene, lei è nata per essere una regina.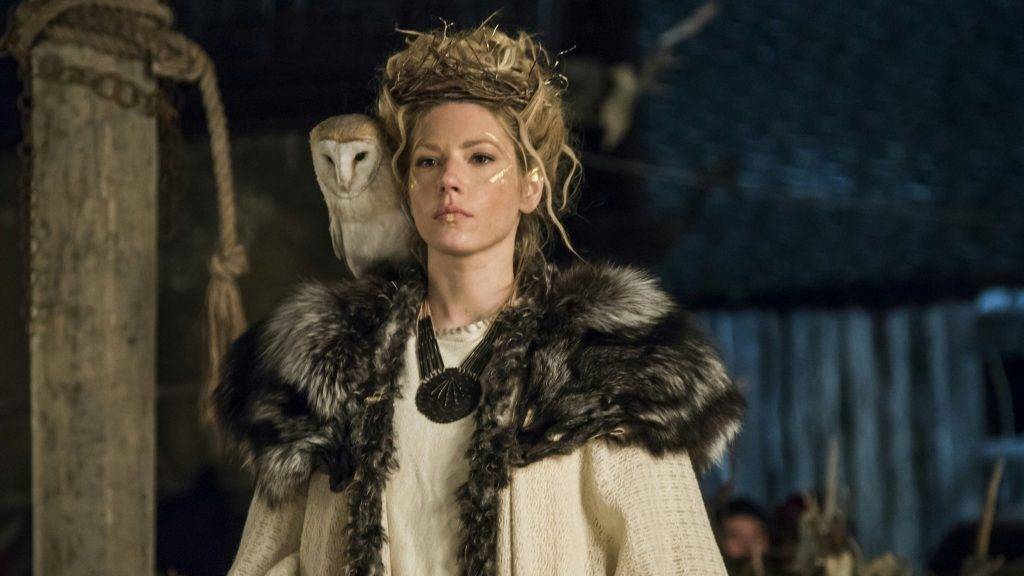 Make me your wife, your one and only.

I'll give you everything you need.

I'll give you sons, I'll give you glory,

for I was born to be your Queen.
Questi versi raccontano la Lagertha di Vikings. Dopo aver ucciso Horik, Ragnar diventa re ma al suo fianco non c'è colei che lo merita. Lagertha avrebbe dovuto essere la sua regina. Senza di lei, Ragnar non è stato più lo stesso. I due erano complici, amici, amati, legati da quella forza chiamata amore. Erano la stessa anima in un solo corpo.
Lagertha ha dato al vichingo tutto quello che poteva: sostegno, completezza, figli. Inconsciamente nella prima stagione di Vikings è stata lei a spianare la strada che avrebbe fatto diventare Ragnar uno jarl.
Il vichingo però è ossessionato dal creare una discendenza duratura e leggendaria. Il ventre di Lagertha però non è più in grado di accogliere la vita. È una madre che non riesce a portare a termine la sua gravidanza. I parti prematuri lacerano il suo corpo e il suo spirito. Ecco che la coppia felice inizia ad allontanarsi e Ragnar cade tra le braccia di Aslaug. L'umiliazione è troppa da sopportare per Lagertha, soprattutto quando Aslaug arriva a Kattegat con in grembo un figlio. Se ne va, nonostante suo marito la preghi di rimanere. Lagertha è arrivata prima, quando Ragnar non era ancora nessuno, ma a cogliere i frutti del suo lavoro è Aslaug.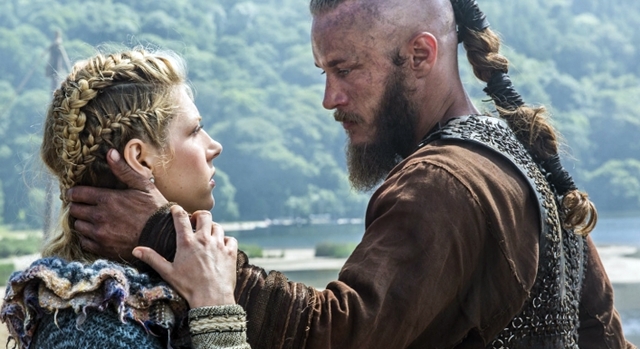 When the refuse and they oppose you,

remember God is in your ear.

You are the King and you must tell them true

that I was born to be your Queen.
Nonostante se ne vada, non ha mai abbandonato Ragnar definitivamente. Decide di aiutarlo nella guerra contro lo jarl Borg per riconquistare Kattegat. Il suo attuale e violento marito non aveva acconsentito ma a lei non interessa. Lagertha è una forza che non puoi controllare o dominare. Infatti, l'ennesima umiliazione subita dal marito la porta a ucciderlo. Ora è il nuovo jarl di Hedeby. Può contrattare con Ragnar da pari a pari e l'aiuterà più volte nel corso di Vikings.
Lagertha sa che gli dei sono dalla parte di Ragnar, che gli parlano. Lui è il loro prescelto, destinato a scrivere la storia. Nel loro disegno per Ragnar non c'è spazio per lei. Eppure, ha dimostrato di essere la degna regina di Kattegat.
Si è sempre preoccupata della sua popolazione. In assenza di Ragnar, nella prima stagione di Vikings, è lei che comanda a Kattegat con un'intelligenza fuori dall'ordinario. Ha carisma da vendere, è un'attenta osservatrice e conosce i miti nordici, applicandoli alla vita quotidiana. Prepara la città alla sua futura venuta.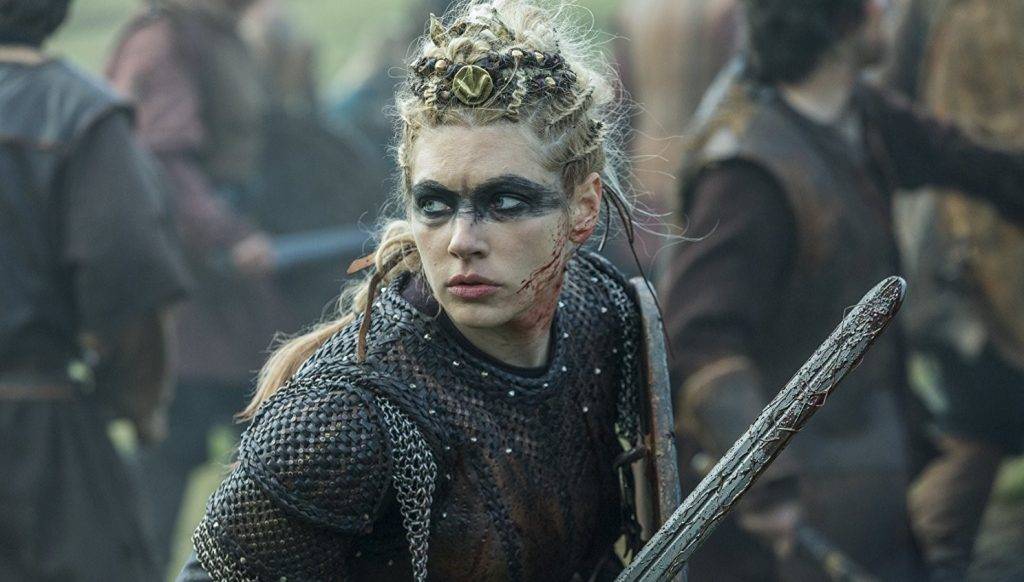 Oh watch me rise

I'm never coming down,

in time they'll love and honor me

I'll prove them wrong and I will earn my crown,

for I was born to be your Queen.
Quando ritorna dall'Inghilterra scopre che il suo secondo in comando, Kalf, l'ha tradita, prendendo il suo posto come jarl. Il loro è un rapporto di amore e odio che si concluderà con la proposta di Kalf: Lagertha accetta ma gli rivela che prima o poi lo ucciderà. E così farà, proprio nel giorno del loro matrimonio.
Passano gli anni e Lagertha rafforza la sua fama, rispettata dagli uomini e modello per tutte le donne. La sua mente però è sempre rivolta verso la sua città e la sua comunità. Ama le guerre ma è la corona ciò che vuole. Ora Kattegat è cresciuta, diventando un importante centro di scambi, e ha bisogno di un cambiamento. Ha bisogno di qualcuno che si prenda cura del popolo e che ripari a ciò che Ragnar ha lasciato che accadesse in Inghilterra. Lagertha si carica sulle spalle questo fardello, ritorna a Kattegat e se la riprende. L'uccisione di Aslaug è la ciliegina sulla torta di una vendetta covata per anni e finalmente raggiunta.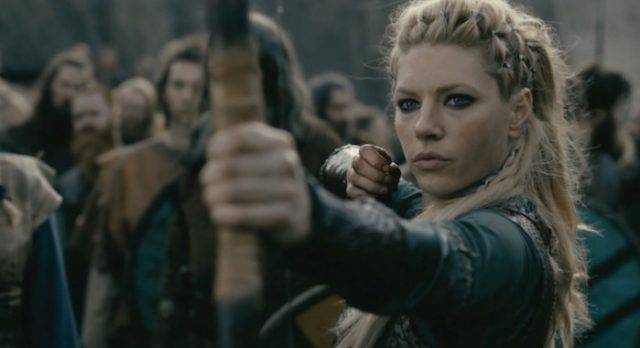 So ring the bells, this coronation day,

just wait and see what I can be.
Pochi in Vikings sono stati rispettati come Lagertha e si merita una corona che è sempre stata sua. Ha dovuto lottare per tenersela ed è stata sconfitta non da un re – Harald ci ha provato inutilmente – ma dal genio militare di un ragazzo storpio.
Lagertha ha perso una figlia, l'amore della sua vita, amici e amanti. È stata esiliata più volte, ha dovuto scegliere se lasciare Kattegat o rimanere e condividere suo marito con una "strega". È stata tradita, picchiata, umiliata e solo nell'ultima stagione ha avuto un crollo, non prima. Perdere Heahmund è stata la classica goccia che ha fatto traboccare il vaso.
Il suo è un percorso che solitamente ci si aspetta da un uomo. Invece si avvera in una forte donna vichinga, che non ha nulla da invidiare ai colleghi maschi. Ha concluso un percorso che Ragnar non ha mai seguito ed è riuscita a realizzare il più grande sogno del suo uomo. È una donna emancipata, artefice del proprio destino, forte ma incredibilmente umana. Sa perdonare ma non dimentica, soffre ma si rialza sempre, i suoi sentimenti sono profondi ma non si lascia mai dominare.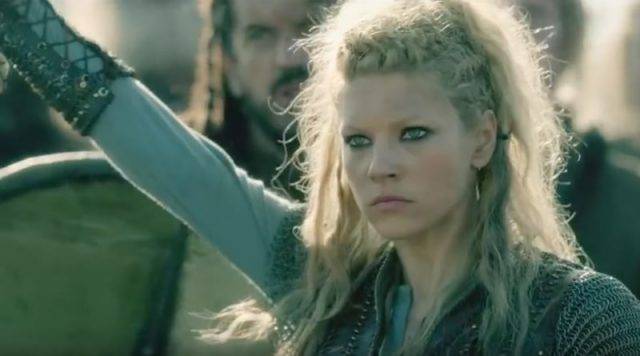 È proprio vero, lei è nata per comandare e per essere regina. E ora:
The history books will celebrate my name,

Oh Lagertha Lothbrok, Vikings' Queen!