La quinta stagione di Vikings si conclude con un finale che rialza nettamente il livello. Dopo una stagione discontinua, con molti punti bassi e alcune chicche rispolverate ad hoc nella seconda parte, Vikings si appresta a concludere il suo viaggio, diretto verso una sesta stagione (qui una piccola anteprima) che chiuderà le fila di questa narrazione epica.
Ma prima di ricominciare il countdown, diamo un'occhiata a "Ragnarok" in tutta la sua bellezza finale.
"Stories are all we have."
Nella mitologia nordica, la profezia del Ragnarok non narra soltanto la fine del mondo, ma dell'universo stesso come siamo abituati a vederlo e, soprattutto, la fine degli dei. Come preludio a ciò che andremo a vedere, Re Olaf narra le gesta del cataclisma che sta per abbattersi su Kattegat, traslando il mito sul piano reale.
Il personaggio di Re Olaf è come un bardo che accompagna le gesta che vediamo nell'episodio con solenni versi su tragedie e battaglie sanguinolente, donando una nota epica in più all'episodio.
Seppur l'intero episodio sia imperniato sulla battaglia e su ciò che accade intorno a Kattegat, ciò che lo rende profondo sono gli intrighi interpersonali tra i personaggi che finalmente consegnano qualche risoluzione a vari filoni narrativi. L'attesa è ripagata, certamente, ma non siamo in fondo molto convinti che il tutto si sarebbe potuto risolvere in maniera più breve, escludendo alcune storyline non utili e passaggi più veloci su altri aspetti.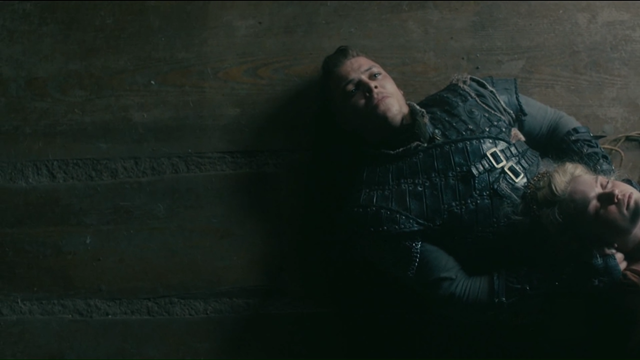 Il ruolo dell'antagonista sembra cucito addosso ad Alex Høgh Andersen: nel corso della stagione, egli porta in vita un personaggio coerente con la sua pazzia deformata da credi divini, senza però dimenticarsi di ciò che lo storpio era prima di prendere il trono: un impeccabile stratega militare in grado di decimare le forze nemiche dei suoi fratelli, senza neanche arrivare direttamente a uno scontro frontale tra guerrieri. Ma la sua arguzia fallisce lì dove i sentimenti umani fioriscono.
Ivar è un despota, venerato dalla sua gente perché impaurita e soggiogata dalla sua risolutezza mortale. Quando Bjorn urla il proprio dolore di dover scontrarsi con chi una volta era suo vicino di casa, riesuma ciò che potrebbe tornare a imperare a Kattegat: una vita serena, guidata dal rispetto delle regole e senza la paura incombente di finire sulla forca (quella che attende coloro che non hanno scagliato le frecce ordinate da Ivar).
È qui che il personaggio di Andersen si intacca e vacilla. Non è mai stato amato dai suoi sudditi e neanche li ha lasciati provare un sentimento positivo per lui. La fedeltà non si raggiunge a suon di impiccagioni.
La morte di Magnus arriva silenziosa come una freccia, ponendo fine a un personaggio la cui intera esistenza non era mai stata chiara, come la sua fede. Anche Hvitserk sembra trovare la soluzione ai suoi dubbi legati alla fede in procinto della battaglia. La prova è nella statuetta del Buddha gettata via prima del massacro e la sua foga nel combattimento, che lo porta a essere il primo a salire nelle torrette difensive. Come Ubbe, anche egli ha forse compreso che gli dei norreni non l'hanno mai abbandonato?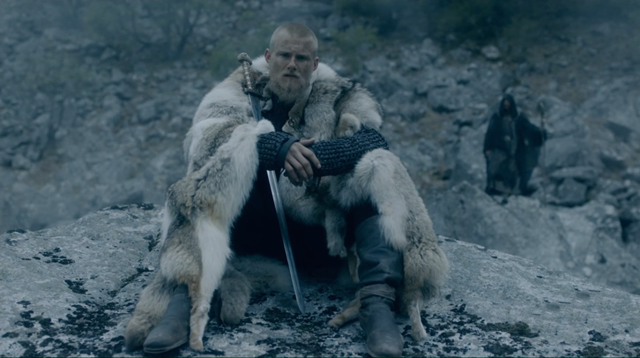 "Here is the sword of kings. All hail Bjorn!"
Lì dove Ivar vince con l'arguzia, Bjorn affonda, ma sa quali corde toccare nelle viscere dei suoi fratelli e delle sue sorelle. Ricordiamoci che prima di Ivar, la città era governata da Lagertha in maniera quasi impeccabile e che il resto dei fratelli ragnarsson era ben visto dalla popolazione. Ma l'avvento di Ivar ha sconvolto quella pace, instaurando un clima saturo di negatività su molti livelli.
L'urlo disperato di Bjorn rievoca quei ricordi e prepotentemente la speranza si insinua nelle menti. Un passo verso la vittoria è stato fatto, ma a consegnarla nelle mani di Bjorn è la persona che meno ci saremmo aspettati: Freydis.
Mai deludere o contrariare una donna, perché ti scaglierà addosso la tempesta. Quella che una volta giaceva amorevole nel letto con te, si trasformerà nella picca su cui svetterà la tua testa.
Una volta all'interno, la battaglia è ormai vinta da Bjorn. Ivar è in fuga, ma volge un'ultimo sguardo d'astio, conscio che non tutto è – forse – perduto.
A concludere questo capitolo in perfetto stile Vikings, non vi è solo l'arrivo a sorpresa di Lagertha, Ubbe e Torvi, ma anche un simbolismo scaturito da questa nuova realtà appena iniziata.
Risuonano come un'eco le intense parole che Lagertha disse ad Alfred: la fatica di una madre che ha cresciuto un uomo capace di essere un re migliore. Bjorn è adesso re, come una volta lo era suo padre e scaturiscono nelle sua mente quanto gli disse quella volta sul monte: "Il potere è sempre pericoloso. Attrae i peggiori e corrompe i migliori."
E ecco riaffiorare l'elemento soprannaturale con il quale Vikings ha sempre un po' giocato:" Tutto questo è reale?" sussurra Bjorn, ma alle sue spalle l'Indovino esclama ancora una volta parole mistiche. Nessuno scorderà il nome di Bjorn Ironside, più grande di Ragnar. Ma la battaglia non è ancora finita.
Con il rumore del vento che spira, raccogliamo l'eredità di questa stagione e guardiamo al futuro un po' meno dubbiosi e ancora speranzosi che forse nulla è ancora del tutto perduto.