# #
Un sussurro…
E' possibile percepirlo, fin nel profondo di noi stessi. Un sibilo, una lieve voce strozzata che alimenta il fuoco del nostro coraggio. Timidamente ci invita a non ancorarci al porto della rassegnazione ma esorta a combattere, ogni giorno. Quale oneroso fine se non quello di poter prendere le giuste decisioni e rendere la nostra vita migliore. "Don't be Afraid" non è solo una citazione, è l'essenza stessa di Vikings e più in profondità di tutti noi. E' l'estremo atto coraggioso di un uomo morente verso il suo antagonista ma sopratutto nei confronti del suo popolo. La fine di un uomo che anche nella sua sconfitta salta sul carro del "vincitore" tirando le redini di una conseguenza disastrosa per i suoi nemici.
# #
Ma di cosa realmente non bisogna "aver paura" ?
Perché questo è ciò che Ragnar sussurra a re Ecbert la notte prima di essere giustiziato. "Dont't be afraid" suona come un monito, parole di conforto e allo stesso tempo allarmanti chiudono così l'episodio 14 "In The Uncertain Hour Before the Morning" della quarta stagione. Due uomini che si guardano intensamente e piangono, consci del loro destino.
# #
Un destino spietato per entrambi, conseguenza delle loro vite. Non possono sfuggire alle leggi del mondo per le quali devono rassegnarsi e pagare le conseguenze delle proprie azioni. Il tutto sta nel come affrontare la morte. Ragnar questo lo sa e, guardando Ecbert, non riesce a nascondere le sue emozioni che esplodono in tutta la loro travolgente forza attraverso il profondo blu dei suoi occhi, che tanto abbiamo amato e ammirato per quattro stagioni. Nello specifico Ragnar chiede a Ecbert di non aver paura di consegnarlo a re Aelle, il quale lo ucciderà. Ecbert se risparmierà la vita di suo figlio Ivar, non avrà ripercussioni e verrà salvato dall'implacabile vendetta dei figli del guerriero vichingo.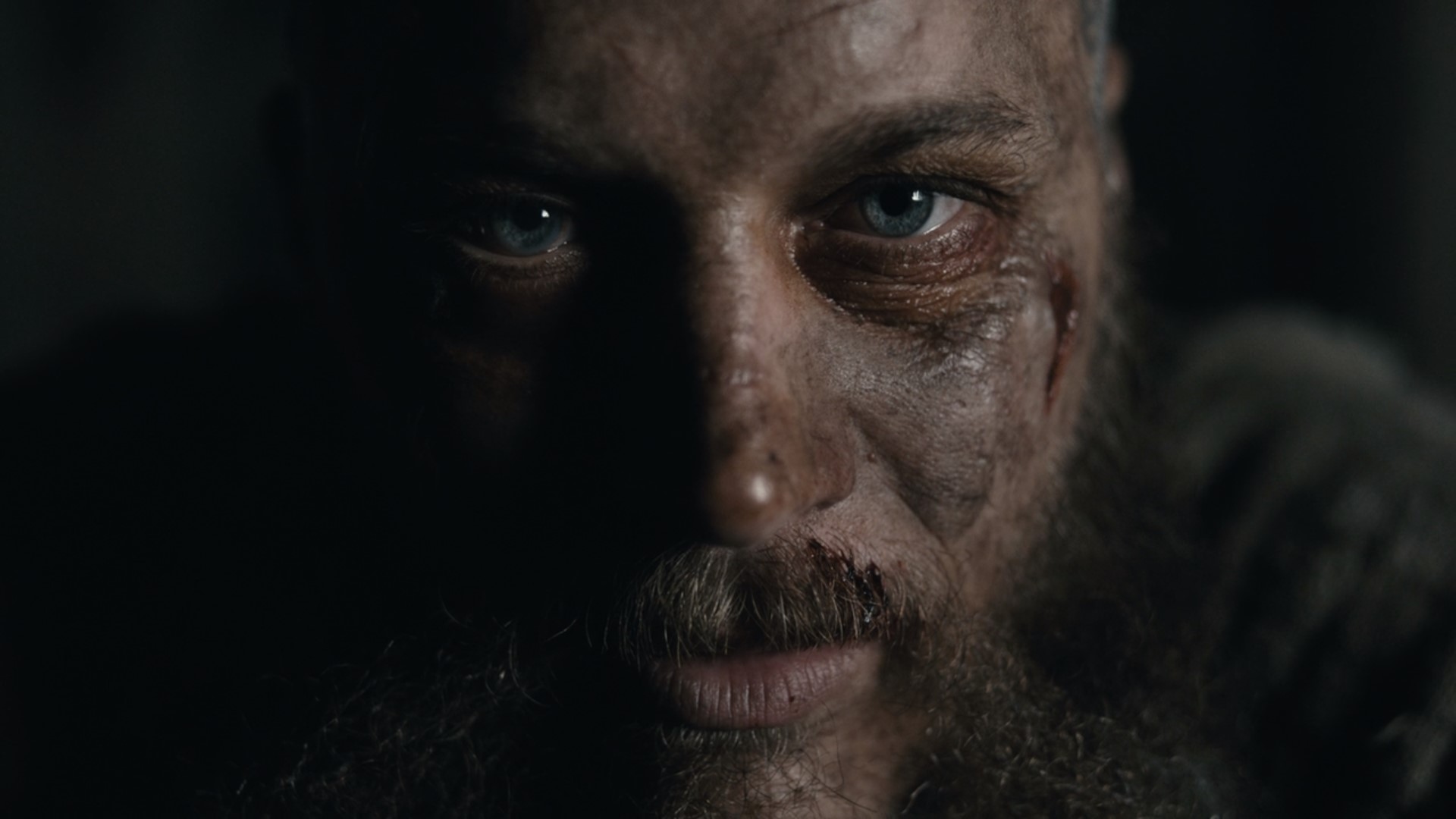 Per Ragnar è finita.
Il re dei normanni ha pensato per molto tempo alla morte e non è più l'uomo che era prima. Nonostante ciò, se ne andrà appellandosi alle scintille che ancora bruciano dentro di lui. Scintille che l'hanno reso una leggenda sia nella Storia che ai nostri occhi, che lo abbiamo seguito per così tanto tempo. Tuttavia una leggenda prima di essere tale è solo un uomo. Un uomo che compie delle scelte nel suo presente che poi riecheggeranno nell'eternità. In lui è vivo il tormento, la disperazione, la consapevolezza di esser giunti al capolinea ma non solo, c'è anche altro. Perseveranza, coraggio, tenacia e amore.
Don't be Afraid non è solo una rassicurazione nei confronti del suo nemico. Rappresenta più cose, un fugace microcosmo. E' una strategia, l'ultima di Ragnar. Il suo ultimo viaggio nei tunnel dell'anima. Un segno di rispetto verso il suo nemico, con il quale ha instaurato una connessione di reciproca stima, come solo due veri leader e re sono in grado di poter creare. E' anche un indiretto e dolce pensiero rivolto ai figli, i quali prenderanno il suo posto nella Serie. Don't be afraid è un interminabile sfida di sentimenti, messaggi di vita e obiettivi manifestati in quei pochi secondi decisivi per il destino di un intera Serie.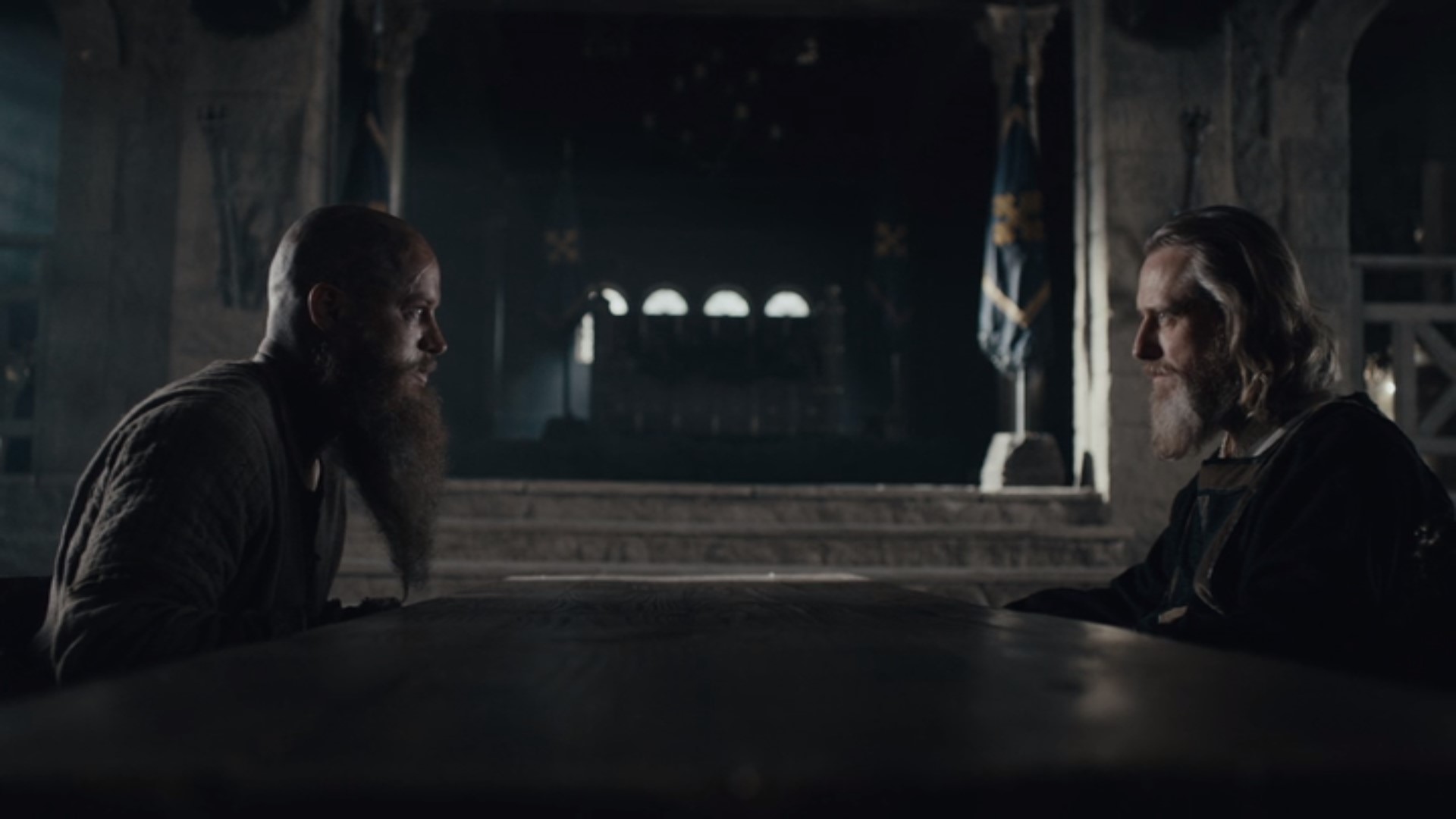 Ma come potrebbe riguardare noi ? 
Gli occhi di Ragnar sono fissi su Ecbert ma in realtà guardano noi, ci scrutano, lucidi e profondi come un abisso. Sono occhi che in quel breve lasso di tempo raccontano tutta la sua vita e frammenti di ciò che accadrà in futuro. Siamo quindi anche noi a non dover aver paura della sua perdita ma, paradossalmente, gioirne. Ragnar decide di andarsene con un ultimo grande scopo per se stesso e i suoi figli: porre le basi per un futuro prospero in terra straniera. Non potrebbe certamente essere diverso per la vita di ognuno di noi. Dentro di noi quella voce talvolta timida, e non sempre ascoltata, ci ricorda di avere coraggio ed uno scopo. Tre parole che racchiudono l'amore per la famiglia e per le persone a noi care, e che come una martellata colpiscono in pieno petto.
Non è solo Ragnar ad esserne cosciente, ma anche lo stesso Ecbert. Uomo tutt'altro che ingenuo. Egli sa ciò che lo aspetta, sa perché il re dei normanni è venuto nel suo regno, da solo con suo figlio. Il loro è un reciproco scambio di sguardi, secondi interminabili più lunghi dell'intero episodio. Una silente conversazione in cui ognuno capisce l'altro e accetta le regole del gioco. Un gioco in cui non ci saranno né vincitori né vinti, ma un'altra interminabile guerra, un conflitto da cui non ci si può sottrarre.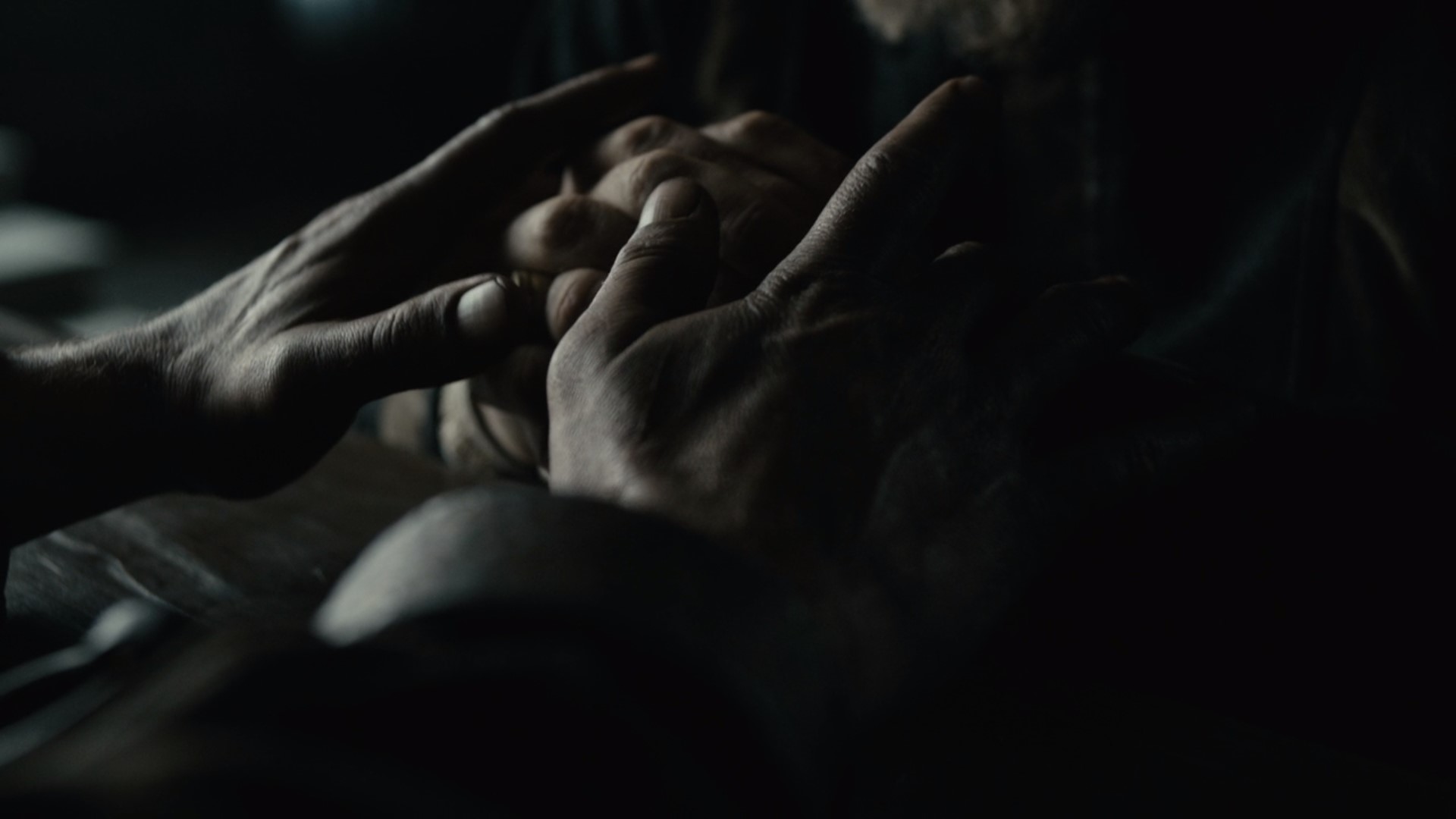 E così sia…
In quei pochi secondi, il mondo è cambiato, in un istante impercettibile e invisibile, i due avversari sono diventati un'unica cosa. Don't be afraid proclama l'inizio di una nuova storia, tre solenni parole pronunciate da Ragnar ma così forti che probabilmente sono il primo vero reale messaggio degli Dei. Non parliamo del Pantheon normanno né del Dio cristiano, ma di qualcosa di più grande che governa il mondo; un'energia inarrestabile che scorre dentro di noi e ci permette di vivere la vita come il più prezioso dei beni. E forse è proprio questo uno dei suoi messaggi: vivere la vita senza aver paura governando il proprio destino.
Proprio come dice il titolo dell'episodio, in un'indefinita ora della notte, così sia. Don't be afraid.