The Sopranos è la più grande opera della cultura pop americana, la miglior serie-tv della storia secondo il Writer's Guild of America, attori premiatissimi sempre coerenti ed idonei ai loro ruoli, la serie che ha dato lustro all'ormai notissima HBO, una serie da Top Ten in ogni influente e nota classifica del genere… e si potrebbe continuare con un elenco infinito di meriti e riconoscimenti. In sintesi, straccianti risultati bolscevichi e numeri che parlano quasi da soli.
Il lavoro seriale di David Chase che racconta le vicende di una famiglia mafiosa di origine avellinese ormai saldamente trapiantata nel New Jersey, è già un cult eterno. David Chase è il padre di The Sopranos, l'ideatore dei soggetti, nonchè regista del primo ed ultimo episodio. Per quanto concerne l'ultimo episodio, svisceriamo (senza spoiler) soltanto il fatto che esso sia tuttora considerato, uno dei più aperti e criptici di sempre, forse il più discusso dell'intero panorama seriale.
La storia de I Soprano ha un legame solido con quella, reale, dei DeCavalcante, almeno per quanto concerne la struttura organizzativa mafiosa. "The New Jersey's cosa nostra family", una famiglia di onesti mestieranti del crimine newyorkese. La mafia della piccole cose, quella non infallibile ma ugualmente violenta.
Il progetto iniziale di Chase vedeva Steven Van Zandt (Silvio Dante) vestire i panni di Tony Soprano, al posto dell'eterno James Gandolfini, ma i produttori volevano qualcuno con più esperienza. Per questo semplicissimo motivo la scelta ricadde sul caro Gandolfini, con piena gioia di tutti. Le curiosità sul cast non mancano, sempre David Chase, non era convinto della resa di Drea de Matteo (Wendy di Sons of Anarchy), ma dopo creò il personaggio di Adriana la Cerva, ed il resto è ormai storia. Lorraine Bracco, alias dott.ssa Jennifer Melfi, doveva rifare la moglie di un mafioso proprio come in Quei bravi ragazzi, interpretando quindi la signora Soprano. La stessa attrice chiede di interpretare un altro ruolo, ed il portamento, lo sguardo penetrante e l'eleganza erano ingredienti perfetti per l'interpretazione della psicanalista del boss Tony.
L'encomio, il valore e le prove incontrovertibili che I Soprano sono una delle migliori e delle maggiormente premiate opere, dell'intera storia seriale. I Soprano hanno squarciato il panorama seriale solcando la linea temporale tra secondo e terzo millennio (1999-2007).
Parlare di un'opera ingombrante, cruda e stupenda come "The Sopranos" arreca ad ogni scrittore almeno due cose : onore e sfiducia. L'onore per poter scriverci qualche distorta riga a riguardo e la sfiducia per l'impossibilità di far capire al lettore, che razza di maledetto capolavoro sia quest'opera. Quel tipo di articolo autolesionista per definizione.
The Sopranos tributa due opere del genere gangster : Quei bravi ragazzi di Martin Scorsese (gran parte del cast è proprio ne I Soprano) e Il padrino di F.F. Coppola. Evidente è il fortissimo riferimento al masterpiece intramontabile di Scorsese con personaggi che finiscono spesso in situazioni tragicomiche, mentre per quanto concerne Il padrino, si tratta più che altro di piccoli tributi, un omaggiare alcune delle scene più memorabili, ma anche di questo ne abbiamo già parlato. Cospicua ed importante parte del cast di The Sopranos aveva avuto già modo di conoscersi, proprio in Quei Bravi ragazzi del 1990 : Michael Imperioli (il cugino Chris),Tony Sirico (Paulie), Lorraine Bracco (Dott.ssa Jennifer Melfi), Frank Vincent (Phil Leotardo, il fervido antagonista-concorrente di Tony) ecc.
Michael Imperioli (Chris Moltisanti) ed il cambio di ruolo : il fragile e folle Chris Moltisanti nella serie, aveva preso parte alla pellicola di Scorsese, nei panni di quel ragazzo del bar che viene sparato al piede, ed  ucciso in un'altra occasione dal delirante Tommy (un Joe Pesci sontuoso). Neanche a farla apposta, proprio ne I Soprano, l'indisciplinato Chris si rende protagonista di una sorta di vendetta "di soggetto", ferendo sempre al maledetto piede il pasticciere del bar. Un cambio di vesti assurdo e stupendo. Altro momento chiave dello sviluppo del tormentato Chris Moltisanti, è la disturbante visione onirica della macelleria, con la sua sporca coscienza che spesso decide di agitargli il sonno.
C'è anche una grandissima curiosità sull'episodio della terapia di gruppo di Chris. Ogni personaggio sottolinea le sue colpe e le sue mancanze, Paulie che lo vede come un rammollito, l'amata Adriana che non lo riconosce più, e poi lo scambio di battute con il boss Tony :
Tony : "Dobbiamo parlare del fatto che ti ammazzi con la droga, non della mia personalità"
Chris "Io mi ammazzo secondo te ?!… tu per come mangi avrai un infarto a 50 anni"
James Gandolfini (Westwood, 18 settembre 1961 – Roma, 19 giugno 2013). Il sapore di una mesta premonizione telefilmica che diventa concreta nella reale sfera quotidiana.

Tony Sirico, alias Zio Paulie, ha invece alle spalle una storia incredibile. Questo attore non è affatto una vittima dell'estremizzazione del metodo Stanislavskij, ovvero quando si finisce col diventare ciò che hai dovuto interpretare. Tony Sirico aveva "collaborato" con il boss mafioso Carmine Persico, ed è stato arrestato più di volte : un physique du rôle idoneo al massimo.
I Soprano hanno regalato scene indimenticabili : vanno ad esempio citati i crescenti deliri di onnipotenza di Ralph Cifaretto e la sua smaniosa ossessione per il film Il Gladiatore, interpretato da un Joe Pantoliano a dir poco strepitoso (Emmy sacrosanto nel 2003). Come poter dimenticare la corsa nella neve di Chris e Paulie stremati e feriti alla ricerca del russo o la scoperta di quel Giuda tra le mura familiari dal nomignolo "Pussy", la scena della "terapia d'urto" che vede il clan Soprano fronteggiare prima verbalmente, e poi fisicamente, il problema di droghe di uno spocchioso Chris. I continui litigi tra figlio Tony e mamma Livia, conditi dai classici piagnistei di quest'ultima, oppure il continuo odi et amo tra Zio Junior e il nipote Tony, una sorta di scontro generazionale mafioso : nuovo che avanza e vecchio al tramonto. Potremmo veramente continuare all'infinito, ci sarebbero svariatissime sublimi scene e dialoghi da ricordare, ma in tale articolo non c'è la volontà di essere artecifi di decisive rivelazioni.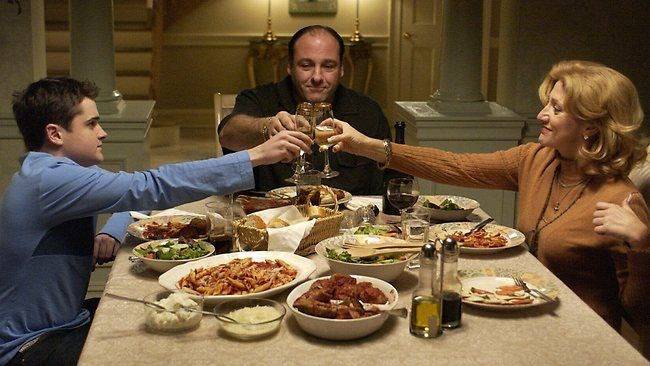 I Soprano ripropongono le succulente e tipiche usanze culinarie abbinate al tipico malcostume italiano, la cultura illusoria del tutto e subito, la famiglia opprimente ma che è vista come l'unica cosa sacra da custodire, quel senso ingombrante ed arcaico ma al contempo solido, dell' onore, fiducia e rispetto.
La serie tv che ha instaurato empatia tra lo spettatore ed un boss stressato da famiglia e affiliati, la serie che ha visto un mafioso consumato, sdraiarsi sul lettino di una seducente psicanalista a parlare delle sue problematiche esistenziali e subendo esempi e spiegazioni freudiane.
The Sopranos è un maledetto capolavoro, destinato a rimanere nelle vette d'ogni tempo.
Leggi anche :
– I Soprano : Italians do it better
– Che fine hanno fatto gli attori de I Soprano ?
– 5 serie da seguire se sei in astinenza da Sons of Anarchy
Un saluto ai cari amici della pagina "I Soprano-Fan club italiano"