Spesso e volentieri ritroviamo attori di serie tv ormai datate, che recitano in quelle odierne. E delle volte gli stessi attori adolescenti o non ultra trentenni, ora si trovano ad interpretare i genitori di alcuni protagonisti, o sono essi stessi i protagonisti.
Parte la nostalgia a palla, pensiamo a quanto il tempo sia passato e cerchiamo su Wikipedia vita, morte e miracoli di questi attori per capire dove l'abbiamo visto in precedenza.
Ebbene, ci sono dieci attori in particolare che sono invecchiati in un batter d'occhio e da protagonisti indiscussi di serie tv vintage, si ritrovano con figli e problemi familiari.
1) Kyle MacLachlan – Da Twin Peaks ad Agents of Shield
Dale Cooper, il detective misterioso e spassoso di Twin Peaks, era interpretato da Kyle MacLachlan, uomo fascinoso ed eterno Peter Pan. Durante la sua evoluzione lo ricorderete nei Flintstones, The Librarian, Sex and the city, How I met your mother. Ma ultimamente l'abbiamo visto nei panni del padre della neo-Daisy, ragazza che deve convinvere con i suoi nuovi poteri e vuole proteggere persone come lei. Sto parlando di Agents of Shield e lui è Calvin Zabo.
2) Lisa Kudrow – Da Friends ad Unbreakable Kimmy Schmidt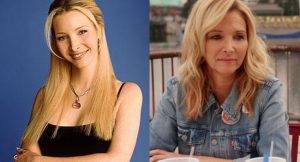 La dolce e svitata Phoebe di Friends era interpretata dall'attrice Lisa Kudrow. Dal 1994 al 2004 era una giovane munita di chitarra e di voce stonata che poteva contare sull'aiuto di cinque ragazzi, suoi inseparabili amici. In Unbreakable Kimmy Schmidt la ritroviamo fugacemente in un episodio al fianco della protagonista. E' la madre che non si è curata di farsi sentire una volta che la figlia era stata liberata al bunker che l'ha tenuta prigioniera per 15 anni. Appare come una donna piuttosto sola, nonostante se la spassi a divertirsi sulle sue amate montagne russe in quel di DisneyWorld.