Quando guardiamo una serie tv la nostra valutazione dipende da un numero consistente di fattori. In primis dal nostro gusto personale, che è indubbiamente l'elemento principale, poi dal genere, dalla trama, dai protagonisti e così via. A volte può succedere che un singolo elemento, se di livello adeguato, possa farci apprezzare una serie indipendentemente da tutti gli altri e condizionare in positivo o negativo il giudizio complessivo. Oggi ci concentreremo sui dialoghi. All'interno di un prodotto audiovisivo questo aspetto è estremamente rilevante. Ed è in grado di farci rivalutare anche prodotti che altrimenti non ci colpirebbero granché. Un caso emblematico in questo senso è Una mamma per amica.
Questo dramedy infatti è un vero e proprio punto di riferimento per quanto riguarda la stesura dei dialoghi nel mondo delle serie tv, indipendentemente dal giudizio complessivo dello show. Proveremo quindi a darvi le debite motivazioni a questa selezione così da approfondire in un ampio spettro di generi seriali quei prodotti che hanno fatto dei dialoghi il loro marchio di fabbrica.
Vediamo quindi quali sono, insieme alla già citata Una mamma per amica, le 5 serie tv da guardare anche solo per i dialoghi.
1. The Newsroom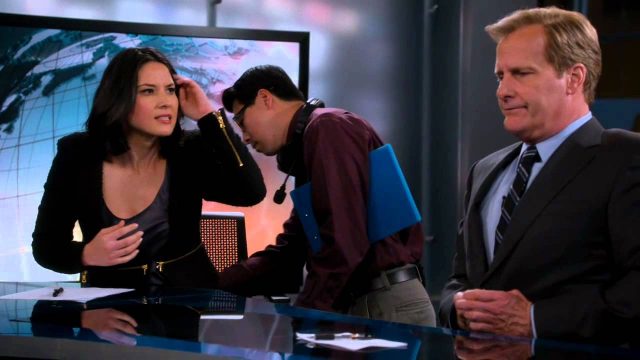 Quando si parla di grandi dialoghi non si può non citare la geniale serie creata da Aaron Sorkin: The Newsroom. La serie prodotta da HBO che segue le vicende lavorative e personali dell'anchorman Will McAvoy, interpretato brillantemente da Jeff Daniels. Sono molti gli aspetti che fanno brillare The Newsroom nel firmamento delle serie tv. Su tutti basti citare la collaborazione straordinaria della due volte premio Oscar Jane Fonda.
La vediamo interpretare il ruolo di Leona Lansing. Leona è a capo dell'immaginario network Atlantis Cable News (ACN). Il personaggio è stato paragonato alla versione femminile del fondatore della CNN: Ted Turner. Per altro Jane Fonda è stata sposata dal 1991 al 2001 proprio con Turner. Il nome "Leona Lansing" è un omaggio a due donne di successo: la donna d'affari Leona Helmsley e l'ex amministratrice delegata di Paramount Pictures Sherry Lansing, prima donna a capo di un network televisivo.
In The Newsroom, il protagonista Will McAvoy è "in missione" per civilizzare la società. Racconta la verità, anche se potrebbe essere brutale. Will  e la sua redazione raccontano storie straordinarie, il tutto, mentre sostengono geniali ed esilaranti dialoghi con impressionanti riferimenti letterari e culturali.