Sento un bisogno fisico di scrivere questo pezzo dalla scorsa settimana. Le mie mani si muovono senza che io possa fermarle sulla tastiera. La mia testa è piena di cose da dire. Per quale ragione chiederete voi? Cosa mi sta succedendo? La risposta è più facile di quello che sembra: Gilmore Girls tornerà davvero. Su Netflix. Come una fan girl di tutto rispetto ho sempre pensato che sette stagioni non fossero sufficienti e che 40 minuti per concludere una storia così bella (lasciando mille punti interrogativi su cosa potesse succedere dall'ultimo episodio in poi) non rendessero sufficiente giustizia.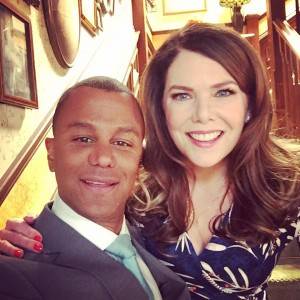 Le voci su 4 puntate speciali giravano da mesi ormai, soprattutto dopo la rimpatriata del cast di Gilmore Girls avvenuta lo scorso ottobre. Ma questa volta le cose stanno diversamente: sono iniziate le riprese. Sono arrivate persino le prime immagini dal set!!!! Il bellissimo chiosco al centro della pizza principale di Stars Hollow è stato riportato in vita per l'occasione e, come possiamo vedere dal suo profilo personale di Twitter, Yanic Truesdale (Michel) si fotografa insieme a Lauren Graham. Entrambi in splendida forma e di nuovo in azione al DragonFly Inn. NON STO PIÙ NELLA PELLE.
La mia bacheca Facebook negli scorsi giorni è stata letteralmente invasa da articoli, foto, gif, stati al riguardo. Insomma tutto quello che credete di poter trovare su un social io ce l'avevo lì in bella mostra. E parlava regolarmente di Una Mamma per Amica. Per quanto possa essere popolare l'argomento mi rendo conto che la parte di colpa più grossa vada alla sottoscritta: seguo molte pagine e profili che parlano di telefilm. Ho pensato però di fare ammenda raccogliendovi tutte le informazioni che fino ad ora sono riuscita a recuperare su l'attesissimo ritorno di Gilmore Girls. Sperando che siano tutte attendibili. Sono una persona molto ordinata quindi non sono riuscita ad evitarvi un bellissimo elenco puntato (chiedo scusa in anticipo perché mi rendo conto possa risultare fastidioso).
A volte l'ovvio va detto ad alta voce: Lorelai, Rory, Emily e Luke saranno presenti dal primo secondo del primo episodio speciale (Guardate che carina Lauren Graham sul suo profilo Twitter il primo giorno di riprese).
Richard Gilmore, invece, non ci sarà. Purtroppo con la morte di Edward Herrmann non si potrebbe fare diversamente. Aspetteremo dunque la nuova versione di Emily, senza un uomo accanto. Siamo sicurissimi, però, che se la caverà egregiamente.
Scott Patterson ha annunciato di essere impaziente di poter riapre il Luke's. Sarebbe in effetti difficile immaginare Lorelai e Rory andare in un altro locale per la routine del caffè mattutino.
Paris, Chris, Logan, Lane, Kirk, Michel hanno detto sì. E non lo hanno nascosto al pubblico fan delle Gilmore Girls.
Pareri discordanti si sono susseguiti sulla potenziale assenza di Sookie. C'è chi dice che non sia stata nemmeno chiamata (a me sembra davvero improbabile) oppure che non ci sarà per i troppi impegni lavorativi.
Gli episodi speciali saranno quattro e porteranno ciascuno il nome di una stagione: Winter, Spring, Summer e Fall.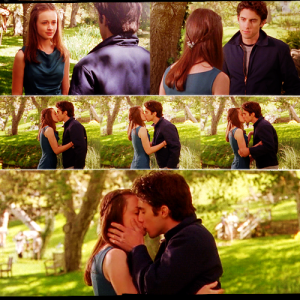 Il mistero fondamentale ma ancora irrisolto di questo ritorno per me rimane uno: "Chi sarà il compagno della vita di Rory??" . Speriamo tutti sia uno dei suoi 3 storici ex, ovviamente. Dean, Jess o Logan? Non è il to be or not to be amletico ma poco ci manca. La conferma per ora è arrivata solo da Matt Czuchry, l'ex fidanzato più recente. Una vaga speranza è stata data anche da Milo Ventimiglia sul suo profilo Twitter, in risposta ad un commento di una fan/follower. Io ho sempre pensato che Rory fosse destinata a Jess per cui a questo punto mi rimane solo da sperare in questi episodi speciali per essere finalmente accontentata. E aspetterò, impaziente.
Sperando di non avervi ammorbato troppo, ci vediamo a breve per altri aggiornamenti!
 Un saluto agli amici della pagina Una mamma per amica Gilmore Girls e Una mamma per amica. !