Uno dei migliori personaggi di sempre. Il miglior detective di sempre. Ditemi quello che volete. Sì, ok, Poirot, Sherlock e Colombo sono top di gamma, ma Dale Cooper, signori miei, Dale Cooper, questo bizzarro genio dell'intuito creato da David Lynch… non so nemmeno cosa dire, su Dale Cooper. Dale Cooper è anche il miglior agente dell'FBI di sempre. E uno dei migliori personaggi di sempre. Perché Dale Cooper è l'insieme di alcuni ingredienti irresistibili: è intelligente, affascinante, intuitivo, bizzarro, divertente.
Dale è un tipo strano, dicevamo. Ama la torta (alle ciliegie, soprattutto) e una buona tazza di caffè , ops, volevo dire a damn fine cup of coffee  Particolarmente interessato al misticismo e alla spiritualità dei nativi americani, alla tecnica deduttiva del metodo tibetano, si dà alla divinazione e ha una spiritualità degna del Buddha stesso. Proprio per queste sue caratteristiche, l'agente Cooper riesce a mantenersi in stretto contatto con gli spiriti che abitano la cittadina ( e ognuno di noi). Spesso, questi spiriti gli appaiono in sogno e gli forniscono informazioni fondamentali per portare avanti le indagini. Raccontato così, il nostro sembra più un santone che un detective, ma proprio questa sua caratteristica, questo misto di intuizione e spiritualità, spesso lo aiuta a indagare ben oltre il velo di superficialità razionale e a scoprire, oltre l'opacità di questo, il luccichio sfavillante e tetro della verità. Perché la storia di Laura Palmer, e della sua morte, va ben oltre la dimensione del reale.  Epica la scena di Cooper che lancia dei sassi contro delle bottiglie: mette in fila una serie di bottiglie di vetro contro cui scaglia dei sassi mentre pronuncia, di volta in volta, il nome di un abitante di Twin Peaks. Se la bottiglia si rompe, ecco che quello è il nome giusto, la strada da seguire per scoprire cosa è accaduto a Laura Palmer. E poi c'è 'sta cosa del registratore che ti manda ai pazzi. Sì, perché l'agente Cooper parla sempre con questo registratorino che apostrofa con il nome Diane. E tu non sai se si tratta di una specie di diario o di una segretaria o di uno strano feticismo.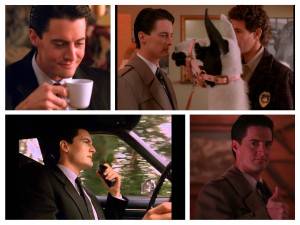 Già immischiato nell'omicidio di Teresa Banks (un'altra vittima di BOB), appena prima della morte di Laura, Cooper, sfruttando la sua ineccepibile forza intuitiva, avverte un collega che l'assassino della Banks sta per colpire ancora e ucciderà una ragazza bionda, che fa uso di sostanze stupefacenti, sessualmente attiva e che sta chiedendo aiuto. Il collega gli ricorda che quella descrizione si addice a metà delle liceali d'America.
Da qui in poi la storia la sapete, e se non la sapete, sarà il caso la sappiate a breve, signori miei, perché se vi siete persi Twin Peaks, la serie tv migliore della storia. Insieme allo sceriffo della cittadina, Harry Truman, l'agente Cooper si lancia in indagini sempre più intricate e avvincenti che non si concluderanno con la scoperta dell'assassino di Laura, ma proseguiranno in una direzione più mistica, in direzione della Loggia Nera e in una molto più personale con il caso di Windom Earle ex collega e amico di Cooper. Diventato un pazzo omicida, Earle, coinvolge Cooper in un'avvincente partita a scacchi nella quale ogni mossa corrisponde a un cadavere. Partita iniziati molti anni prima, quando a Earl e Cooper era stato assegnato il compito di tutelare la moglie di Earl, Caroline, testimone di un crimine federale. Peccato che il marito la sgozzi e che Cooper ne fosse follemente innamorato.
Caroline rimarrà per sempre l'amore della vita di Dale Cooper. Almeno finché non conoscerà Annie Blackburn, anche se noi speravamo cedesse con la seducentissima Audrey.
Sua anche l'ultima scena del finale di stagione. Una scena che più che altro è una genialata.
E, ragazzi, esiste un audio libro il cui titolo è Diane – The Twin Peaks Tapes of agent Cooper con le trascrizioni delle registrazioni del nostro.
L'AGENTE DALE OLTRE TWIN PEAKS: Kyle MacLachlan è un viso noto ben oltre Twin Peaks. Lynch gli ha fatto fare comunque altri (capo)lavoretti prima e dopo la serie, tra tutti ricordiamo Dune e Velluto Blu, ma quello di Kyle è un viso noto anche serialmente. Ricordiamo solo alcune serie in cui compare: Sex and the City, Desperate Housewives, How I Met Your Mother, Agent of S.H.I.E.L.D.
LA FRASE:
 Il mio sogno è un codice che deve essere decifrato. Decifrato il sogno, risolto il caso.
Elisa Belotti