Il tempo scorre lento in questo terzo episodio di Time After Time che fa seguito alla premiere di un'ora e mezza che aveva avviato, zoppicando, una Serie dal buon potenziale teorico ma da subito avvolta da lugubri ombre di flop. Il flop c'è stato, almeno a livello di ascolti. Poco male se fosse dovuto a una preconcetta opinione. Il fatto è che allo stato attuale, e come conferma questo Out of Time, il giudizio non è apparso per nulla avventato.
Si era già avuto modo di sottolineare nell'articolo di presentazione, tracciando anche un quadro della figura del vero H.G. Wells, i problemi riscontrati in partenza. Così come le note positive che, se calcate, avrebbero certo potuto regalare qualche gioia in più. Tra di esse sicuramente l'enorme vantaggio di poter muovere una critica alla società attuale attraverso occhi nuovi, o meglio vecchi, quelli dei due protagonisti catapultati nel futuro. Nel nostro presente.
La premiere ha lavorato anche su questo, mettendo in risalto le differenze a livello di valori e consuetudini del nostro mondo rispetto a quello prospettato da Wells.
Il progresso tecnologico non ha portato a quel positivistico progresso tanto sperato e programmato dalla cultura ottocentesca. Anzi, passato attraverso gli orrori di due guerre mondiali, il mondo oggi appare come carne al macello di ideologie sorpassate. Terra di conquista per menefreghismo, indifferenza, egoismo. Una società così narcisistica da risultare quasi piacevole e senz'altro intrigante per il serial killer ante litteram Jack lo Squartatore alias John Stevenson.
Bene, quanto di positivo preannunciato dai primi due episodi di Time After Time è stato miseramente e forse irrimediabilmente tradito da questo terzo episodio.
I fantasmi già all'orizzonte non erano pochi. A partire dalla deriva verso un facile sentimentalismo nel calcare la mano sul rapporto tra Wells e la bella Jane, una piattissima Génesis Rodríguez. Lo sdolcinato e languido rapporto amoroso tra i due si è già concretizzato. Sia pure in un casto bacio. Anche se la spettacolarizzazione non è mancata: fontane di scintille hanno scandito l'unione tante volte rimandata in questi tre episodi. E così la macchina del tempo trasformatasi in una fontana di Capodanno per l'occasione ha dato il suo placet alla relazione. Che, a ben vedere, non è poi un male nell'economia della Serie. Sicuramente ci risparmieremo puntate su puntate di tira e molla, prendi e lascia, bacia non bacia, che faccio che non faccio. Discorso chiuso: bacio, amore, punto e a capo.
A capo, sì, ma il nuovo paragrafo non va tanto meglio. Potremmo intitolarlo "la storia dello strano tizio col cappello da baseball". Che dire? Ha a che fare con gli "smanettamenti" nel tempo. Qualcosa è accaduto a sua madre. Cosa non si sa. Rimangono -purtroppo- ancora nove episodi per scoprirlo. Non vediamo l'ora. Questo bellimbusto non le manda a dire comunque: "bang bang!" e Wells e la sua bella si trovano in seri guai.
Non basta. La carne al fuoco era poca, e gli autori ne aggiungono altra. La costoletta in questione reca il nome del marito di Vanessa. Vanessa chi? Ma sì,  Nicole Ari Parker, che nonostante tutto è un bel vedere. Almeno questo. L'uomo nasconde qualcosa di losco: sa tutto di Wells e trama alle spalle di tutti.
Insomma, un attimo, riavvolgiamo il nastro. Quanti filoni narrativi ci sono? Diversi, forse troppi anche per una Serie ben strutturata. Figuriamoci per Time After Time che al fuoco non riesce a mettere neppure un arrosticino per volta.
La trama principale è quella che vede anteposti Wells e John; poi c'è lo "strano tizio col cappello da baseball"; quindi il marito di Vanessa. Insomma, se aggiungono una traccia a episodio stiamo messi bene. Non vi prometto per il futuro che mi impegnerò nella realizzazione di uno schemino illustrativo. Anzi non voglio proprio illudervi, miei due affezionati lettori: non lo farò.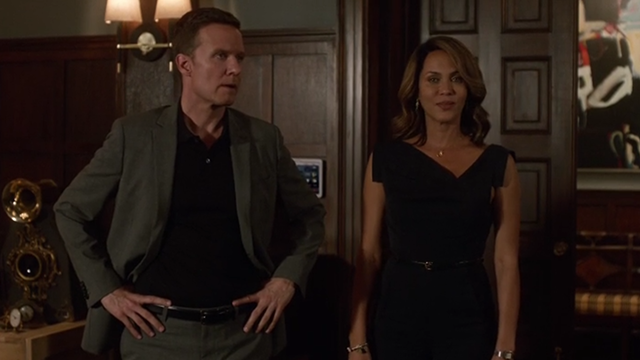 Bene. Se siete giunti anche a questo punto della recensione probabilmente lo state facendo solo vinti dalla curiosità estrema di sapere quale sarà il prossimo malcapitato tema di Time After Time da prendere di mira. Ma, of course, Mr. John! Buttare alle ortiche (eufemismo per ragioni di compostezza letteraria) anche questo personaggio agli autori è evidentemente sembrato un obbligo.
John aveva le potenzialità per diventare il personaggio più affascinante e contorto della Serie.
Di quelli che tanto piacciono per la caratterizzazione e la complessità psicologica. Un tipo tenebroso, affascinante, cattivo di quel cattivo per cui le donne –e i serial addicted- sembrano andare matti. E niente: elettroencefalogramma piatto. Un po' come quello dell'attore che lo interpreta, immagino. Un belloccio dalla mimica facciale di un pesce palla. Va bene, sto esagerando, ma mi si può dare torto?
Anche perché, pensavate che le trame secondarie fossero finite? E invece no. Ne spunta un'altra come un fungo dopo il temporale. John già agghindato per il suo primo omicidio in 'live streaming' viene sorpreso dalla sua vittima. Sorpresa, sorpresa! Anche lei sa perfettamente chi ha davanti. Lo lega, lo dispone su un tavolo operatorio e si prepara per chissà che cosa.
Ma in quaranta minuti ora ci dirai che non succede altro? Quaranta minuti con quattro trame diverse non bastano? Agli autori no!
Ci ficcano pure una ricerca dell'alessandrite, la pietra preziosa che scopriamo essere il cuore pulsante della Time Machine capace di "condensare la luce su una specifica lunghezza d'onda e permette alla macchina di superare la quarta dimensione. È il vero cuore e l'anima della macchina del tempo". Insomma, una "robina" importante.
Durante la ricerca della gemma c'è tempo anche per l'apparizione di un altro macho, amico ed ex-ragazzo di Jane. Gelosia e battutine sferzanti da parte di Wells e già te lo ritrovi steso a terra. No, non è stato il buon H. G. (pace all'anima del vero Wells che si ribalta nella tomba). È stato "lo strano tizio col cappello da baseball". Proprio lui. Lo ha colpito e ora insegue armato di pistola i due "trottolini amorosi" (che nel frattempo avevano trovato modo di riscambiarsi altre due-tre parole all'estratto di lavanda).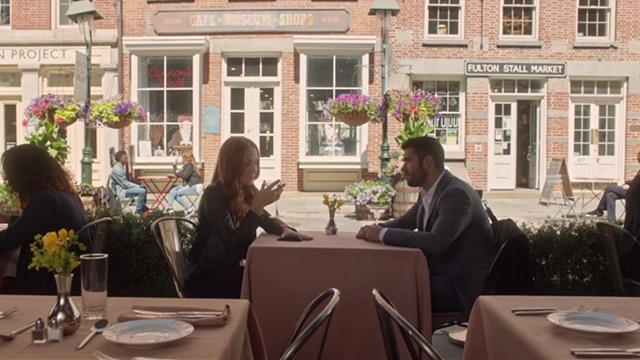 Come non bastassero queste smancerie si aggiunge il flirt tra John e la red-haired neurologa incontrata, apparentemente, per caso. Poco prima di procedere nel suo intento omicida John si lascia andare a una considerazione che forse rappresenta l'unico discorso di un certo peso nell'economia dell'intero episodio.
Ma come sappiamo bene entrambi, in realtà io sono… un animale. Non c'è redenzione per la mia anima, costi quel che costi. Quindi, dovrei essere fedele alla mia natura. Ma, forse, sarai soddisfatto di sapere che proverò rimorso.
Il riferimento è alla premiere di Time After Time in cui lo Squartatore si era fatto prendere da un momento di compassione dietro le preghiere di Jane e aveva risparmiato la vita a una ragazza rapita. Quel barlume di speranza sulla sua conversione, insomma, si richiude d'improvviso: è la sua natura uccidere. Non può farne a meno. E non spera in una redenzione. Sa che non può avvenire. Eppure… C'è un eppure. Anche in questa volontà di rimarcare la sua natura ferina, già di per sé una giustificazione che John sembra voler dare anche a se stesso, rimane uno spiraglio per il rimpianto. Rifiuta la carezza della donna con cui ha dormito, percependo l'atto come eccessivamente intimo. Come se sapesse di non poter più pretendere poi il giusto distacco che si fa confà al suo "mestiere" di killer.
Sono stato poco onesto. C'è almeno un'altra frase degna di sopravvivere all'oblio di questo terzo episodio di Time After Time. È ancora una volta pronunciata da John e ci aiuta a chiarire maggiormente le motivazioni di fondo che sottendono al suo piacere nell'uccidere.
A volte penso che quello che mi spinge ad agire non derivi esattamente dall'eroismo. "E da dove viene?" Si tratta di potere, no? Di controllo. Chi vive, chi muore.
John si riferisce qui al suo lavoro di chirurgo parlando con la fascinosa ragazza che ha invitato a bere un drink. Ma, involontariamente, mette in evidenza la base attorno a cui si muove la sua sete di morte: il potere. Il controllo che tanto il chirurgo quanto il killer hanno di dare come di togliere la vita. Di avere un'esistenza nelle proprie mani.
A conclusione di questo terzo episodio Time After Time ha messo in luce tante lacune. Ha accentuato presagi di sventura anticipati velatamente nella premiere. Ha concretizzato il suo ruolo di Serie di seconda fascia. Pur mantenendo ancora uno spiraglio, una speranza finale che ci lascia confidare in un riscatto.
Le premesse in Time After Time, comunque, non sono buone.