Non manca molto alla messa in onda dell'ottava stagione di The Walking Dead. Ci aspettiamo molta azione e non vediamo l'ora di vedere lo scontro decisivo tra Rick e Negan. Se ben ricordate infatti, il finale della settima stagione ci ha preparati a questo (clicca qui per un recap!).
E se questo scontro portasse alla morte di uno dei due personaggi? Riuscite a immaginare The Walking Dead senza Rick Grimes, protagonista sin dal primo episodio? Secondo Andrew Lincoln, che interpreta Rick Grimes, la Serie potrebbe continuare anche senza di lui!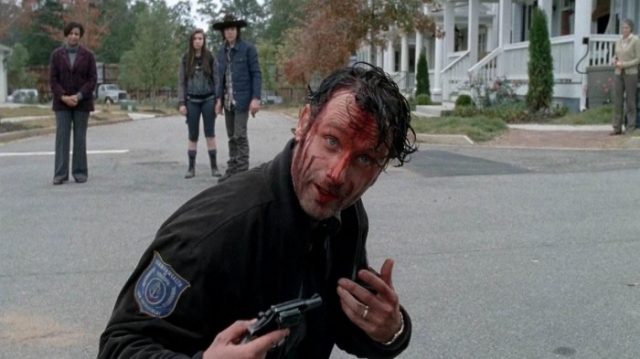 L'attore non ha rilasciato nessuna dichiarazione ufficiale in merito a quello che succederà nell'ottava stagione. Tuttavia, crede che la Serie sia riuscita a costruire una storyline tale per cui può continuare anche senza la presenza di Rick Grimes. Andrew Lincoln avrebbe pensato anche a una soluzione: un probabile passaggio "di padre in figlio". Il piccolo COOOOOORL (che ormai tanto piccolo non è) potrebbe prendere il posto del padre alla guida del gruppo. Ha però la stoffa per essere un buon leader?
L'attore protagonista di The Walking Dead non è l'unico a pensare che la Serie potrebbe proseguire anche senza Rick. Ve lo abbiamo anticipato in questo articolo! Robert Kirkman, creatore del fumetto da cui è tratta la Serie, lo ha detto al San Diego Comic-Con: "Rick will not make it to the end of The Walking Dead" (Rick non sopravviverà fino alla fine di The Walking Dead). In una recente intervista, ha inoltre dichiarato:
Andy è sicuramente il leader nella Serie e la sua dedizione ad essa è decisamente encomiabile. Ma abbiamo un meraviglioso cast e ci sono molti personaggi che potrebbero portare avanti la Serie. The Walking Dead è decisamente una Serie su un mondo e su un gruppo di persone che lo abitano. Tuttavia, personalmente, non credo che dobbiate preoccuparvi di qualcosa di simile molto presto.
Le parole di Kirkman, pur considerando l'idea di The Walking Dead senza Rick, non fanno pensare che il leader venga sostituito nell'ottava stagione. Per esserne sicuri dobbiamo però aspettare i nuovi episodi, in onda dal 22 ottobre su AMC qui(clicca per vedere il trailer!).