Essere delle celebrità non è mai semplice. Lo sanno bene cantanti, scrittori e, soprattutto, gli attori. Un attore in particolare, che in The Walking Dead ha interpretato Nicholas, ha parlato a distanza di anni di ciò che ha dovuto subire a causa del suo lavoro con la sopracitata serie televisiva.
Sicuramente il personaggio interpretato da Michael Traynors non è stato uno dei migliori di The Walking Dead, ma spesso i fan perdono la ragione quando si tratta di scindere la finzione dalla realtà.
Nicholas, come ricorderete, aveva attirato l'odio di tutti nell'episodio Conquer, facendo quasi morire Glenn. In seguito si è suicidato sparandosi per evitare di essere divorato dai vaganti; il suo corpo senza vita si è poi accasciato su Glenn, facendolo cadere a sua volta in mezzo ai non-morti. Fortunatamente, però, il ragazzo è riuscito a salvarsi scivolando sotto a un cassonetto per i rifiuti che ha utilizzato come nascondiglio.
I fan, tuttavia, credevano che Nicholas avesse fatto morire Glenn. Michael Traynors, in quel periodo, non è stato sicuramente sommerso dai complimenti! Da poco ha parlato nuovamente di quei momenti durante il podcast Talk Dead To Me:
Quel periodo di pausa alla fine della stagione 5 e l'inizio della sesta è stato veramente divertente. Sapevo che il compito di Nicholas non era essere questo tenero, amorevole individuo super affascinante, che è un po' quello che sono in realtà, grazie. Quindi quando le persone sono arrivate e hanno detto 'Hey amico, ti odio c**o', in realtà io ho sentito 'Bel lavoro, hai fatto centro'
L'attore ha inoltre ammesso di essere stato affascinato dal comportamento dei fan. Quando lo incontravano per caso, infatti, gli chiedevano se Glenn fosse davvero morto e se sapesse qualcosa a tal proposito.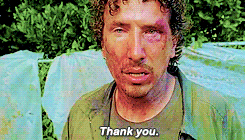 Michael Traynors, da vero professionista, non ha quindi visto negativamente la reazione dei suoi "haters": ha apprezzato il loro interesse e ha capito di aver fatto davvero un buon lavoro nell'interpretare il personaggio di Nicholas in The Walking Dead.