Devo ammetterlo: The Vampire Diaries è ormai diventata una serie TV inconcludente, ma alcune volte riesce ancora a sorprendere. Capita raramente, ma capita.
Questa volta dobbiamo ammettere che gli sceneggiatori di The Vampire Diaries sono stati parecchio bravi: l'episodio ha avuto colpi di scena più o meno inaspettati. Certo, c'era sempre e comunque un grado di nonsense non indifferente, ma… Come posso dire… Era minore del solito, forse?
Comunque, procediamo con ordine la nostra analisi di questa puntata.
Piccolo riassunto delle puntate precedenti di The Vampire Diaries: Bonnie è riuscita a far riaccendere ad Enzo le emozioni, sembrava che i nostri eroi fossero riusciti a catturare Damon in modo che non facesse più danni, ma le cose si sono messe al peggio. Infatti, non solo Sybil si è liberata dalla cella dell'Armeria, ma siamo anche riusciti a scoprire che Seline è la seconda sirena, che ora sta portando le due piccole figlie di Alaric al cospetto di Cade. Insomma, tutto regolare in una città come Mystic Falls!
La puntata comincia con una telefonata tra Alaric e Seline. Il vecchio professore di storia ha scoperto tutto, e avvisa la tata che lui e Caroline sono sulle sue tracce, e che la troveranno sicuramente. Delle minacce davvero potenti e utili da fare ad una sirena che ha in ostaggio le tue figlie, non c'è che dire. Conclusa la chiamata, ecco arrivare la strana coppia: Sybil e Damon raggiungono Seline e le gemelle. Che la riunione di famiglia abbia inizio!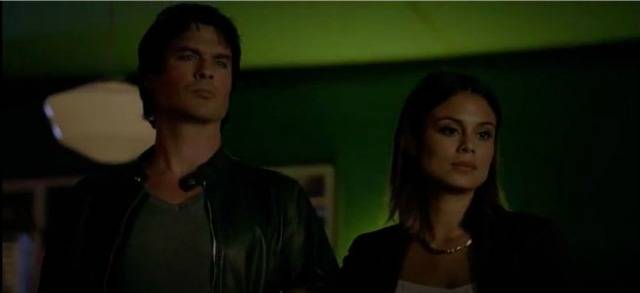 Contemporaneamente, Alaric e Caroline si stanno mobilitando, con tanto di polizia, per ritrovare le piccole. Stefan, in quanto futuro sposo di Caroline, vuole rendersi utile, e a me la cosa sembra più che logica. Non tanto per il fatto che devono scambiarsi la promessa di passare la vita insieme, anche se la cosa ha un certo peso, ma perchè dobbiamo ammettere che due vampiri sono sicuramente meglio di uno. Insomma, avrebbe più senso se Caroline e Stefan si muovessero insieme contro le sirene, piuttosto che Caroline e Alaric… No? 
A quanto pare, no. Caroline pensa bene di bloccare sul nascere l'istinto di protezione del suo fidanzato, dicendogli che finchè non troveranno le gemelline non potranno stare insieme. Stefan dovrà restare a collaborare con la polizia fino al loro ritorno. Per sancire il patto, la biondina decide pure di restituire l'anello al più giovane dei Salvatore.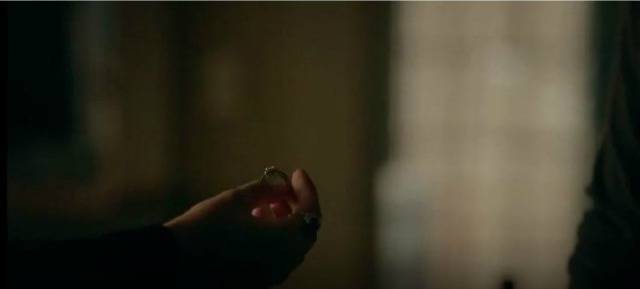 Una scena davvero, davvero straziante! Uno aspetta per intere stagioni che questi due si mettano insieme e poi ci mettono queste scene… Ma voi autori di The Vampire Diaries siete davvero crudeli!
La caccia, ad ogni modo, continua. Proseguono le ricerche della polizia, mentre assistiamo ad un primo scambio di battute tra le due sorelle, che non si vedono da secoli, letteralmente. Devo ammetterlo, non riesco a sopportate Sybil, ma una volta che la si vede attaccata a sua sorella diventa una ragazza spassosissima, posso garantirlo! 
In tutto ciò, veniamo anche a conoscenza del piano di Seline. Finalmente riusciamo a capire per quale motivo ha seguito le gemelle e le ha pure rapite: vuole presentarle al cospetto di Cade per barattare la sua maledizione. In sostanza, saranno le figlie di Alaric a portare avanti gli omicidi delle anime crudeli che prima toccavano alle due sirene, mentre queste ultime diverranno libere. Per nulla strano e anormale vedere due bambine killer, proprio no!
Nel mentre, all'Armeria, ecco che arriviamo al momento melenso e romantico della situazione: Bonnie ed Enzo fanno irruzione, e chiedono disperatamente aiuto a Stefan e Matt. A quanto pare Sybil è entrata nella mente di Enzo, e lo sta lentamente torturando fino alla morte, dall'interno.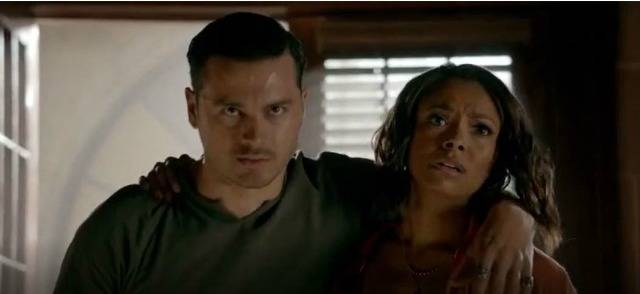 Ed ecco che finalmente assistiamo ad uno dei momenti più nonsense di tutta la puntata. Bonnie chiede a Stefan di collegarsi mentalmente con Enzo, per poter capire cosa gli sta succedendo. Insomma, una vera e propria connessione a livello psichico.
Avete presente Edward Cullen? Il vampiro super sexy di tanti anni fa in grado di leggere nel pensiero? Bè, abbiamo trovato il suo degno successore! In The Vampire Diaries Stefan sembra essere in grado anche di leggere nel pensiero. Non si sa da quando e non si sa come questo sia possibile, ma in fondo cosa importa! É possibile, quindi questo basta e avanza, a quanto pare.
Più volte Stefan riesce ad entrare nella mentre di Enzo, sempre più in fin di vita, fino a che non ne può proprio più. Così, durante una delle visioni, decide di intervenire e di fermare direttamente Sybil. Quindi, in quel di The Vampire Diaries, non solo Stefan ha acquisito le capacità sensoriali di Edward Cullen, ma le ha pure portate ad un livello pro! Insomma, Edward non poteva interagire con la mente delle persone, Stefan si. A ben pensarci in The Vampire Diaries bisogna saper fare di tutto.
Dal dialogo che emerge tra Stefan e Sybil scopriamo però una cosa importante: la sirena ha un piano, che a quanto pare condivide anche Damon. Ma tutto questo verrà spiegato a Stefan se li raggiunge al motel dove stanno per evocare Cade. Una riunione di famiglia in piena regola, non c'è che dire. 
Dal momento che si tratta di mettere in salvo delle gemelle, cosa farà Stefan?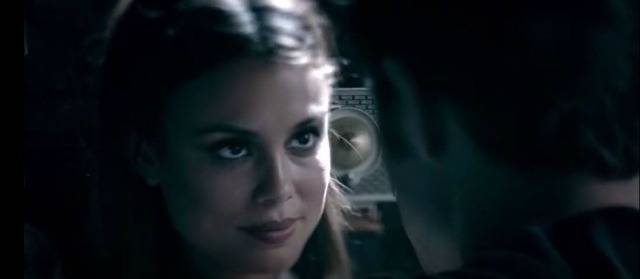 Non se lo fa nemmeno ripetere due volte: piglia armi e bagagli e parte verso il motel. Qualsiasi cosa pur di fare l'eroe, eh?
Nel frattempo, l'allegra famigliola è arrivata al motel, e sta allestendo tutto per il rito. Nello stesso momento, all'Armeria, Enzo pian piano si riprende, di fronte agli occhi felici di Bonnie e Matt. Coincidenze? Io non credo.
All'intero di una piscina che si allontana visibilmente dalla consuete norme d'igiene, ecco che compare lui, il diavolo in persone: Arcadius.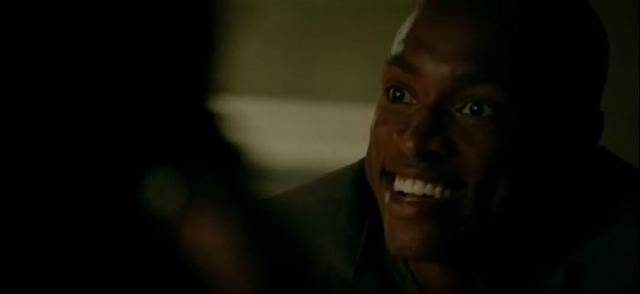 Mamma mia quanto è inquietante sto tizio! Va bene, è il diavolo in persona, quindi magari è anche normale che lo sia… Però davvero, ha degli occhi da pazzo che… Brrr!
Le due sorelle espongono la loro proposta. O meglio, Seline la espone e Sybil la prende in giro. Normale amministrazione familiare, insomma. Arcadius guarda le due bambine e sembra anche parecchio interessato all'offerta di Seline. Se non fosse che Sybil ne ha una migliore.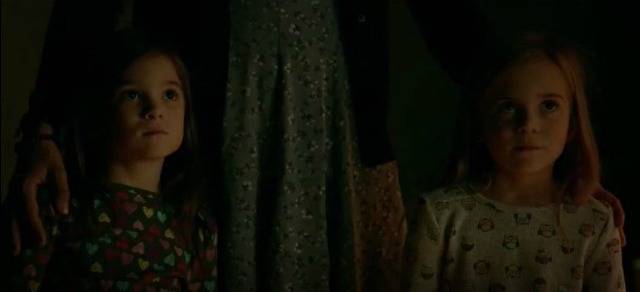 Povere bimbe, chissà se The Vampire Diaries avrebbe avuto un futuro migliore, se fossero state trattate diversamente… Ma non lo sapremo mai.
Comunque, dicevo, ecco arrivare la proposta di Sybil: perchè scambiare la loro maledizione a due bambine che, in realtà, sanno fare ben poco da sole, quando puoi passarla a due vampiri, serial killer per natura, che ammazzano la gente senza farsi troppi problemi e ti tolgono il pensiero?
Per quanto Seline sia estremamente scettica, a risolvere la situazione ci pensano proprio Damon e Stefan, che si presentano di fronte a Cade: a quanto pare Stefan ha accettato questa proposta, o meglio, questa dannazione eterna. 
Quindi sembra tutto risolto. Le piccole gemelline sono salve e Caroline e Stefan potrebbero tornare insieme… Si, certo…
Arriva il momento della verità, e dopo avere stabilito con Alaric che forse è meglio se lui e le gemelle si allontanano per un po', Caroline va a parlare con il suo fidanzato. Non ha esattamente appena vinto il premio di madre dell'anno, ma di certo si aspetta qualcosa di meglio delle parole di Stefan.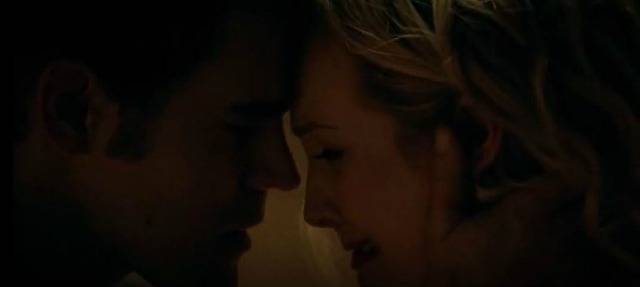 Stefan confessa a Caroline lo scambio fatto con Cade per salvare le piccole: saranno loro due i nuovi schiavi di Arcadius. Niente matrimonio di giugno, quindi, ma un bel matrimonio lampo, a velocità vampiro, giusto giusto il giorno dopo. Immaginate la faccia di Caroline quando tutti i suoi piani vanno in fumo!
The Vampire Diaries, però, ancora non è finito. Gran colpo di scena finale, che io onestamente non mi aspettavo. Dopo un dialogo tra Matt e Alaric, in cui capiamo quanto per i due sia stata dura veder morire i loro amici, ci ritroviamo al bar, e lì avviene la catastrofe: Matt e Alaric sparano a Damon, e poco dopo averlo indebolito, ecco che lo stesso Alaric lo pugnala al petto con un paletto.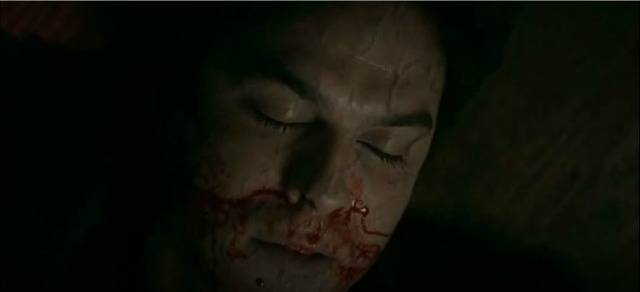 Damon sembrerebbe effettivamente morto. Cioè, morto morto. Ora, noi sappiamo la regola fondamentale di The Vampire Diaries, ovvero che ciò che è morto non resta mai morto troppo a lungo, quindi i fan possono stare davvero tranquilli. Però, non sarebbe bello un colpo di scena serio, in cui Damon muore davvero? Darebbe una svolta alla storia.
Anche questa puntata di The Vampire Diaries si è conclusa. Ci rivediamo la settimana prossima, con l'ultima puntata prima della pausa invernale!