# #
E' UFFICIALE: ELENA GILBERT TORNA PER IL GRAN FINALE DI THE VAMPIRE DIARIES!
Nina Dobrev aveva promesso il suo ritorno, ma Julie Plec non ha mai confermato, lasciando tutti in acque piuttosto profonde. The Vampire Diaries è pronto al gran finale con l'ottava stagione. Ha tutte le carte in regola per dare una degna conclusione alla storia che ci ha fatto sognare per anni.
# #
Ian Somerhalder, ex fidanzato della Dobrev, aveva speso delle belle parole riguardo Elena Gilbert proprio qualche giorno fa.
"Cosa accadrà? Non lo so, ma una cosa è certa: Elena non ha mai davvero lasciato la serie. Lei è sempre stata presente, nella moralità di Damon, facendogli capire chi è realmente. Nonostante tutto, lui prova ancora a prendere decisioni che Elena approverebbe, perché lei è ancora la luce della sua vita."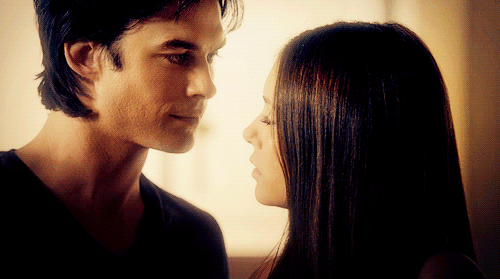 # #
L'attrice è stata impegnata in questo periodo con la promozione del film "XXX: The Return Of Xander Cage", dove recita al fianco di Vin Diesel. La bella neo-28enne ha deciso di rompere il silenzio angosciante riguardo alla sua presenza. Infatti, ha pubblicato su Instagram un'immagine tutt'altro che fraintendibile: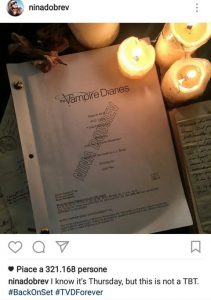 "…but this is not a TBT." Il dubbio poteva venire a qualcuno, ma ci pensa lei a specificare che non si tratta di un Throwback Thursday. Inoltre, per gasare ancor di più i fans, aggiunge l'hashtag #TVDForever, come per dire "ehi ragazzi, ma io TVD non l'ho mai lasciato".
Nina Dobrev sta per tornare sul serio. Stavolta non abbiamo dubbi.
Damon ed Elena saranno finalmente destinati a vivere eternamente il loro amore? Ci sarà il lieto fine o ci lasceranno con l'amaro in bocca? Questo non possono ovviamente dircelo.
Però dall'immagine possiamo leggere chiaramente anche il titolo dell'episodio che sarà "I Was Feeling Epic" e sarà diretto da Julie Plec. Il che dà i giusti presupposti per un addio degno di nota alla serie fantasy.
Non ci resta che aspettare!