Non si fermerà finchè tutti avranno pagato per quello che hanno fatto.
Con questa caption la pagina ufficiale di Netflix ha rilasciato un nuovo teaser trailer per la Serie Tv The Punisher (troverete il video alla fine dell'articolo!).
The Punisher è la nuova Serie Tv targata Marvel, che arriverà su Netflix a novembre. Nasce come spin-off di Daredevil, altra Serie Tv Marvel che spopola sul servizio streaming. Protagonista della Serie, che vediamo anche nel nuovo video promozionale, è Frank Castle, interpretato da Jon Bernthal (The Walking Dead). Il primo teaser trailer della Serie ci anticipa già l'atmosfera che caratterizzerà ogni episodio: cruda, oscura e con molta azione (clicca qui per vederlo!).
Frank Castle è un veterano di guerra che decide di utilizzare la sua conoscenza in campo militare per vendicare la propria famiglia, assassinata dalla mafia durante uno scontro a fuoco. Come già si può notare, il protagonista della Serie si discosta dai "soliti" protagonisti della Marvel. Solitamente infatti sono caratterizzati da superpoteri o armi speciali, mentre Frank Castle è un semplice uomo e la rabbia spinta dalla vendetta è la sua unica arma.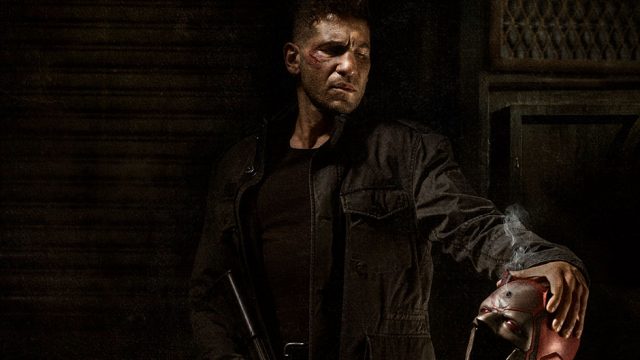 Purtroppo per noi, Netflix è molto discreto e ha rivelato ben poco su ciò che vedremo in The Punisher. Non si sa ancora la data precisa in cui la Serie sarà disponibile sul servizio streaming. Quello che sappiamo è che la prima stagione sarà composta da 13 episodi. Nel cast, di fianco a Bernthal, ci saranno anche Ben Barnes (Billy Russo), Ebon Moss-Bachrach (Micro), e Deborah Ann Woll (Karen Page). Non ci sarà Rosario Dawson (Claire Temple) a causa di altri impegni professionali.
Sperando di ricevere molto presto nuove notizie e indiscrezioni su The Punisher, ecco il teaser trailer appena pubblicato dalla pagina ufficiale di Netflix! Godetevelo: