Attenzione: potresti trovare SPOILER se non hai visto il secondo episodio di The Passage
The Passage è una serie dalle due anime. Il primo episodio ci ha infatti mostrato due metà distinte e ancora non perfettamente definite. Da una parte abbiamo un drama incentrato sul crescente rapporto tra Brady e Amy. Dall'altra c'è una storia insolita e intrigante sui vampiri e l'imminente fine del mondo. Con il secondo episodio, "You Owe Me a Unicorn" (Mi devi un unicorno), i due fili di questa serie sembrano avvicinarsi un po' di più. Iniziano ad annodarsi in una intrigante e lenta maglia che avvolge sempre più strettamente personaggi ed eventi.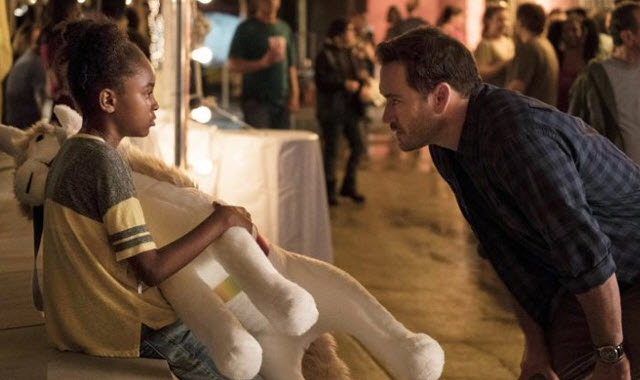 Il secondo episodio riprende da dove il pilot si era interrotto, con Amy e Brad (ferito) in fuga da Richards e dalla sua squadra. I due riescono a sfuggire dopo un breve inseguimento in auto. Scappano tramite uno scuolabus verso un'appartata fattoria nel Wisconsin per ottenere un passaggio sicuro. Qui si incontrano con una vecchia amica di Brad, Lacey (Kecia Lewis), un'ex suora e istruttrice della Marina.
Lacey è un personaggio intrigante. Ha un'impressionante parete piena di armi e chiaramente ha un passato oscuro, ma si mostra immediatamente affettuosa con Amy, come si vede quando la accompagna a dar da mangiare alle capre. Davvero interessanti e piacevoli le dinamiche che si sviluppano tra i tre personaggi. La sequenza a casa di Lacey offre ai due un momento per respirare e a noi la possibilità di esplorare il passato di Wolgast. Quello che avevamo intuito nel pilot ora ci viene ben mostrato: Brad ha perso sua figlia e sta cercando un modo per rimediare al suo senso di colpa.
La scena si sposta al quartier generale del Progetto Noah. L'ultimo soggetto del braccio della morte, Carter, ad aver ricevuto il siero sperimentale mostra una maggiore velocità nella reazione al farmaco.
Carter inizia ad avere dei sogni. In una di queste sequenze extracorporali vediamo Tim e Shauna (altro soggetto che ha ricevuto il siero) in un inquietante bar, mentre cercano di condurre lo sfortunato Carter verso il lato oscuro. Shauna, dall'aspetto normale, gli consiglia di fare "qualsiasi cosa lui dica". Il "lui" è Fanning, che versa bicchieri di sangue per entrambi. Shauna beve il suo, ma Carter rifiuta. Lei dopo essersi strappata un dente lo avverte con queste inquietanti parole: "Si paga con se stessi".
I due sono assolutamente terrificanti, ma allo stesso tempo estremamente accattivanti. Sarà davvero interessante vederne sempre più di questi esseri. E vedere il caos che scateneranno. È anche molto interessante rendersi conto di come Tim sembri essere il leader di questa nuova specie e come comunichino attraverso i sogni. Rispetto al pilot, bisogna ammettere che aver finalmente visto alcune scene con i vampiri, come quella dove Shauna fa a pezzi un teppista, ci ha dato l'occasione per capire il buon livello orrorifico verso cui andremo incontro nel proseguo della serie.
Il secondo episodio di The Passage prosegue con alcuni flashback. Scopriamo così un po' di più sui fondatori del Progetto Noah: Jonas e Tim. Ciò permette a noi di comprendere meglio questi personaggi. Capiamo anche che il progetto nasce come un esperimento per aiutare a curare la moglie di Jonas che soffre di Alzheimer. Questo spiega sia le azioni di Jonas che quelle di Tim. E quest'ultimo dimostra di essere stato un vero idiota ben prima di diventare il soggetto "zero" della sperimentazione del siero.
Si ritorna a casa di Lacey. Uno dei suoi contatti conduce Richards fino al loro nascondiglio. La pace  bucolica di Brad e Amy è definitivamente finita. Richards e i suoi scagnozzi iniziano a sparare.
Lacey, che sta aiutando Brad a difendere la casa, si prende una pallottola e cade. Lila e Amy si nascondono e Brad, resosi conto di non avere alcuna possibilità, abbassa l'arma ed esce dalla porta principale con le mani alzate.
Dice di aver messo Amy su una barca verso il Canada, ma Richards non gli crede. Quando questo sta per per sparare alla testa di Lacey, Amy corre fuori, arrendendosi. Le parole di Amy a Brad sono toccanti: "Tu non mi lasci, io non ti lascio". I due quindi vengono brutalmente gettati nel retro di un furgone. Direzione: Colorado.
Questo episodio, dopo la premessa mostrata dal pilot, ci conferma il buon potenziale di The Passage. Il personaggio di Amy (Saniyya Sidney) è una piacevole conferma. Il titolo della puntata è proprio una sua battuta nella quale rinfaccia a Brad di doverle prendere un nuovo peluche al posto di quello perso. Ma il vero personaggio di spicco è Jonas Lear (Henry Ian Cusick). In questo nuovo episodio diviene ancora più intrigante, Lear risulta essere la voce della coscienza piena di sensi di colpa di The Passage. Le sue interazioni con Carter (McKinley Belcher III), l'ultimo dei prigionieri del braccio della morte trasformato in cavia, è davvero molto interessante.
Questi primi due episodi di The Passage sono ancora solo l'antipasto di quello che potrebbe succedere.
I personaggi si stanno sempre più delineando. Fanning e Babcock sono dei villain in ​​divenire, ma con del grande potenziale distruttivo. Ormai manca davvero poco a quando verranno tutti riuniti in Colorado, e lì The Passage potrà finalmente mostrare il meglio di sé. L'apocalisse sta arrivando, inesorabile. La miccia è stata accesa e la fiamma corre veloce verso la polveriera. Veloce come il furgone che sta portando Amy e Brad da Lear.