È il caso di dirlo. Spesso non siamo in grado di dedicare il meritato tempo e spazio a produzioni seriali interessanti che invece potrebbero, senza dubbio, guadagnarsi la nostra attenzione. Tuttavia, non è mai troppo tardi per rimediare. Ed è per questo che oggi vogliamo focalizzare la nostra attenzione su uno show prodotto e mandato in onda su una giovane piattaforma, con una lunga strada ancora davanti a sé come Apple TV+. Stiamo parlando di The Morning Show, distribuita nel 2019, meritevole di una chance di visione anche solo per il suo cast di altissimo livello tra cui Reese Witherspoon, Jennifer Aniston e Steve Carell. Facciamo un passo avanti e andiamo a sintetizzare la trama di questo piccolo capolavoro di analisi sociologica contemporanea. Alex Levy (Jennifer Aniston) e Mitch Kessler (Steve Carell) conducono The Morning Show, il programma televisivo del mattino più un popolare d'America che, durante gli anni, ha fidelizzato il suo pubblico col suo motto: "La vita di persone che aiutano gli Stati Uniti, si svegliano al mattino e si scontrano contro sfide uniche".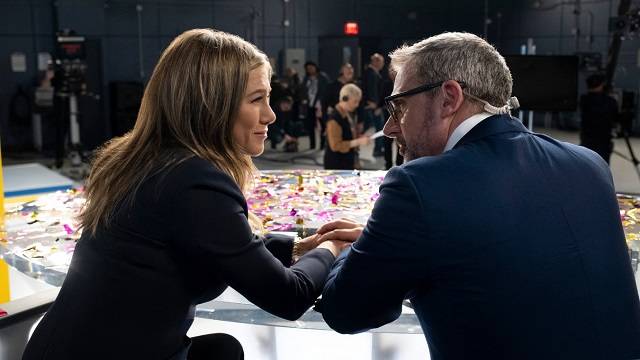 Ben presto però la vita di tutti sarà sconvolta da una inaspettata notizia. L'amatissimo presentatore, spalla storica nella conduzione dello show, viene licenziato con l'accusa di aver assunto comportamenti sessuali scorretti, denunciati da una donna prima impegnata nella redazione dello stesso notiziario. L'America è sconvolta. Lo show rischia di perdere tutta la visibilità conquistata in questi anni. A vivere un vero e proprio incubo è però la stessa Alex che, delusa da colui che credeva essere il suo migliore amico, cercherà in ogni modo di tenersi stretta la sua poltrona da conduttrice incontrando non poche difficoltà, spiacevoli sorprese e giudizi negativi.
Un incontro fortuito però sembra poter cambiare le sorti della testata giornalistica. La reporter di una realtà locale, Bradley Jackson, filmata a sua insaputa durante una manifestazione in un video divenuto virale, verrà presto coinvolta nel The Morning Show. La ragazza, con il suo radicato senso moralista, intransigente nei confronti delle ingiustizie e anticonvenzionale nei suoi modi di porsi al pubblico, presto si scontrerà con Alex. Tra le due nasce una rivalità, un rapporto complesso da delineare che presto si trasformerà in qualcosa di più che potrebbe coinvolgere non solo ogni membro del The Morning Show ma tutta l'America e il mondo.
Possiamo definire The Morning Show la prima serie tv a consentirci di conoscere ciò che accade dietro le quinte senza raccontarci bugie e scegliendo di interporre filtri a questa realtà.
Jay Carson, l'ideatore della serie, ha dato prova di grande abilità improntando la propria scrittura allo stile di Aaron Sorkin (The West Wing) e traendo ispirazione dallo scandalo sessuale che ha coinvolto Harvey Weinstein (che spesso vediamo menzionato nella serie) e dal conseguente movimento #MeToo. La narrazione affronta quindi tematiche profonde, complesse e soprattutto prismatiche così come i suoi protagonisti. Chiunque, infatti, rivela di avere qualcosa da nascondere, o meglio, cerca di occultare il proprio coinvolgimento diretto o indiretto in questa spirale di ingiustizie.
The Morning Show riesce a smascherare in maniera impeccabile quella coltre di omertà che annebbia le menti di chi occupa i piani alti. Gli uomini di potere, che credono di poter disporre a proprio piacimento di ogni cosa, vengono disillusi e intanto la "cultura del silenzio" inizia a scricchiolare.
Il vento dell'inatteso cambiamento agitato da Bradley, una outsider decisa a rivoluzionare il proprio mondo, sta iniziando a smuovere l'ambiente che la circonda andando incontro a importanti ripercussioni.
Se pensate che una serie non possa innescare una radicale trasformazione nella nostra visione delle cose, allora, The Morning Show è il racconto che potrà farvi ricredere.
Questo storia si compone di diverse sottotrame. È un viaggio nella psicologia di ognuno di coloro che sono coinvolti: c'è Bradley determinata a parlare all'America di ogni genere di argomento nel modo più sincero e diretto possibile; Alex che affronta questa cocente delusione e inizia a non sopportare più il peso delle bugie all'interno del suo malsano ambiente lavorativo. Anche gli altri personaggi che fanno parte della quotidianità raccontata nella serie, in questo caso, hanno una indiscussa importanza e apriranno la strada ai successivi sviluppi di trama.
Un discorso meritevole di attenzione è quello che The Morning Show riserva al personaggio di Mitch Kessler, il quale, nonostante venga identificato come il principale colpevole e responsabile degli scandali, non è definito secondo una logica manicheista. Anzi, al contrario, la sua negatività non è mai estrema e assoluta. Il contesto restituito dal racconto è nella sua coerenza sempre verosimile e lascia emergere le contraddizioni di una realtà sfaccettata, dove anche colui che è colpevole rivendica il diritto a far ascoltare la propria voce.
The Morning Show ha uno dei suoi punti di forza nell'esulare da una enunciazione delle problematiche sociali e umane, oggi ridondanti nel mondo dei social network, in maniera piatta e didascalica. La capacità della serie sta nel problematizzare ciò che accade in un continuo flusso di interrogativi che coinvolge non solo i personaggi inseriti in quel mondo di finzione, seppur verosimile, che durante la visione osserviamo in azione. The Morning Show è più vicina di quanto possiamo immaginare alla nostra drammatica realtà e alla società che ha bisogno di essere rieducata. E durante la sua visione è inevitabile individuare delle similitudini con ciò che è sotto i nostri occhi ogni giorno, sui notiziari e su ogni piattaforma di informazione. L'identificazione, a questo punto, è spontanea e non può più lasciar spazio a impassibili assensi.
The Morning Show è la esemplare semplificazione di come una serie tv, un contenuto all'apparenza fittizio e limitato, possa dare vita a un coro potentissimo di voci, attribuire una risonanza e conferire un ruolo da protagonista a chi è stanco di essere messo a tacere e costretto a giocare secondo le regole dei potenti. A chi è pronto adesso ad agire perché incapace di sopportare ancora queste prevaricazioni e sopraffazioni.
The Morning Show è, in questo preciso momento storico, la serie per noi tutti che siamo parte di questo mondo e di questa società.