The Morning Show è la serie tv che propone una metanarrazione del mondo della televisione.
Della capacità dello show di raccontare le ombre che si nascondono dietro gli abbagli dei riflettori ne abbiamo già parlato in questo interessante articolo; oggi vogliamo soffermarci sulla performance dei suoi attori principali.
In The Morning Show, Jennifer Aniston e Steve Carell interpretano Alex Levy e Mitch Kessler, i conduttori di uno degli show del mattino più famosi d'America. Lei è una anchorwoman sulla cinquantina, piegata alle logiche di potere, che incarna perfettamente l'ambiente maschilista del suo settore professionale; lui è l'archetipo di tanti uomini che sfruttano la loro posizione per approfittarsi delle donne; Mitch è un giornalista di successo che viene licenziato perché accusato di molestie sessuali. Carnefice inconsapevole ed emblema di un retaggio culturale patriarcale in cui è lecito avere un certo tipo di atteggiamento nei confronti delle donne.
A questi due grandi nomi si aggiunge anche quello di Reese Witherspoon che interpreta Bradley Jackson, reporter d'assalto, che viene scelta per cercare di risollevare le sorti dello show del mattino dopo lo scandalo.
I protagonisti di The Morning Show sono degli attori molto famosi e la loro fama, anche in ambito cinematografico, è dovuta principalmente all'aver recitato in due sit-com dal successo stratosferico, rispettivamente: "Friends", in cui Jennifer Aniston interpreta Rachel, che oltre ad essere famosa per i suo look e il suo taglio di capelli è un vero e proprio esempio di empowerment femminile, e "The Office" in cui Steve Carell interpreta il regional manager di un ufficio di provincia, dall'umorismo discutibile e dalla leadership piuttosto morbida, "that's what she said".
Il ruolo di Rachel Green è stato un trampolino di lancio importantissimo per Jennifer Aniston, anche per il grande schermo, però, fino a prima del suo esordio in The Morning Show, la Aniston sembrava rendere meglio nelle commedie e in questa veste sembrava attraversare un facile corridoio di leggerezza.
A dire il vero, già prima di The Morning Show, Jennifer Aniston aveva ottenuto lodi per dei ruoli molto dissimili dal suo personaggio più iconico: interpretando una donna intrappolata in un matrimonio insoddisfacente in "The Good Girl", la critica si rese conto che poteva anche essere una attrice "seria". Ha anche guadagnato elogi (e un possibile Golden Globe) per la sua performance nel film del 2014 "Cake", in cui ha recitato come una donna alle prese con traumi emotivi e dolore cronico a seguito di un tragico incidente d'auto.
Nello show della Apple, interpretando un personaggio complesso e drammatico, una donna che lotta con la giovinezza che passa, con il nuovo che avanza, vittima e allo stesso tempo complice di un ambiente maschilista volto a sacrificare la verità ed il bene comune in nome del successo, Jennifer Aniston è una rivelazione, una potenza. Per interpretare il ruolo di Alex Levy, le viene chiesto di fare molto: deve essere sincera e insincera, furiosa e insicura, distaccata e appassionata e ci riesce sorprendentemente, tanto da farci quasi risentire con "Friends" per averci derubato di un' attrice drammatica davvero incredibile.
É con The Morning Show che Jennifer Aniston da il meglio di sé; dimostra di essersi sganciata di dosso il ruolo che l'ha resa un'icona mondiale e riesce a far capire alla critica di essere una attrice a 360°.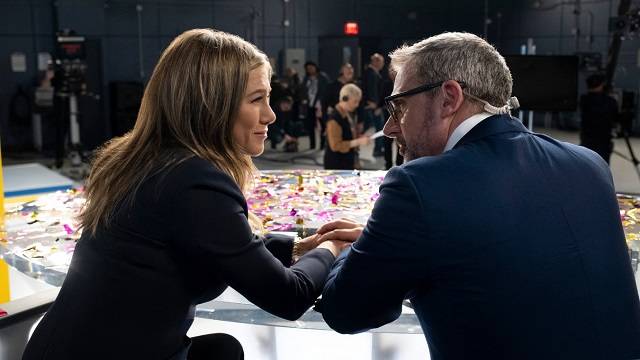 La Aniston, in The Morning Show, guadagna rispetto e reclama il suo tempo.
Sorprende la sua bravura nell'interpretare un personaggio complesso, contraddittorio, dalle personalità multiple, che fino alla fine farà chiedere agli spettatori se Alex Levy stia dalla parte dei buoni e dei cattivi.
L'attrice non da il meglio di sé solo nelle lotte in sala riunioni ma anche quando canta un duetto di "Sweeney Todd" (di fronte al veterano di Broadway Billy Crudup, che recita nei panni di Cory Ellison). La scena si svolge come un momento di accordo tra Alex e Cory (il produttore), ma, la scelta della canzone – "Not While I'm Around" – accenna a una possibilità più oscura. Il messaggio è: non sottovalutare Alex Levy. E noi non sottovalutiamo le immense capacità recitativi di Jennifer Aniston che nel suo ultimo ruolo si è presa tutto quello che è suo ( i riferimenti a Gomorra sono puramente casuali).
Dopo la regina di The Morning Show è tempo di passare al protagonista maschile: Steve Carell, uno di quegli attori a cui vuoi bene perché ti ha regalato moltissime gioie in "The Office".
A differenza della sua collega, il talento drammatico di Carell era cosa nota; la sua comicità lo ha reso famoso, ma in più di qualche occasione ha saputo mostrare il suo lato drammatico, vestendo i panni di strani e malinconici personaggi.
L'anno della svolta è stato, con ogni probabilità, il 2011: anno in cui interpreta "Crazy, Stupid Love" e "Cercasi amore per la fine del mondo", inaugurando una nuova stagione della sua carriera nella quale comincia a prendere parte a una serie di progetti di diverso tenore.
Il ruolo della definitiva consacrazione è quello in "Foxcatcher" in cui interpreta John du Pont , il paranoico schizofrenico erede dell'impero chimico della sua famiglia che assassinò nel 1996 il campione di wrestling David Schultz.
Il film gli vale una nomination agli Oscar e il plauso della critica.
Da quel momento in poi, Carell ha inanellato solo prestazioni convincenti in film dal buon spessore
In The Morning Show, col ruolo di un giornalista accusato di molestie sessuali, l'attore ci regala una ulteriore prova del suo bagaglio recitativo. Confuso, arrabbiato, inconsapevole, protagonista di una caduta libera, Carell è bravissimo nel presentare questo turbinio di emozioni negative.
Questi si trova ad impersonare un molestatore inconsapevole del suo status di molestatore, un uomo, che come tanti, non si rende conto della gravità delle sue azioni, attore di un sistema che con la scusa di "cultura da spogliatoio" o "battute innocenti per ridere", compie gesti sessisti ed è sicuro di avere una condotta che rientri nella più che accettata normalità.
Emblematica è la scena del film in cui Mitch Kessler parla con un regista, anch'esso finito all'interno di uno scandalo sessuale. Quest'ultimo non è affatto pentito dei suoi comportamenti e accusa le vittime di aver ingigantito l'accaduto. Mitch pare rendersi conto dell'effettiva colpevolezza dell'amico e la sua reazione è quella di prendere le distanze da lui, sostenendo che il proprio comportamento non sia grave come quello del regista. A dimostrazione di quanto detto sopra.
Il ruolo interpretato da Carell è complesso e totalmente negativo ma anche emblematico di una società che non riesce ad essere egualitaria.
Citando qualche meme incontrato qua e là sul web possiamo dire che Steve Carell "fa ridere ma anche riflettere".
Reese Whiterspoon è senza dubbio all'altezza dei suoi colleghi e, come loro, è più famosa per i suoi ruoli scanzonati, ce la ricordiamo tutti ne "La Rivincita delle Bionde" che le valse il titolo di "fidanzatina d'America".
L'attrice è anche premio oscar per la sua interpretazione di June Carter Cash (il grande amore di Johnny Cash) nel film "Walk the Line", un ruolo non propriamente da commedia eppure, per i più, è sempre la bionda Elle Woods e la sua immagine è associata al sorriso e alla leggerezza.
Anche per la Whiterspoon, The Morning Show è l'occasione per rimarcare le sue abilità attoriali e la sua capacità di essere convincente anche in ruoli più complessi e meno pop.
La sua performance è il tessuto connettivo che tiene insieme lo spettacolo.
Dal suo background di semplice reporter al suo costante bisogno di andare oltre, Bradley fa del suo meglio per rendere la programmazione di notizie del mattino qualcosa da prendere sul serio, piuttosto che un suono in background che fa compagnia quando si beve il caffè.
La bravura dell'attrice premio Oscar sta nel rendere il personaggio molto umano e nel mostrare la graduale consapevolezza che il suo desiderio di perpetrare la verità ha delle conseguenze importanti per i soggetti coinvolti.
La performance della Whitherspoon è brillante e variegata, l'attrice lascia intravedere chiaramente la costante rabbia e disapprovazione che prova Bradley anche mentre sorride e fa tutte le cose giuste che il suo lavoro al The Morning Show richiede.
La sua rabbia, per il sistema patriarcale che domina il mondo dei telegiornali e per il modo insidioso in cui si mettono a tacere le donne, è palpabile e catartica.

La chiarezza di Bradley è sia un conforto e che un faro, una chiamata all'azione e un promemoria. Ed è una performance che merita molti elogi.
The Morning Show ha il merito di trattare argomenti molto attuali con la giusta distanza e zero morbosità e anche di confermare ancora una volta la bravura dei suoi interpreti principali, bravi non solo a recitare in commedie.
In fondo è risaputo che per far ridere bisogna avere dentro un po' di dramma.