The Morning Show è la serie Apple tv che ha ingaggiato un cast stellare –Jennifer Aniston, Steve Carell e Reese Witherspoon– per regalarci una metanarrazione del mondo della televisione.
The Morning Show non è la prima serie che racconta cosa c'è dietro l'industria televisiva/cinematografica ma per farlo si avvale di grandi attori, amatissimi dal pubblico, e di alcune tematiche sociali molto importanti e molto sentite ai nostri giorni come il #metoo.
Nella prima stagione ha esplorato le dinamiche tossiche e di potere dell'industria televisiva con un occhio a vittime, carnefici e a chi si trova nel mezzo, e ha offerto uno strumento di lettura delle differenze di genere nell'ambiente lavorativo più esposto negli Stati Uniti.
Ha mostrato le ombre nascoste dall'abbaglio dei riflettori.
Nella seconda stagione ha continuato ad avvicinarsi a temi delicati – come per esempio la discriminazione sul posto di lavoro – e il focus si è spostato su un altro problema a noi molto vicino, anzi vicinissimo, forse troppo per essere rappresentato in maniera non disturbante: il Covid-19.
È evidente che la seconda stagione di The Morning Show non ha avuto il clamore e il seguito della prima, mettendo troppa carne sul fuoco e avendo poco spazio per contenere tutte le storyline introdotte.
The Morning Show è partita col botto esplorando le dinamiche tra gli uomini e le donne che lavorano nell'omonimo show del mattino travolto da uno scandalo improvviso: il licenziamento per molestie sessuali del suo storico co-conduttore, Mitch Kessler (Steve Carell), per poi liquidare la questione "#metoo", nella seconda stagione, facendo morire il protagonista maschile in un incidente e spostando l'attenzione sulle storie personali di ogni altro personaggio che, tra l'altro, appaiono tutte slegate tra loro.
Nella seconda stagione, The Morning Show, liberato dal suo desiderio precedente di analizzare gli eventi in modo significativo, è diventato più banale, qualcosa di già visto, di meno impegnato. Questo non vuol dire che non ci siano richiami agli eventi attuali (la stagione tocca la pandemia, l'iniquità sul posto di lavoro, i palinsesti dei social media e le elezioni statunitensi del 2020), solo che passano in secondo piano rispetto al melodramma interpersonale e alla scelta della colonna sonora e questo ci fa chiedere se sia necessario avere l'ennesimo show di questo tipo e se non sia meglio che The Morning Show si fermi prima che ciò che di buono è stato fatto venga dimenticato in favore di un giudizio negativo sullo sviluppo della storia.
E invece nonostante la deludente seconda stagione a gennaio, dopo un po' di incertezza, ne è stata confermata una terza, si spera per aggiustare il tiro.
Ci sono dei cambiamenti dietro le quinte: dopo due stagioni Kerry Ehrin non sarà più la showrunner; il suo posto sarà preso da Charlotte Stroud, la quale non ha trascorsi in The Morning Show ma ha dato dimostrazione delle sue capacità in Homeland e Fosse/Verdon. Ehrin lascia anche l'incarico di produttrice esecutiva ma continuerà a mettere la sua visione al servizio dello show come consulente. Speriamo che questo cambio serva a regalare nuova linfa al prodotto.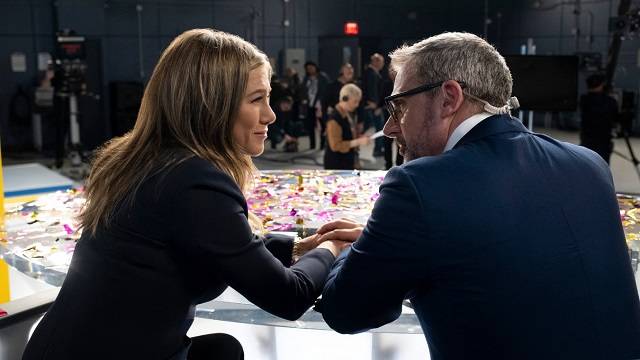 Dopo avere raccontato sessimo, ageism e razzismo sul posto di lavoro, una pandemia globale e le conseguenze che le azioni di Alex e Bradley hanno avuto su un'intera industria, ci chiediamo come la terza stagione potrebbe spingersi oltre per offrire una risoluzione allo sviluppo di questi personaggi e se non sarebbe stato meglio se la serie si fosse conclusa onde evitare di essere poi definitivamente bollata come un prodotto dalle ottime potenzialità che non si è applicato abbastanza.
Tra l'altro The Morning Show ha degli attori eccezionali che potrebbero regalarci ancora grandi performance.
Diciamo che tutte le nostre speranze sono riposte in una terza serie che ritorni a dare dignità narrativa a una storia che si è un po' persa; purtroppo The Morning Show non ha le qualità di una serie televisiva di prestigio – complessità narrativa, risonanza emotiva, logica; è una serie fatta in grande che più che un prodotto sofisticato sembra essere una delle soap più costose mai realizzate. Reinventato post #MeToo per incorporare le storie di molestie sessuali e abusi di potere in televisione di rete, lo show non è riuscito a bilanciare il suo impegno nel racconto di questioni importanti con i suoi impulsi stravaganti verso discorsi machiavellici.
Il non aver permesso al racconto del #metoo di progredire, reinvestendo ancora una volta sulla stessa tematica femminista senza però darle alcuna nuova o arguta argomentazione, ha reso The Morning Show 2 un'occasione quasi sprecata, e non si è nemmeno concentrato sulla narrazione dello sgomento e del terrore che ci hanno assalito col sopraggiungere della pandemia da Covid-19, chiudendo le puntate lì dove il problema comincia effettivamente a divampare.
La seconda stagione non mostra lo scossone necessario a ricostruire un ambiente marcio, dove da anni vige la cultura del silenzio, ma ci mostra invece diverse vicende, individui alle prese con vari problemi. Storie avvincenti, intrighi che appassionano, ma che purtroppo appaiono slegate l'una dall'altra e quindi la scrittura in generale risulta meno incisiva.
Visto che ormai la terza stagione si farà la nostra speranza è che si aggiusti il tiro e si riesca a raccontare con abilità la cronologia di un evento che ci ha sconvolto la vita (il Covid-19) apportando alla correttezza dei fatti e degli avvenimenti quel senso di smarrimento e paura che sentiamo ancora oggi. Un'opportunità che questa volta lo show non potrà bruciare e che forse donerà nuova linfa e materiale alla narrazione.
Da alcune interviste emerge che The Morning Show stagione 3 potrebbe offrire una trama più felice per Alex Levy, rispetto a quella scritta per lei nella stagione 2 e che un'altra storyline che verrà sicuramente ripresa dalla seconda stagione è il documentario mozzafiato di Mitch (Steve Carell), quello in cui è seduto con Paola (Valeria Golino) in Italia.
Ehrin ha fatto capire che ci potrebbe essere un piccolo "salto temporale" per la terza stagione prima di dirigersi verso il prossimo capitolo.
Come detto e appurato la seconda stagione non è stata all'altezza della prima e a questo punto, siccome la serie continuerà, la speranza è che la terza, che ha già visto qualche aggiustamento fra showrunner e produttori, sappia trovare la chiave definitiva per questa serie che non deve proseguire in maniera ancora più frammentata e dispersiva, ma deve saper sviluppare bene le vicende per arrivare a un finale che faccia onore a quello che era cominciato come un grande show, altrimenti sarà una stagione non utile.
Noi ci auguriamo si fermi prima che ciò che aveva di bello venga dimenticato e che venga considerata una serie mediocre e una grande occasione sprecata.