The Morning Show è il prodotto di punta di Apple TV che ha ingaggiato attori del calibro di: Jennifer Aniston, Steve Carell e Reese Witherspoon per raccontare le luci e soprattutto le ombre di un tipico programma televisivo del mattino di grande successo.
La narrazione parte col raccontare della redazione del "The Morning Show", tv-talk di enorme successo, travolta da uno scandalo sessuale: il co-conduttore, Mitch Kessler, interpretato da Steve Carell, è accusato di molestie sessuali ai danni di alcune sue colleghe e la anchorwoman, Alex Levy, Jennifer Aniston, si trova a dover fronteggiare i problemi di immagine e credibilità che ne derivano.
Per comprendere al meglio questa serie, dobbiamo dimenticarci dei nostri programmi del mattino, pieni di opinionisti con opinioni opinabili e spettacolarizzazione del dolore e ricordarci che le trasmissioni tv americane della fascia mattutina hanno una grande importanza nel palinsesto televisivo e nella società americana e che sono dei veri e propri talk show condotti da giornalisti; indi molto diversi dai nostri programmi "sotto testata giornalistica" (col cuore).
I conduttori dei talk, in America, sono delle vere e proprie celebrità, voci autorevoli capaci di influenzare l'opinione pubblica, veicolando emozioni e pensieri, hanno un grande potere, loro lo sanno, i telespettatori non se ne rendono bene conto.
The Morning Show vuole fare luce sulle ombre che si nascondono dietro gli abbagli dei riflettori, sulle lacrime dietro i sorrisi rassicuranti, anche quando si raccontano tragedie.
Lo show della Apple vuole mostrarci che dietro l'ipocrisia della perfezione si nasconde una realtà più cinica e concreta, fatta di macchinazioni e di persone che pensano solo al loro tornaconto personale.
Il dietro le quinte del The Morning Show diventa un ambiente speculare rispetto alla perfezione che appare sullo schermo tv.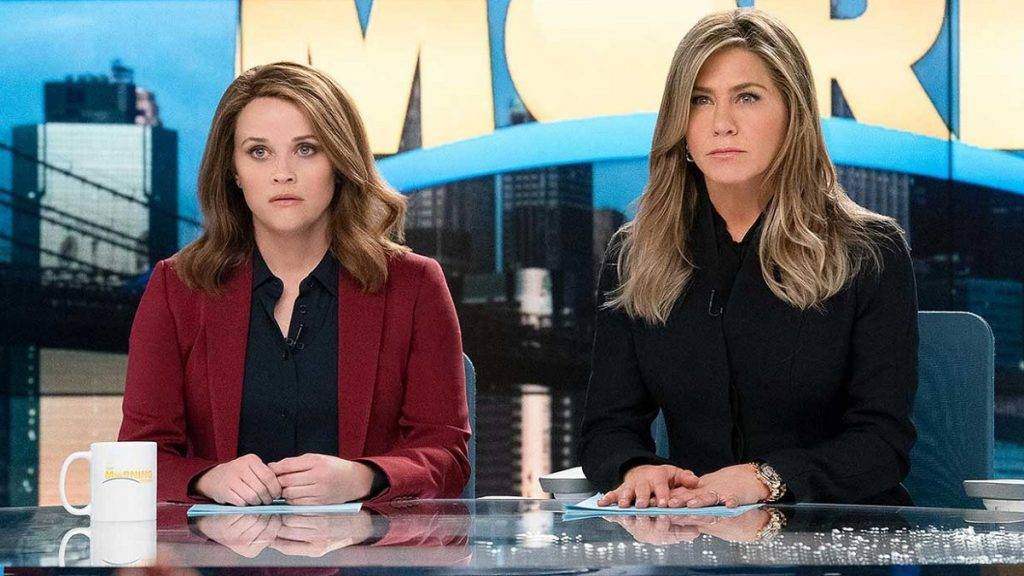 La Redazione del The Morning Show si trova a dover fronteggiare uno scandalo sessuale poco dopo che il movimento #metoo è diventato virale e, in questo clima di maggiore consapevolezza di un problema così diffuso ed importante, tutti sembrano sconvolti e sorpresi dell'accaduto.
Se in un primo momento Mitch Kessler, sembra essere l'unico responsabile di questo scandalo, ben presto emerge come anche altri membri della produzione sapessero, avallassero o tacessero. Ed è proprio la cultura del silenzio ad essere messa sotto i riflettori della serie tv; come il "lasciar passare" faccia male e alimenti un sistema sbagliato che va avanti quasi per inerzia.
Si evince quanto la nostra società accetti come radicate abitudini offensive.
La serie tv, però, non accusa, non giudica, semplicemente mostra, rivela; lo fa anche solo inquadrando un volto, un'azione.
Tramite l'occhio della telecamere si svelano coloro i quali hanno consapevolmente coperto le molestie e coloro che le hanno accettate con atteggiamenti conniventi; si vuole raccontare un ambiente tossico volutamente mantenuto tale per evitare problemi che ledano il buon nome del programma, unica entità da preservare a ogni costo.
Ciò che fa più riflettere è il punto di vista del protagonista dello scandalo, l'uomo non ha davvero mai pensato di stare facendo niente di male, semplicemente perché non si pone il problema, non si immedesima nell'altro, perchè nessuno lo ha educato o ammonito. I comportamenti di Mitch derivano da un retaggio culturale patriarcale in cui è lecito avere certi tipi di atteggiamenti nei confronti delle donne.
Nei primi episodi Mitch sembra non sentirsi colpevole, anzi, offeso dalle accuse che gli vengono rivolte.
La serie, che intreccia più storie e più punti di vista, permette una riflessione sul tema del consenso; su quanto sia ininfluente quello delle donne in un contesto relazionale e su come la questione del consenso non possa essere scissa dalle dinamiche di potere interne a un sistema fortemente gerarchico e asimmetrico come quello in cui si verifica il comportamento rapace di Kessler.
Attraverso il racconto del racconto la serie mostra come quella del protagonista non sia una scelta tra bene e male; Mitch non sente che ci sia nulla di sbagliato nel fare quello che fa; per lui sono azioni lecite giustificate dal suo essere uomo, ricco, famoso, affascinante. Il "no" è una risposta che non considera perchè nemmeno ci pensa.
Purtroppo il personaggio interpretato da Steve Carell è l'archetipo di tanti uomini che sfruttano la loro posizione per approfittarsi delle donne.
The Morning Show comprende il pensiero alla base dell'abuso non per giustificarlo ma per smontarlo: vuole mostrare, a chi ne gode, la complessa rete di connivenza e omertà che è alla base dell'atteggiamento maschilista di sopraffazione sessuale nei confronti di quello che per loro è "il sesso debole".
Tra le varie cose che la serie tv svela c'è il modo in cui l'industria dell'intrattenimento cerca di "salvare la faccia" con manovre superficiali e senza mai mettere in discussione l'intero complesso sistema che c'è dietro il quarto potere.
Quello che conta è portare a casa la puntata, fare ascolti; gettare in fretta la polvere sotto il tappetto e dare una parvenza di ordine e perfezione.
La Alex Levy di Jennifer Aniston incarna perfettamente l'ambiente maschilista del suo settore professionale; essa stessa non è priva di colpe per quanto accade ed è vittima del suo ruolo, che ha faticosamente costruito e che può facilmente esserle sottratto. Lo status quo, già compromesso dallo scandalo che ha coinvolto il suo collegata, viene messo a dura prova anche dall'arrivo di una giornalista con uno stile diverso, Bradley Jackson (Reese Whiterspoon), scelta per cercare di risollevare lo show del mattino. Il suo arrivo farà emergere altri drammi interni sino a quel momento sopiti.
Mentre la prima stagione di The Morning Show è incentrata sul raccontare cosa c'è dietro il programma e su tutto ciò di cui abbiamo parlato sin'ora, nella seconda stagione, ancora in corso, la pandemia cambia la prospettiva a tutto, rendendo irrilevante e capriccioso tutto il resto, anche gli scandali, e svela quanto il potere del network televisivo sia vacillante.
The Morning Show non è la prima serie che racconta cosa c'è dietro l'industria televisiva/cinematografica ma per farlo si avvale di grandi attori, amatissimi dal pubblico, e di alcune tematiche sociali molto importante e molto sentite.
Esplora le dinamiche tossiche e di potere dell'industria televisiva con un occhio a vittime, carnefici e a chi si trova nel mezzo e offre uno strumento di lettura delle differenze di genere nell'ambiente lavorativo più esposto negli Stati Uniti.
Mantra del The Morning Show è: la verità è ciò che dai a vedere, non la realtà effettiva.