"Ecco cosa successe". Così inizia il primo dei racconti contenuto nella raccolta Scheletri, una storia di un padre (David) e suo figlio di cinque anni (Billy) che si ritrovano insieme a tante altre anime bloccati all'interno di un supermercato a causa di una strana nebbia che si è abbattuta sulla loro cittadina. Il racconto è The Mist. Lo stato è il Maine. L'autore è Stephen King.
È cosa nota e universalmente riconosciuta che gli adattamenti dei lavori di Stephen King, esclusa qualche sparuta eccezione, non godono di fama o successo e probabilmente ciò è dovuto alla difficoltà del mettere in scena un racconto o un romanzo come quelli del "re dell'orrore", dotati di una vita propria e speciale che, lasciate le pagine d'inchiostro, sembrano appassire e morire. Scrittore eccezionale e conoscitore di anime, nonché uno degli autori più prolifichi, oggi sembra conoscere una qualche magia speciale che rende le proprie storie estremamente vive, ma di una vita che è difficile regalare se non con la lettura.
Oggi il cinema ci vuole riprovare, basti pensare a IT di Andy Muschietti e The Dark Tower con protagonisti Matthew McConaughey e Idris Elba, e con esso anche la Tv ha messo gli occhi su alcune storie, come ad esempio il primo romanzo della trilogia Mr. Mercedes e, appunto, The Mist.
Di The Mist, come i cultori sapranno, era già stato tratto un omonimo film nel 2008 con protagonista Thomas Jane (The Punisher) e diretto da nientepocodimenoche Frank Darabont (The Walking Dead). Il film che presenta i tratti tipici del monster movie e del survival horror, è uno dei pochi che ha reso giustizia alla fonte originale, prendendosi alcune libertà.
Ecco perché in tanti si sono chiesti se una Serie Tv su The Mist fosse così necessaria. In questa recensione dei primi tre episodi vi dirò perché mi sono ricreduta (con qualche riserva) e perché la vedrò tutta.
La Serie Tv è prodotta da Spike, un canale che se non avete mai sentito prima non preoccupatevi, non siete i soli. Fin dall'inizio è chiaro che l'unica cosa uguale al libro è solo la nebbia del titolo. The Mist, infatti, ha nuovi personaggi, nuove storie e anche un modo diverso di presentare la nebbia e cosa si nasconda dentro di essa. Più di tutto però, e questo dopo tre episodi è abbastanza chiaro, il desiderio alla base di questa narrazione è lo stesso di quello di King: rappresentare l'umanità e le scelte che questa compie in una situazione di estremo pericolo.
Da qui in poi consiglio di non andare avanti se non avete visto i primi tre episodi perché la recensione potrebbe contenere SPOILER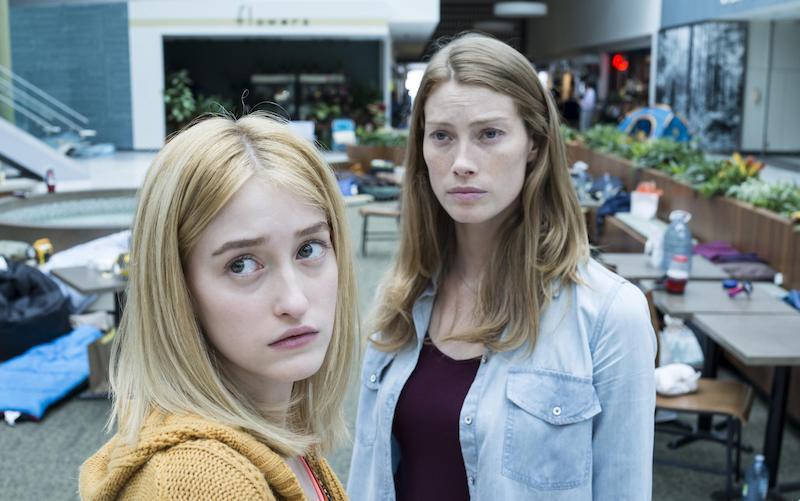 La prima puntata cerca di fornirci un po' le basi di quello che andremo a vedere, e anche per il lettore la Serie Tv è completamente territorio inesplorato. Abbiamo alcuni stereotipi come piace tanto alla tv americana – qui stanno le mie riserve – e che all'interno della storia servono per permettere allo spettatore medio di capire fin da subito chi abbia di fronte: la famigliola apparentemente perfetta; i teenager americani stupidi; l'amico gay; il poliziotto sbruffone; la vicina strana; la tossica; il soldato.
Insomma, una sorta di Commedia dell'Arte che mette già in scena le proprie maschere senza cercare di complicarci troppo le idee.
La nebbia assume quindi il ruolo di deus ex machina se volete concedermelo, che servirà a mettere i personaggi di fronte ai propri problemi, dubbi ma soprattutto demoni. Nella nebbia, infatti, di mostri finora neanche l'ombra, mentre abbiamo visioni di persone defunte che fanno perdere il senno e insetti assassini. Nel terzo episodio la morte del ragazzo ucciso dalle falene sembra quasi una macabra rappresentazione religiosa, un Cristo sulla croce orrorifico.
Di fronte a questa terribile immagine Natalie, la vicina in lutto per il marito, sembra vedere Dio. Ma quale Dio? "Non il tuo Dio", dice al prete.
La chiesa, uno dei due rifugi dei protagonisti, simbolo per eccellenza di protezione e sacralità, sembra macchiarsi di qualcosa di intangibile come se la nebbia stesse pian piano trovando una via attraverso le vetrate. In questo gruppo solo Kevin, lontano dalla moglie e dalla figlia, Adrian, Mia e Bryan, sembrano conservare un po' di lucidità nelle loro disastrate vite e fare fronte comune. Perché, come dice Bryan ad una Mia in crisi di astinenza, una persona di cui fidarsi davvero è un aiuto prezioso in una situazioni del genere.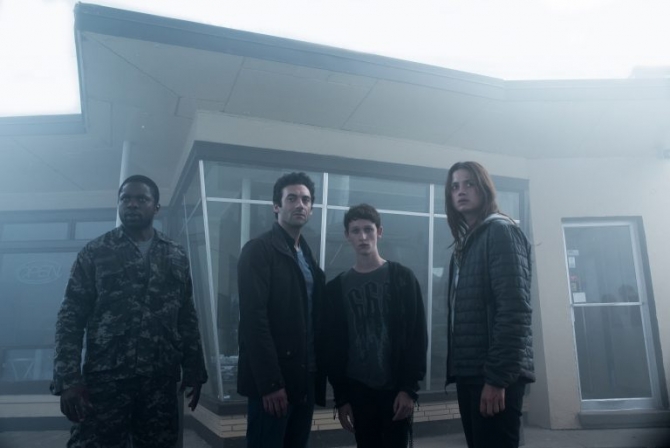 Accanto alla chiesa abbiamo il centro commerciale che vorrebbe, forse, essere un rimando al libro. Qui si trovano Eve (la terribile Aslaug di Vikings) e sua figlia Alex; insieme a loro Jay, figlio del capo della polizia, accusato da Adrian di aver violentato la ragazza. Ma dove sta la verità?
L'umanità di The Mist è un'umanità divisa su due fronti ma alcune crepe fanno presagire ci sia molto di più ed è questo che la rende accattivante e per cui vale la pena vedere tutti e 10 gli episodi. Lo stupro presunto di Alex è un teen drama che non dispiace ma apre una parentesi ad un tema esclusivamente horror. La bella Eve che ha un passato turbolento al quale vorrebbe sottrarre la figlia. Suo marito Kevin, finora un eroe di questa storia. Un'umanità quindi come piace al buon vecchio Stephen King, rotta, in ginocchio ma non ancora spezzata, che riesce anche tra le macerie a conservare la speranza e la fede, rappresentati nel terzo episodio dai palloncini rossi di Alex.
In questi primi tre episodi nemmeno l'ombra dei terribili mostri del libro e del film, ma in compenso una sensazione più agghiacciante di attesa e inquietudine, complice una azzeccata fotografia. Gli attori non sono eccellenti se si esclude Frances Conroy, ma l'idea di ridare freschezza a questo racconto è apprezzabile.
La storia parla di esseri umani di carne e ossa messi con le spalle al muro, chiamati a rivelarsi per chi sono realmente. La nebbia è solo il calcio sul ciglio del burrone.