Per un paio di episodi abbiamo visto che sapore avesse uno sprazzo di libertà per June e le altre ancelle. Un sapore così dolce, lontano dalle brutalità di Gilead, che per un attimo abbiamo creduto potesse durare. Ma dopo 4 anni abbiamo capito che nulla di positivo dura granché in quell'inferno. Di sicuro non la libertà delle più braccate delle fuggitive. E così The Handmaid's Tale 4 ci restituisce una vecchia immagine: potente, dolorosa, insopportabile. Quella di June di nuovo nelle grinfie del regime, di nuovo imbavagliata, e di nuovo in catene.
Singolare quanto corto sia il guinzaglio che la tiene prigioniera stavolta. Una metafora che non preannuncia nulla di buono.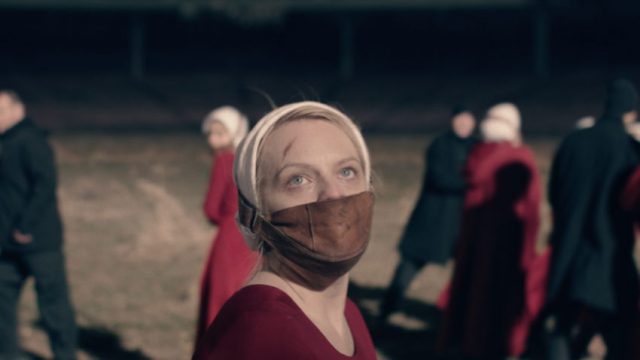 Ancor meno quando a prenderla in consegna è Zia Lydia, la stessa che nella 4×01 ci aveva fatto tremare alla frase "prendetela e portatela da me". A nulla serve la presenza "amica" di Nick in una situazione così cupa. Tutto ciò che vediamo sono corridoi oscuri, guardie minacciose e una Zia Lydia che non ci rincuora affatto quando si proclama "angelo custode" di June. Per la testa riesce ad andare un unico pensiero: "chissà cosa le faranno adesso".
E purtroppo non impieghiamo molto a scoprirlo. Attraverso stanze e corridoi pregni di atmosfere "guantanamere" June viene condotta verso una cella sporca e blindata. Sembra la cantina dell'inferno, e dentro vi entra il diavolo in varie forme. In quella di un'arrabbiatissima Zia Lydia, ancora affezionata ai "vecchi metodi educativi". E poi nella forma di un tenente che si presenta positivo e sorridente quanto lo sarebbe un folle.
E così ha inizio la fase più angosciante vista finora in The Handmaid's Tale 4. Quella cui speravamo vivamente di non dover assistere.
Catene, percosse, preghiere, torture di varia natura. L'agitazione di Zia Lydia fa pensare molto a quanto lei stessa debba aver subito durante gli interrogatori seguiti alla fuga dei bambini. Eppure la sua fedeltà a Gilead non cambia, resta ferma immobile come le sue convinzioni. L'ambiguità della sua persona è sempre più palpabile. Nella sua testa è viva e forte la convinzione di essere una sorta di guida protettrice delle ancelle e il suo desiderio di risparmiare sofferenze a June potrebbe essere finanche reale.
Ma questi sentimenti non bastano a ribellarsi. Sono appena sufficienti a provare quello che sembra un timido senza di colpa per tutte le sofferenze patite dalle ancelle. June lo coglie, tra una tortura e l'altra, quando Zia Lydia fa la sua parte per convincerla "con le buone" a dire al tenente dove si trovino le altre ancelle. Straordinaria l'interpretazione di Ann Dowd, la sua capacità di dare un volto all'ambiguità di un personaggio come Zia Lydia, caratterizzata forse più di tutti gli altri da un'immensa scala di grigi.
E intanto le notizie corrono, e dall'altra parte del continente Luke viene a sapere della cattura di June. È a questo punto che The Handmaid's Tale 4 riesce a raccontare la tragedia di questa storia attraverso un doppio punto di vista.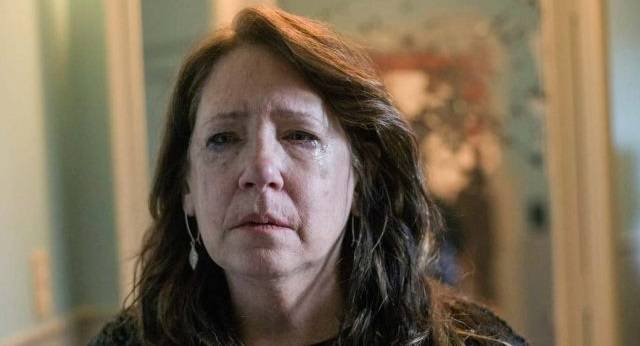 Quello di June, costretta ancora una volta a vivere sula propria pelle le barbarie di Gilead, e quello di Luke, costretto all'impotenza di chi è tagliato fuori. Di chi è lontano e all'oscuro, consapevole al massimo di qualche terribile dettaglio. Sufficiente tuttavia a lasciarlo in preda alle peggiori congetture, all'immaginazione di quello che June possa patire, alla paura delle conseguenze e anche a riflessioni che non avevamo ancora considerato.
Ovvero quella che lo porta a chiedersi quanta "colpa" ci sia nelle azioni di June in tutto questo. Quanto ampia sia stata la libertà presa dalla donna di scegliere, più di una volta, di lasciar andare la libertà per restare a Gilead. Ma noi sappiamo cosa c'è dietro. Sappiamo quanto June si rifiuti di lasciare Gilead fino a quando non potrà farlo assieme a lei anche Hannah Banana.
Se in un primo momento il dubbio di Luke ci sembra ingiustificabile fa presto a rivelarsi lecito il pensiero di un uomo che vive da anni all'oscuro di cosa stia realmente accadendo alla sua famiglia. Un uomo che può darsi alle sole congetture e poi far pace con la realtà, ritrovandosi a dover accettare la decisione di June di restare a Gilead, qualunque fosse la ragione. Nonostante la consapevolezza delle potenziali conseguenze.
In questa sequenza The Handmaid's Tale 4 riesce a trattare con grande delicatezza il punto di vista di Luke. La serie pone una lente d'ingrandimento per mostrarci quanto ancora più ampia possa essere la tragedia di una simile situazione.
E per un attimo sembra di ritrovare nella serie temi di incredibile attualità. Il pensiero fa presto ad andare alla struttura politico-sociale del nostro mondo poiché in The Handmaid's Tale 4 sembra facile ritrovarne degli elementi in storie e dinamiche che viviamo nella nostra realtà ogni giorno. La polemica di Luke sulla fiaccolata per June, ad esempio, fa molto riflettere sulle modalità con cui nella nostra società si affrontano tragedie. Con la preghiera anziché con l'azione.
E ripensare a come i paesi occidentali si girino dall'altra parte invece di osservare la devastazione di altri mondi, trova facile rappresentazione nei rapporti Canada-Gilead messi in scena da The Handmaid's Tale 4.
E se tutto questo vi ha dato i brividi restano comunque nulla rispetto a quelli che la serie è riuscita a riservarci quando è cambiata la tattica di sfinimento degli aguzzini di June.
Laddove il dolore fisico non è riuscito a spezzare la donna, ci sono riuscte le torture psicologiche.
Quando il tenente uccide le due Marte del comandante Lawrence, sotto gli occhi di June, per l'ennesima volta siamo costretti a ricrederci. Perché ancora una volta la serie di Bruce Miller riesce a sconvolgerci con dinamiche che risultano peggiori di qualcosa che già credevamo fosse il peggio che Gilead potesse fare. Ma far scegliere a un prigioniero tra la vita di due persone, uccise sotto i propri occhi, e quella di altre, conquista subito il podio delle cose cose più terrificanti viste in The Handmaid's Tale.
E tutto solo per essere spodestata da una tortura psicologica anche peggiore: la salute di Hannah messa sul'altro piatto della bilancia. Ed è qui che emerge la crepa di June, l'unica che potesse spezzarla completamente. Alla vista di Hannah, chiusa in una gabbia come un animale, e al pensiero di ciò che le sarebbe potuto accadere, lo spirito duro e fermo di June si spezza definitivamente. La confessione le scivola dalle labbra come acqua.
Gilead ha vinto ancora.
E ancora una volta sarà una vittoria mutilata per un regime che si ritrova a che fare con donne della resistenza, decise ormai a non farsi sottomettere mai più. Neanche quando arriva il momento della cattura. Neanche allora le altre ancelle lasciano vincere la paura: si alzano in piedi, spaventate ma fiere. Decise a non consegnarsi mai più al nemico come agnelli spauriti, ma come leoni che affrontano il pericolo con fierezza.
E con la stessa fierezza reindossano l'abito rosso che ha marchiato ormai la loro esistenza. Condotte verso quella che Gilead crede sia la loro ultima destinazione: una colonia dalla quale prelevarle solo per le cerimonie mensili. Ma le ancelle non ci stanno. June non ci sta. Per tutte loro è finito il tempo della paura che blocca il pensiero e le azioni, ed è arrivato il tempo di ribellarsi con ogni modo e ogni mezzo, ogni volta che sia possibile.
Allineate, complici, ormai capaci di capirsi nel silenzio, con lo sguardo, con cenni impercettibili. Un'occasione fortuita e ottimale, un veloce scambio di sguardi e la comune consapevolezza di tentare il tutto per tutto rischiando anche la morte. Presto detto, presto fatto: parte una nuova azione e così la nuova fuga delle ancelle.
È qui che The Handmaid's Tale 4 ci regala una delle più belle sequenze della storia della serie. L'ennesima fuga che ora più che mai sembra costruita come un inno alla ribellione, al coraggio, alla libertà.
Meravigliosamente costruita, girata con tempi impeccabili e recitata da ognuna delle attrici con l'unico sguardo possibile per una scena tanto intensa. Sui loro volti un lieve sorriso, quello di una nuova speranza di salvezza. Poi la paura, l'inseguimento, gli spari e un treno in arrivo. Le ancelle devono attraversare i binari prima che il treno arrivi, ma le manette le rallentano.
June e le altre si giocano il tutto per tutto e la scena sembra urlare "meglio la morte che Gilead". Impossibile non avere il batticuore per loro. Osservi tremando, facendo un tifo senza precedenti ma ancora una volta The Handmaid's Tale non riesce ad aver pietà di tutte. Janine e June ce la fanno. Dietro di loro le altre cadono sotto il fuoco dei proiettili o trascinate via dal treno in corsa lasciando sia noi che June in preda allo shock.
Raramente si riesce a vedere in tv qualcosa di così emotivamente forte e sconvolgente. Ma The Handmaid's Tale 4 ha messo le cose in chiaro: questo è ciò che ci aspetta. Non ci sono sconti per nessuno.
Neanche per loro. Per le ancelle con cui abbiamo condiviso, assieme a June, timori, pietà, speranze e disperazione. È arrivato il tempo di dir loro addio, e lo faremo come ha fatto June: ricordando i nomi che le definivano, e che Gilead strappò loro.
Sarah, Ally, Brianna, Alma. Questi sono i loro nomi.