La BBC sembra non volersi mai fermare, sfornando deliziosi prodotti televisivi, uno dopo l'altro. In questi mesi ha portato sugli schermi Richard Madden in Bodyguard, Serie Tv che riscosso un buonissimo successo nella patria inglese, tanto da essere stata recentemente acquistata da Netflix.
L'ente inglese sembra non essere soddisfatto, proponendo progetti sempre più ambiziosi e sempre più interessanti. In questo caso parliamo di: The Cry. 
La Serie ha debuttato sul canale BBC One il 30 settembre del 2018, ottenendo già una buonissima risposta da parte del pubblico con ben 6.3 milioni di visualizzazioni. Si tratta dell'adattamento dell'omonimo libro di Helen Fitzgerald, che vede come volto della protagonista la talentuosissima Jenna Coleman.
The Cry è un thriller psicologico pronto a farti uscire di testa.
Joanna e Alistair sono una giovane coppia che si reca in una piccola cittadina dell'Australia per ottenere la custodia di Chloe, la figlia avuta dal primo matrimonio di Alistair. Purtroppo, durante il viaggio, il loro bambino Noah scompare misteriosamente. Il caso diviene immediatamente mediatico e i due neo-genitori sono catapultati alla ribalta, sotto l'occhio di tutto il mondo che segue appassionato il proseguimento della indagini.
La serie si concentra principalmente sull'aspetto psicologico, sulle pressioni a cui la coppia è sottoposta lungo tutta la storia. Uno scorcio personale, che va al di là di ciò che mostrano le telecamere. La testimonianza della disgregazione di un amore, di una futura famiglia.
Ovviamente i problemi si sono presentati fin da subito.
Successivamente alla trasmissione del primo episodio (di cui abbiamo scritto anche la recensione), le critiche non si sono fatte certo aspettare. La maggior parte degli utenti social ha stabilito che le scelte registiche prese sono confusionarie e sbagliate. In che senso? La serie non segue un percorso temporale lineare, ma tutto il contrario. La narrazione avviene attraverso continui salti temporali: una cadenzata alternanza fra passato e presente, che ha reso la visione molto pesante per la maggior parte dei telespettatori.
Numerosi infatti si sono lamentati dell'impossibilità di seguire la storia o la mancanza di un senso logico.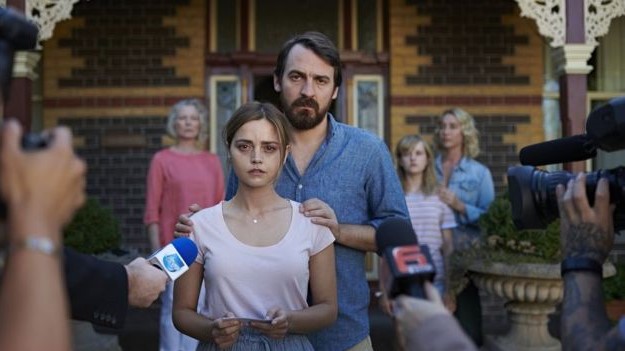 A difesa delle scelte registiche sono intervenuti i fan della Fitzgerald, stabilendo che in realtà la serie non fa nient'altro che traslare lo stesso procedimento presente nel libro. Nonostante l'opera lasci completamente spiazzati e instabili, hanno assicurato che alla fine ogni pezzo andrà al proprio posto. Ed è obiettivo della storia quello di rendere lo stato di frustrazione e inadeguatezza dei protagonisti.
Tra passato e presente, ovviamente non poteva che risaltare il talento di Jenna Coleman.
L'attrice inglese ha dimostrato per l'ennesima volta di essere una professionista del settore, adattabile e credibile in qualsiasi ruolo che le venga proposto. L'abbiamo vista regale e sofisticata nei panni della Regina Vittoria, per poi calarsi nella disperazione e alienazione del vincolo della maternità di Joanna. Una versatilità davvero notevole, ma ciò non ha impedito alla Coleman di incontrare qualche difficoltà nell'interpretazione del personaggio.
I'm really sorry you have to be Joanna for so long because I know it hurt my head

-Helen Fitzgerald
Mi dispiace molto che tu debba essere Joanna per così tanto tempo, lo so perché mi faceva male alla testa.
Queste sono le prime parole pronunciate da Helen Fitzgerald, l'autrice del libro, nel momento in cui ha incontrato per la prima volta Jenna Coleman. Il ruolo di Joanna è molto difficile e particolare: è una madre affetta da depressione post-partum che deve affrontare la scomparsa del figlio. Interpretare a livello emotivo un personaggio così delicato, sensibile, che cammina incerta sull'orlo di ogni cosa è una vera sfida. Un enorme scommessa, perché significa confrontarsi con un lato della gravidanza che molto spesso passa inosservato, di cui non si parla mai abbastanza.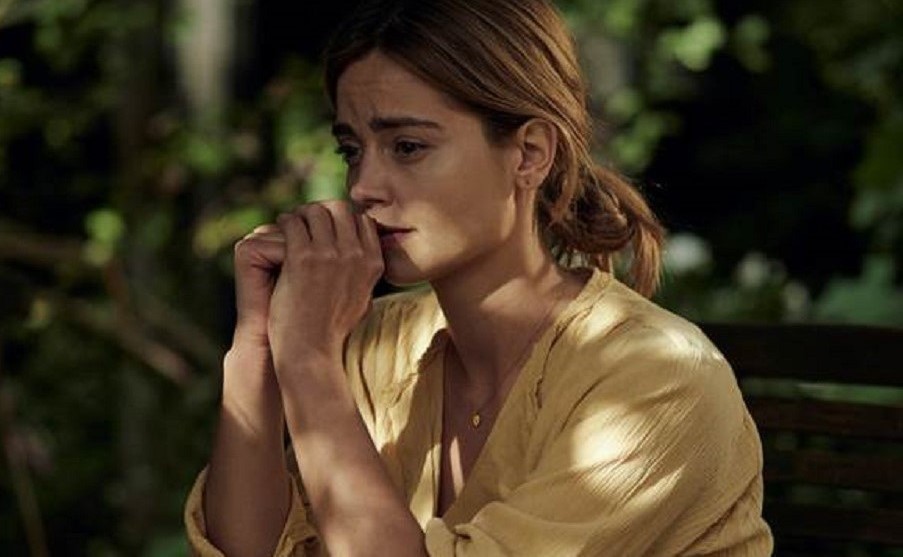 Jenna non si è fatta minimamente scoraggiare dalla sfida rappresentata da The Cry. Anzi l'attrice ha subito sentito il peso e la serietà dell'interpretare un ruolo del genere. Ovviamente questo non sarebbe stato possibile senza il supporto e la compagnia di Ewen Leslie, 38 anni, coprotagonista nella Serie.
Ewen has been extremely clever at switching – in some ways, Alistair is charming and generous, you could see him as the ideal partner in many ways, yet you could also see Alistair as controlling, manipulative. It takes a skilled performance to have all those aspects of that character and be delivering that very delicately.

-Jenna Coleman for BBC
Ewen è stato davvero bravo a cambiare – in alcuni casi, Alistair è affascinante e generoso, lo si può vedere come il compagno ideale in molti modi, ma allo stesso tempo si vede che è un manipolatore. Ci vogliono delle buone capacità per rendere tutti questi aspetti di un personaggio e in maniera così delicata.
Nel complesso, cosa possiamo dire?
The Cry sicuramente è una sfida. Non solamente per il modo in cui è stata impostata la narrazione della storia, scegliendo di seguire l'idea originale della Fitzpatrick, ma anche per tutto ciò che ha deciso di trattare. La depressione post-partum, il limite dell'essere umano, l'amore di un genitore che sembra non avere mai fine sono alla base degli intricati fili che costituiscono la trama.
Tutti temi delicati che sembrano trovare una buona e accattivante rappresentazione in questo Thriller psicologico tutto targato BBC.
Una scommessa, un esperimento. Ecco cosa è The Cry. 
E siamo pronti a vedere se tutte le aspettative saranno soddisfatte.