È sempre interessante scoprire l'origine di una Serie Tv, ma oggi andremo a scovare la storia dietro la storia. The Crown parla della Regina Elisabetta II d'Inghilterra e lo fa nel miglior modo possibile. Chi c'è dietro questo capolavoro? Come mai ha deciso di farne un prodotto seriale? Viaggiate con noi se volete scoprire tutti i dettagli!
The Crown è talmente elegante e di classe che probabilmente le nostre parole non saranno mai all'altezza. All'altezza di sua maestà Elisabetta II d'Inghilterra. Perché proprio di lei parla la Serie Tv, nata nel 2016 e trasmessa dalla mai troppo lodata Netflix. Sono previste sei stagioni, da dieci episodi l'una, che ripercorreranno la vita della Regina dal suo matrimonio nel 1947 fino ai giorni nostri. Il materiale da narrare è davvero tanto ma lo scrittore/ideatore di questa meravigliosa Serie Tv è sicuramente capace. Stiamo parlando di Peter Morgan, cari lettori. Il suo nome non vi dice nulla? E se vi citassimo il film The Queen e lo spettacolo teatrale The Audience? Se siete fan della cultura britannica non farete fatica a fare due più due.
The Crown nasce da una mente particolarmente
avvezza alle vicende del regno inglese.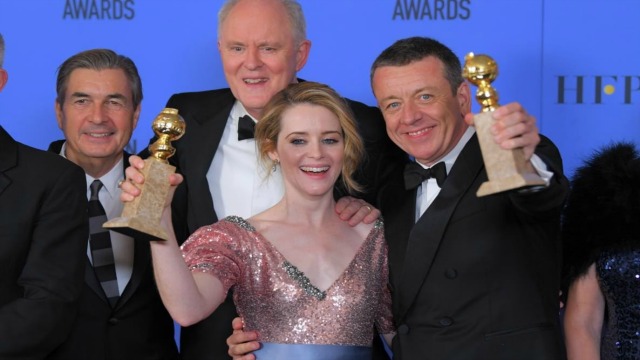 Infatti Morgan, prima di buttarsi sulla sua creatura seriale, ha trasformato per ben due volte un'altra capacissima attrice, Helen Mirren, nella Regina Elisabetta II. La prima volta nel 2006, sul grande schermo, per narrare come la famiglia reale avesse reagito alla morte di Lady Diana. La seconda nel 2013, sul palco del buon vecchio teatro, per riproporre gli incontri settimanali di sua maestà con i Primi Ministri. Diciamo che lo scrittore era prontissimo per fare il grande salto nel mondo telefilmico. La sfida è sicuramente grande ma è stata finora gestita nel migliore dei modi. The Crown è già diventata la Serie Tv drammatica più costosa mai prodotta da Netflix.
L'intento è quello di rappresentare il più fedelmente possibile le vicende realmente accadute. Sono argomenti difficili, che vanno affrontati con il giusto tatto. Morgan stesso ha affermato riguardo le sue intenzioni:
"The Crown vuole raccontare il terribile impatto che diventare Regina ha avuto sulla vita di Elisabetta e su tutte le sue relazioni."
A questo punto non ci resta che aspettare la seconda stagione. Se non vi sentite pronti, siete sempre in tempo. Netflix non ha imposto ancora un limite di visioni. Per fortuna nostra. Quindi ,quando volete, basta cliccare su play! E via! God save the Queen!