Credo che nel momento in cui Ulisse comunicò a Calipso la sua decisione di abbandonarla per tornare da sua moglie, sul suo viso si sia dipinta un'espressione piena di stupore, tristezza e pena…che doveva essere più o meno così. Cosa c'entra tutto questo con The Big Bang Theory? Beh la faccia dei miei amici ai quali ho annunciato che avrei iniziato a vedere la decima stagione di The Big Bang Theory deve essere stata più o meno la stessa.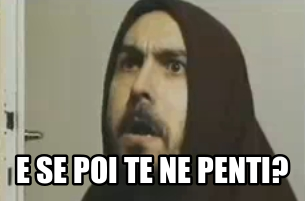 Dopo una stagione al di sotto delle aspettative, dopo l'annuncio che non ci avviciniamo ad un finale degno, ma ad cammino lungo e lento a cui potrebbero anche non partecipare tutti i protagonisti, viene da chiedersi se valga ancora la pena seguire le avventure dei nostri quattro nerd preferiti.
A questa domanda cercherà di rispondere la mia recensione, dopo aver naturalmente ripercorso ciò che di più importante è accaduto. Ma mi raccomando: non procedere nella lettura per evitare spoiler!
Partiamo quindi con la recensione del nuovo episodio di The Big Bang Theory!
Un inizio che ricorda moltissimo quello della passata stagione in cui la coppia simbolo della Serie si era recata a Las Vegas per sposarsi. Era stato un gesto folle ed impulsivo, ma soprattutto privato: i loro amici lo avevano potuto ammirare solo da uno schermo e le loro famiglie ne erano rimaste escluse. L'anno scorso erano innamorati, ma ben lungi dall'essere davvero marito e moglie: nascondevano ancora segreti, paure e certezze da affrontare e poi, cosa non trascurabile, non vivevano ancora insieme!
Ora un anno è passato e la loro relazione è diventata più forte ed è arrivato il momento di celebrarla come si deve e soprattutto circondati dal calore dei propri cari. L'episodio riprende infatti da dove avevamo lasciato i protagonisti nell'ultimo episodio della nona stagione: si stanno realizzando gli ultimi preparativi per il piccolo ricevimento in cui Leonard e Penny dovranno rinnovare le loro promesse davanti a parenti ed amici, Howard teme di essere braccato dell'aeronautica militare ed il padre di Leonard e la madre di Sheldon scoprono di andare molto d'accordo.
Forse troppo.
La prima bella sorpresa è ritrovare il triangolo Beverly Hofstader-Mary Cooper-Dottor Hofstader che ci aveva regalato tante risate nell'ultima puntata di The Big Bang Theory. Nel salotto scoppiano infatti diversi esilaranti battibecchi causati dal sospetto che Alfred e Mary abbiano trascorso la notte insieme.
Beverly si ingelosisce ed attacca il marito, mentre Alfred e Mary comunicano la loro decisione di voler continuare a vedersi anche dopo. Sheldon fa l'inopportuno, Amy cerca senza risultato di calmare le acque, ma la situazione resta imbarazzante e per questo esilarante. Soprattutto per il fatto che Sheldon si ostina a dare lezioni di sessualità alla madre!
Un altro elemento interessante è stato l'arrivo della famiglia di Penny: avevamo già visto suo padre qualche stagione fa fare il tifo per Leonard, mentre degli altri membri avevamo solo sentito parlare (in particolar modo del fratello spacciatore). Katey Sagal, l'attrice che interpreta la madre, aveva già recitato il ruolo della madre di Kaley Cuoco in 8 Semplici regole, per questo c'è molta intesa tra le due. Ma come ci è sembrata la famiglia di Penny? Molto ordinaria a dispetto delle aspettative e dei racconti di Penny. La madre è una donna tranquilla e solo un po' ansiosa ed infatti rimprovera continuamente il figlio o il marito, se alza troppo il gomito.
Suo fratello è esattamente come lo avremmo immaginato: simpatico, irriverente ed un po' stupido. Tuttavia il personaggio che più ho apprezzato è stato il padre della ragazza che ha mostrato una grande sintonia con sua figlia ed in coppia con la moglie è stato molto divertente. Credevo che per l'occasione avremmo scoperto il cognome di Penny, ma questo resta segreto…
Forse nell'episodio c'erano troppi personaggi, ma i creatori sono riusciti a gestirli bene, dando ad ognuno un suo spazio. Del resto in un matrimonio sono normali il sovraffollamento e la confusione!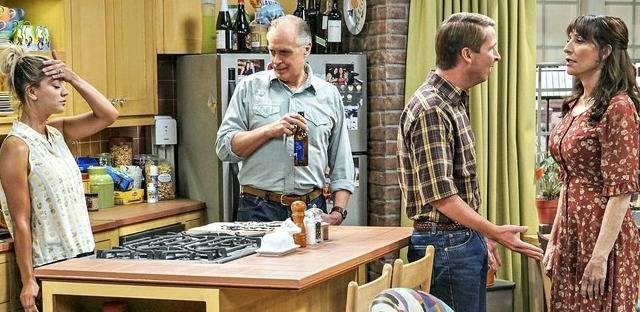 Il tema centrale di questo episodio di The Big Bang Theory infatti è stato il matrimonio tra Penny e Leonard. Una cerimonia molto semplice e romantica, ma che soprattutto ci ha mostrato finalmente Penny in abito da sposa! La ragazza è arrivata all'altare tenendo il braccio del suo fiero padre, mentre Amy suonava la marcia nuziale con l'arpa.
Nonostante fosse tutto molto romantico, tutti avevano i nervi a fior di pelle e si sussurravano frecciatine a mezza voce, soprattutto Beverly ed Alfred che hanno rovinato la cerimonia al povero #maiunagioia Stuart. Sarebbe stato un vero disastro se Bernadette, che ha celebrato le nozze, non avesse preso il comando e zittito tutti con il suo piglio autoritario e la sua vocina stridula. Lo scambio delle promesse è stato particolarmente tenero e, come al solito, Leonard è stato più dolce della sua consorte.
Sheldon però come di consueto ha finito per oscurare tutti facendo una splendida dichiarazione d'amicizia al suo coinquilino. Ha condiviso diversi anni con Leonard ed ha ricevuto diverse manifestazioni d'affetto dall'amico (ricordate che nel giorno del suo compleanno, Leonard lo aveva definito come un "fratello"?) adesso è toccato al dottor Cooper far capire a Leonard che, nonostante i dispetti ed i litigi, lo stima molto e gli vuole bene e lo considera la sua famiglia.
Personalmente ho molto apprezzato anche l'intervento di Alfred e Beverly che hanno convenuto che dal loro matrimonio disastroso è nato qualcosa di buono, Leonard. E dopo aver sentito Beverly denigrare suo figlio innumerevoli volte, è stato bello vederla fargli un complimento il giorno del suo matrimonio.
Mettendo da parte il matrimonio, una scena davvero divertente è stata la visita del Colonnello a casa Wolowitz. In primis Raj che ha da poco imparato a parlare con le donne, si ritrova in grande difficoltà a dover mentire sul suo amico ad un ufficiale. Howard d'altro canto non fa altro che chiedersi di cosa dovranno parlare e se il colonnello sia intenzionato a rubargli il progetto, lasciandolo con un palmo di naso. Purtroppo per saperlo dovremo aspettare i prossimi episodi.
E' arrivato il momento di tirare le somme! Questa nuova stagione di The Big Bang Theory è iniziata in modo piuttosto positivo: l'episodio è divertente e ci presenta situazione diverse del solito. Il fatto che i personaggi principali siano stati messi un po' da parte non è affatto  un male per darci un episodio che abbia una parvenza di originalità. Un elemento interessante è stato quello dell'incontro di Howard con il Colonnello che nei prossimi episodi ci regalerà sicuramente situazioni divertenti.
Se il fatto che questa stagione sia cominciata con una sorta di déjà-vu (dato che il matrimonio di Penny e Leonard era già stato al centro del primo episodio della nona) vuol dire qualcosa tipo "Cancelliamo la nona stagione e ricominciamo tutto daccapo come se nulla fosse", non potrei essere più d'accordo! Se volete dunque una risposta alla domanda iniziale, ossia se valga la pena continuare a seguire The Big Bang Theory, allora vi risponderò affermativamente in quanto questo episodio ci ha mostrato che la sitcom ha ancora tanto da dare.