È difficile essere protagonista in uno show come The Big Bang Theory. Far parte di un gruppo coeso e di talento, nel quale tutti hanno uno sviluppo notevole e a volte rischiano anche di oscurarti. Il ruolo di Leonard Hofstadter è infatti quello più complicato e più semplice allo stesso tempo.
Tra tutte le personalità presentate dalla serie, quella di Leonard è la più vicina allo spettatore medio: seguiamo il suo percorso in modo graduale, con questo pianerottolo che divide la turbolenta amicizia con Sheldon e la speranzosa relazione con Penny. Il nostro protagonista è un uomo semplice, un po' preso in giro e deriso ma in grado di risalire la china poco alla volta e prendersi i suoi quindici minuti di notorietà di tanto in tanto.
Ha un carattere pacato, più delle volte indirizzato ad assecondare le fissazioni del suo coinquilino o fare colpo sulla vicina di casa. Non andremmo infatti a mentire se dicessimo che il carattere di Leonard Hofstadter è il riflesso del mondo intorno a lui. In costante reazione agli stimoli che riceve da ogni lato, ognuno in modo diverso, con tutti che richiedono una parte differente del suo carattere.
Il problema del protagonista è che per molte stagioni ha tanti aspetti. È un amico, è un amante, è un figlio ed è un sognatore, ma non riesce mai a portare avanti più di una di queste cose alla volta. Deve scegliere tra amicizia e amore, tra convivenza e approvazione materna, tra carriera e fedeltà. Lui è una persona semplice, geniale nel suo lavoro ma comune in quasi tutto il resto, per questo all'inizio prova a essere un po' di tutto.
Per Sheldon l'amico accondiscendente.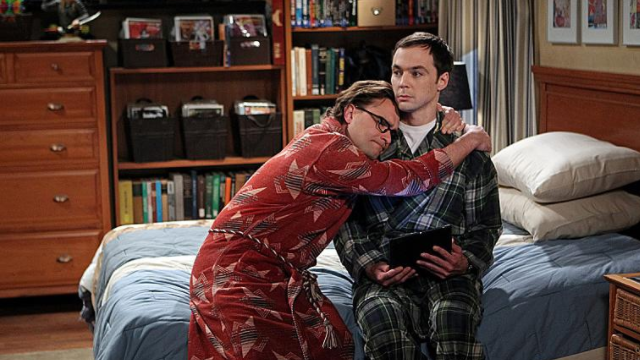 Quello che accetta di convivere con lui nonostante la routine di Cooper, non solo mattutina ma anche lavorativa. Le migliaia di regole che cambiano solo in base al volere di Sheldon, il lunghissimo contratto che firma pur di abitare nell'appartamento, gli estenuanti passaggi al lavoro in cui si forza di non dire nulla.
A metà tra il servo e il fratello maggiore, si capisce ben presto che farebbe di tutto per il suo coinquilino ma il più delle volte non viene ricompensato. Allora Leonard ingoia il rospo, passa oltre e cerca di insegnare all'amico come essere una persona più ragionevole. Giorno dopo giorno, episodio dopo episodio, stagione dopo stagione. Un percorso lunghissimo e stressante che porta i due a svariate diatribe e scontri nei quali è quasi sempre Hofstadter a calare la testa.
Trova un lavoro più facile nel rapporto con Raj e Howard, più affini al suo tipo di comicità e ottimi confidenti per i molteplici momenti in cui Sheldon ha tirato fuori l'ennesima lamentela che porta alla discussione. Leonard è un buon amico, anzi, è un ottimo amico. Ha un'altissima soglia di sopportazione, tant'è che nessuno nella serie riesce a comprendere come faccia a sopportare così tanto Sheldon e volergli comunque così bene. Non che Cooper sia una cattiva persona, ma è decisamente difficile convivere con lui e le sue regole. Da questo punto di vista il nostro protagonista è un angelo.
Tra sicurezza e fragilità quando conquista Penny.
Di storie d'amore nelle comedy ne abbiamo viste a decine: Robin e Ted, J.D. ed Elliot, Ross e Rachel. The Big Bang Theory non è differente e anche qui il personaggio principale ha una cotta ben delineata sin dal primo episodio. Penny è la ragazza della porta accanto dagli interessi opposti: non le interessa la scienza o i fumetti, è più indirizzata a seguire una carriera da attrice e il vivere alla giornata. Esce con ragazzi decisamente poco raccomandabili e più di una volta finisce a essere consolata da Leonard, buon vicino di casa che le vuole un gran bene.
La ragazza pian piano inizierà a sviluppare sentimenti per lui, sentimenti che Leonard ha sempre provato ma non sapeva come metterli in atto. Da quel momento Hofstadter inizia un difficile lavoro di autoconvincimento per conquistare Penny e stare con lei. L'uomo si sente inferiore, meno bello, meno attraente, il ripiego, ma non sa come uscire da questa situazione se non provando a nascondere i suoi pensieri. Inizia a temere che al primo cenno di debolezza Penny lo lascerà per qualcun altro, ma il rapporto tra i due diventa ben più solido di così.
Più volte Leonard riesce ad ammettere queste paure, questa sensazione di inferiorità che probabilmente non sparirà mai, ma Penny ammette di essersi innamorata anche di quella parte di lui.
Il sognatore ha preso il posto del figlio per troppi anni.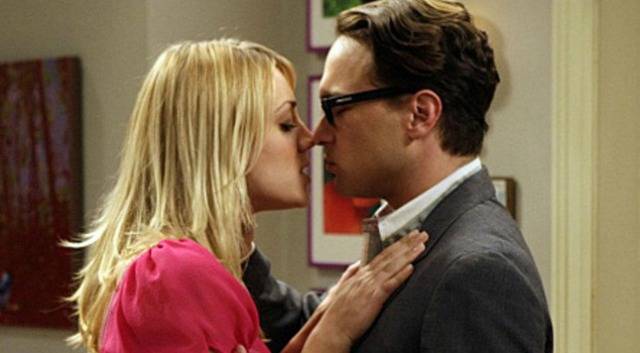 Leonard Hofstadter ha portato avanti la sua carriera per tanti motivi, ma uno è stato di sicuro la mancanza di affetto da parte di sua madre. È sempre stato un ragazzo emotivo, che si lega facilmente alle persone come vediamo in The Big Bang Theory e crescere con una madre così distaccata lo ha messo in difficoltà. Forse per un altro senso di inferiorità, forse per chiudere quel vuoto col successo, Leonard ha dedicato tanto al suo lavoro e alle sue ambizioni.
Diventa un sognatore, tra progetti di alto livello e speranza di rivoluzionare il campo scientifico, ma il suo desiderio è frutto di una necessità non sana. Vuole colmare un vuoto nel suo cuore e sa che il lavoro non potrà mai deluderlo, o peggio, sentirsi deluso da lui.
La vita del nostro uomo è un gran casino, un piccolo albero dal quale crescono e si allungano molti rami, ma con un tronco fragile e ondeggiante. Più che un albero somiglia a un giunco, ancorato a terra come può ma sempre piegato dove soffia il vento per essere di supporto a tutti. La grande svolta infatti non è netta, non è un momento preciso, ma col passare del tempo i rami convergono e iniziano a dare stabilità alla base. Non è egoismo, Leonard impara ad essere più consapevole di sé stesso e come ogni parte del suo carattere sia qualcosa da tenere in conto.
Leonard Hofstadter è tutti quei lati messi insieme.
Nel percorso che lo porta a comprendere la propria vita acquisisce sicurezza, le sue relazioni traballano e barcollano, ma una volta stabili sono ancora più sicure. Non ha più paura di confrontarsi con Sheldon quando sa di essere dalla parte della ragione. Non teme più di perdere Penny perché lei lo ama per ogni suo aspetto e non per la maschera che improvvisa. Riesce a sfogare ogni emozione che prova verso sua madre, riallacciando un rapporto di cui aveva bisogno e per il quale non vuole più aspettare. Inoltre nel lavoro, ormai soddisfatto della sua vita, trova il giusto equilibrio che lo rende felice e di successo, circondato da persone importanti ma con la sua voce che si fa sentire.
Anche Sheldon, la persona più in difficoltà davanti ai comportamenti emotivi, nota questo cambiamento e quello che Leonard Hofstadter ha significato per lui. Per questo nel finale di stagione lo fa alzare in piedi e lo annuncia come la persona più importante nella sua vita, come dottore e come amico: in ogni suo aspetto, completo.