SPOILER ALERT : NON CONTINUATE A LEGGERE LA GIF-RECENSIONE SE NON AVETE ANCORA VISTO L'EPISODIO DI THE BIG BANG THEORY.   
A un passo dalla fine della nona stagione di The Big Bang Theory è tornato uno dei personaggi più amati della serie, Beverly Hofstadter! Neanche lei che con la sua freddezza che la rende tanto buffa è riuscita a salvare questo episodio che è risultato troppo lento e dalla trama scontata. Sheldon che abbandona Amy per andare al cinema? Penny che cerca di fare colpo su Beverly? Beverly che preferisce la più intelligente del gruppo? Tutto già visto!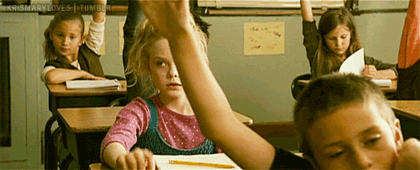 Devo immaginare dunque che gli sceneggiatori della serie abbiano avuto il blocco dello scrittore ed abbiano unito le trame dei passati episodi credendo che non ce ne saremmo accorti. Questo ha reso questo 23esimo episodio piuttosto noioso.
Ma ne parleremo dopo, adesso è meglio dedicarsi alla nostra consueta gif-recensione!
L'episodio inizia con una scena buffa in cui Sheldon e Penny cercano di approfondire la loro conoscenza reciproca attraverso dei divertenti quiz.
Devo ammettere che non mi ha sorpreso il fatto che Penny sapesse gli elementi della tavola periodica, quanto mi ha sconvolto che Sheldon riesca a distinguere le Kardashian.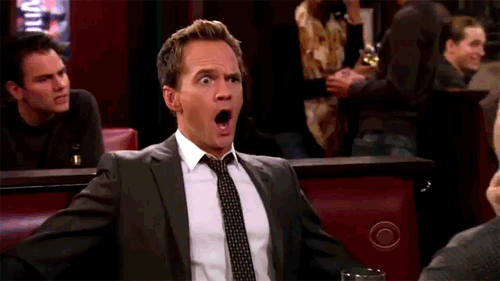 Non riesco a distinguerle nemmeno io…
Fin da subito viene comunque introdotto il personaggio di Beverly. Leonard chiede a Penny di andare a prendere sua madre all'aeroporto perché desidera (giustamente) evitare di incontrarla e vivere momenti imbarazzanti con lei. Penny decide di accettare perché vorrebbe tanto andare d'accordo con sua suocera.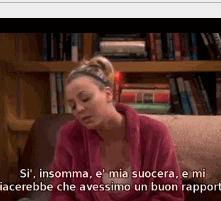 Dopo i primi minuti di imbarazzo in macchina, Penny invita la dottoressa Hofstadter ad una cena con Amy e Bernadette nella speranza di farle riavvicinare.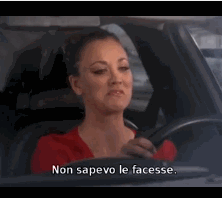 La cena però non va proprio come si aspettava! Beverly finisce per dare attenzione a chiunque tranne che a Penny! Fa i complimenti ad Amy per la sua relazione con Sheldon, parla con Bernadette del suo lavoro ed ignora completamente la sua povera nuora.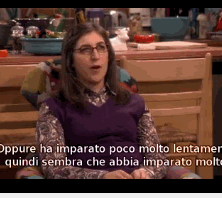 Quando Penny si lamenta della situazione, vengono fuori delle ostilità…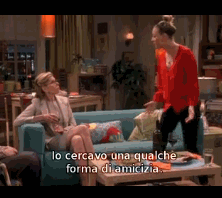 Beverly confessa, difatti, di essersi sentita offesa quando non è stata invitata al matrimonio di suo figlio.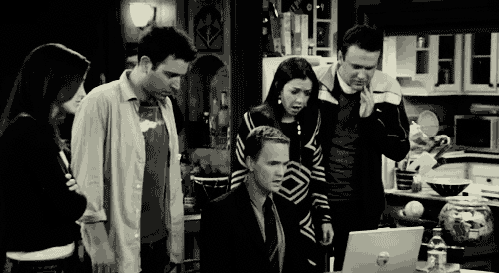 Ma al compleanno di Sheldon non aveva detto di essere felice di non essere stata invitata? Ha cambiato idea? Avreste immaginato che lei ci tenesse a presiedere al matrimonio del figlio?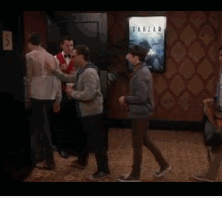 La madre di Leonard confessa anche di aver avuto delle riserve sulla relazione tra suo figlio e Penny, ma che col tempo si è ricreduta ed ha compreso che la biondina è davvero capace di rendere felice suo figlio. Penny intenerita da queste parole decide di organizzare una piccola cerimonia privata per celebrare il loro matrimonio e far in modo che anche Beverly possa parteciparvi.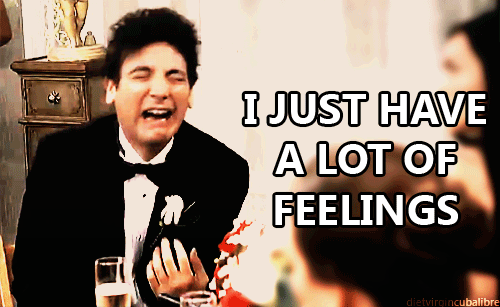 Sono molto felice che Penny sia riuscita a legare con la sua complicata suocera.
Intanto Raj annuncia ai ragazzi una speciale proiezione di Avengers, il famoso film Marvel, a cui parteciperà anche Joss Whedon per rispondere alle domande dei fan. Il quartetto naturalmente decide di prendervi parte! Sheldon però ricorda di aver promesso ad Amy di andare a fare shopping con lei e non sa come fare. Howard accorre in suo aiuto e gli rivela che ci sono app con cui si trovano persone che, se pagate, possono sostituire altri in commissioni che gli interessati non vorrebbero fare.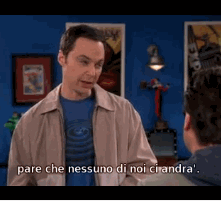 Sheldon decide allora di pagare Stuart per accompagnare Amy in giro per negozi. Naturalmente la ragazza non ne è affatto contenta…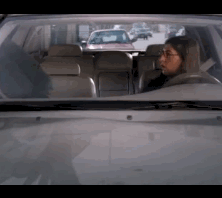 … E paga il proprietario del negozio di fumetti per recarsi da Sheldon e fare una scenata al suo ragazzo da parte sua.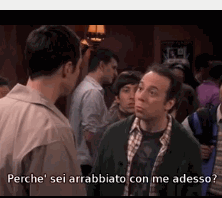 Sheldon allora lo ripaga per andare a scusarsi, ma Amy non accetta le sue scuse. Allora il dottor Cooper lascia la fila per andare dalla sua fidanzata e porgerle le scuse che merita.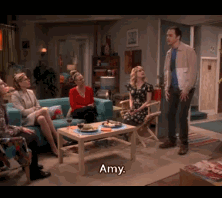 Amy mostra di essere molto paziente e accetta le sue scuse. Sheldon allora la saluta velocemente e corre di corsa al cinema per riprendere il suo posto nella fila. Proprio mentre attende di entrare nella sala del cinema, inizia una discussione con un altro fan che ha raggiunto i suoi amici nella fila. Il dottor Cooper lo riprende davanti a tutti e chiede anche agli altri il loro parere riguardo la condotta del ragazzo. Stranamente però nessun altro si sente offeso, come lui…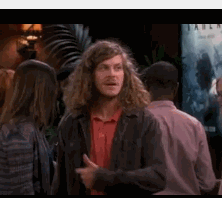 Alla fine tutti entrano in sala e la questione viene messa da parte. Prima che si passi al momento più riflessivo della gif-recensione però voglio farvi soffermare sulla grande scoperta di questo episodio: Beverly Hofstadter è una SHAMY SHIPPER come noi!
Tra l'altro è proprio vero che Amy è una donna speciale! Quale altra donna avrebbe sopportato le manie e le stranezze di Sheldon? Nessuna!
Siamo arrivati al momento delle considerazioni finali di questo episodio. Come vi ho anticipato all'inizio della gif-recensione, la trama è stata piuttosto deludente. Mi sarei aspettata un episodio migliore e invece le scene e le medesime situazioni si sono ripetute. Sheldon, il ragazzo che ha rinunciato ad andare alla prima di Star Wars per stare con Amy è ricaduto fin troppo in fretta nelle vecchie abitudini. Le uniche scene che salverei sono quella iniziale in cui Penny e Sheldon si sono sfidati in quel singolare quiz che ha unito la scienza al gossip e la scena finale che mi ha ricordato il vecchio Howard Wolovitz! Ma ci credete che tra poco questo ragazzo dovrà crescere un figlio?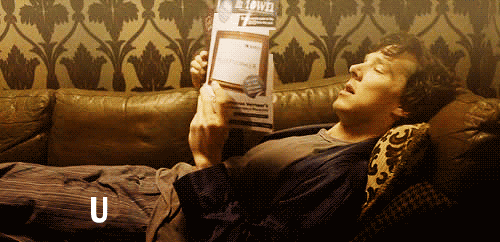 Il prossimo episodio sarà l'ultimo di questa stagione che nonostante i colpi di scena piazzati qua e là non ha entusiasmato il pubblico. Spero che il prossimo episodio, che tra l'altro ci mostrerà per la prima volta il padre di Leonard, possa farci ricredere o che almeno sia all'altezza di quello della passata stagione.
Vi do appuntamento alla prossima e ultima gif-recensione!