Gli autori ci avevano promesso la più grande sorpresa mai avuta nello show e non  ci hanno deluso! Ripercorriamo questo strepitoso episodio con la nostra gif – recensione!
Ma prima ATTENZIONE SE NON AVETE VISTO ANCORA L'EPISODIO, NON CONTINUATE : CI SONO MOLTI SPOILER!
Domani è la Festa degli innamorati e The Big Bang Theory , essendo pieno di coppie, non poteva non tingersi di rosso. "Love is in the air"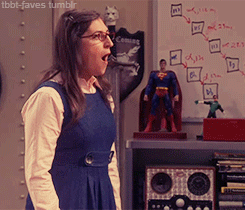 Cosa c'è di meglio che passare San Valentino realizzando una nuova puntata di Fun with Flags?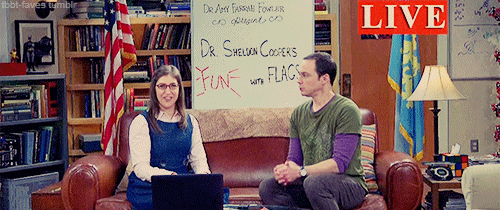 Ah aspettate, forse c'è un modo migliore per festeggiarlo : lasciare la propria ragazza! Raj infatti ha lasciato Emily proprio a San Valentino! Il ragazzo infatti aveva da tempo dei dubbi su Emily, che sono aumentati da quando ha conosciuto Claire. Peccato che Claire non sia per nulla interessata a lui e che si sia rimessa con il suo ex! Raj allora, dopo aver troncato con Emily, si ritrova di nuovo da solo (dopo la tanta fatica fatta per trovare una ragazza!). L'inconsolabile Raj riprende allora a fare quello che gli viene meglio : intromettersi nelle coppie! Stavolta però anziché scegliere Howard e Bernadette, decide di chiamare Amy e Sheldon proprio mentre sono in diretta con il loro Fun with Flags. Sheldon all'inizio è molto seccato perché non ha mai amato i cambi di programma e lo diventa ancora di più quando chiama durante la registrazione della webserie anche il suo nemico di sempre, Kripke.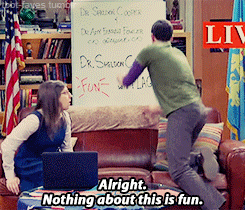 Alla fine cerca comunque di consolare il suo amico indiano…sbattendogli in faccia la sua felicità!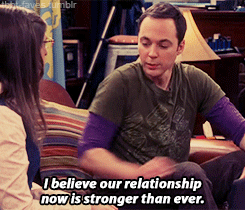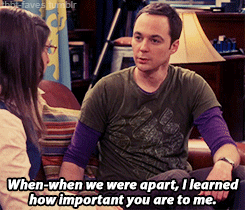 Bel lavoro Sheldon!
Passiamo a Penny e Leonard! I due avevano deciso di concedersi una cena romantica in un lussuoso ristorante, ma arrivati lì scoprono di dover aspettare un'ora prima di poter avere un tavolo. Penny sfoggia la sua arma segreta, che in passato le ha aperto molte porte e flirta con il maitre che non solo non le dà retta, ma la chiama persino "Signora".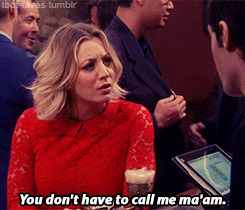 I due piccioncini sono costretti allora a festeggiare in un fast food e si rattristano temendo di essere diventati vecchi. Riflettono dunque su cosa poter fare per liberarsi da questa crisi di mezza età e hanno un'idea geniale! Si vestono in modo buffo e si premuniscono di coriandoli e trombe e vanno a disturbare Sheldon ed Amy gridando "We are young and Fun!"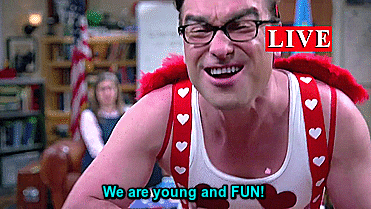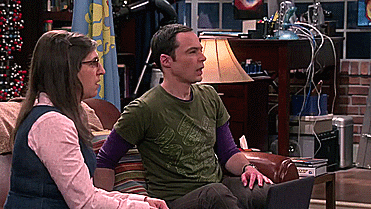 Ora la parte più importante della recensione : la grande sorpresa di Bernadette! Lei ed Howard avevano progettato di trascorrere San Valentino nella loro nuova vasca idromassaggio, ma vi hanno trovato all'interno un piccolo amico: un tenero coniglietto. Decidono allora di accudirlo, ma mentre lo fanno il coniglio morde Howard e lui decide di andare in ospedale, temendo di avere la rabbia. Fin qui nulla di nuovo, dunque, dato che Howard ormai è molto conosciuto in ospedale tra allergie, infortuni ed incidenti con braccia robotiche. La cosa più importante è che Bernadette confessa al coniglietto di essere incinta!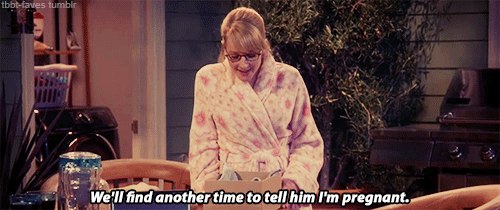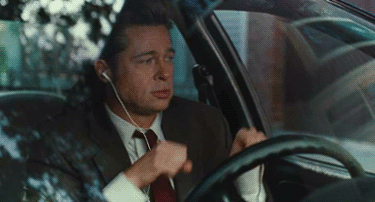 Howard naturalmente non sa ancora nulla, ma non vediamo l'ora di assistere alla sua reazione.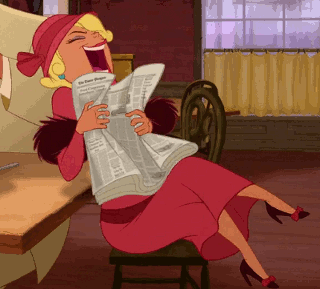 Questo è stato un grande episodio! E' stato capace di dare spazio a tutti i personaggi senza concentrarsi solo su Sheldom ed Amy come aveva fatto il precedente. Inoltre ha distrutto la monotonia (in cui lo show poteva cadere) attraverso due notizie che rivoluzioneranno la serie. Raj è di nuovo single ed Howard sta per diventare padre.
Buon San Valentino e appuntamento alla prossima gif – recensione !