# #
The Big Bang Theory è tornato dopo un'inutile pausa di due settimane,  con una grande puntata in cui abbiamo finalmente un personaggio molto atteso! E ritorna anche la nostra gif – recensione!
# #
E' l'unica donna che può comandare ed abbracciare Sheldon, può sedersi al suo posto ed è la sola che può chiamarlo Cuor di Panna : è sua nonna!
# #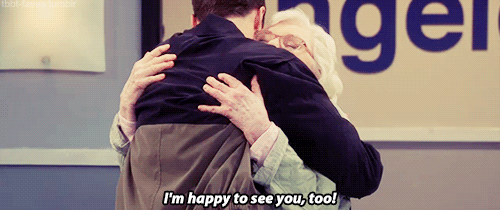 La donna è arrivata a Pasadena dal lontano Texas per fare una visitina al suo amato nipote e conoscere la sua  ragazza. Giunta nell'appartamento di Sheldon e Leonard ha fatto la conoscenza di Penny e l'ha subito adorata. Ma perché tutti amano Penny?
Boobs!!!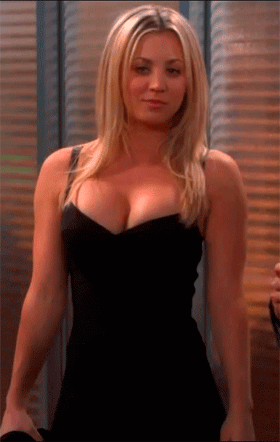 Ah già!
Comunque quando la donna conosce Amy, sebbene abbiano lo stesso look, non riesce proprio ad accettarla! Non può proprio evitare di ritenerla responsabile della sofferenza di Sheldon durante la loro rottura. Le riserva battute pungenti e maltrattamenti a cui Amy in realtà dovrebbe essere abituata, dato che sta con Sheldon! Inoltre per sbaglio (o forse no?) le ha rivelato che Sheldon voleva regalarle il suo anello di fidanzamento.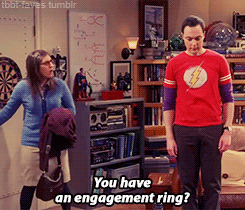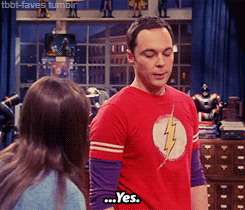 Alla fine le parla del suo cattivo marito e le esprime la paura che anche il suo dolce nipote soffra durante la vita matrimoniale o per una nuova rottura. Sheldon allora interviene nella discussione per dirle che lei ha reso suo marito un uomo migliore e lui sta facendo lo stesso con Amy.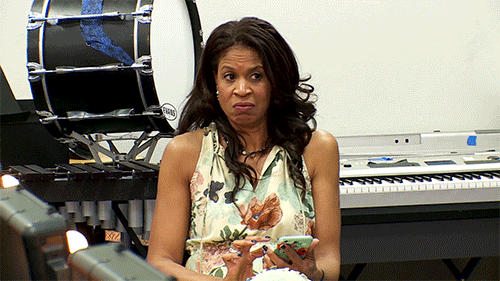 What the F*ck? Chi sta migliorando chi?
Comunque di fronte alle parole di Sheldon, la nonna non può far altro che dare la sua benedizione.
Tutto è bene, quel che finisce bene.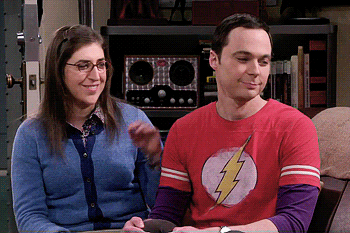 Adesso passiamo all'altro protagonista di questo episodio e dunque anche della recensione : Raj Koothrappali! L'indiano ha infatti complicato la sua vita sentimentale, di nuovo! Dopo essersi innamorato di tutte le ragazze dei suoi amici, adesso ha provato interesse per una nuova ragazza, pur essendo ancora impegnato con Emily.
Galeotto fu Frozen! Raj e Howard infatti stavano proprio parlando di questo famoso film nella fumetteria, quando hanno attirato l'attenzione di Claire. La donna che stava infatti lavorando ad un film d'animazione, chiede ai due scienziati qualche consiglio. Raj accetta di aiutarla e le dà il suo numero, ma Howard e Bernadette gli fanno notare che questo potrebbe apparire come un approccio romantico. Raj allora chiama Claire per mettere le cose in chiaro e spiegarle che lui è già impegnato.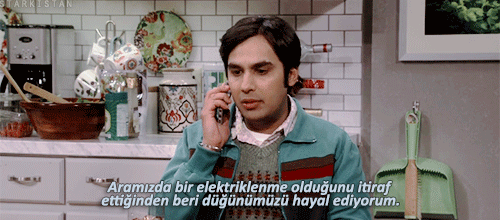 La ragazza però non è minimamente interessata a Raj, mentre l'indiano sembra piuttosto desideroso di continuare a conoscerla. E che ne sarà di Emily?
E' stato un ottimo episodio: gli sceneggiatori si sono ricordati di Raj ed Amy ha finalmente scoperto la faccenda dell'anello!
Vi lascio e vi do l'appuntamento alla prossima gif – recensione!