# #
Puntata interamente dedicata a Kira, purtroppo.
Infatti Kira appare dalla prima scena, dove combatte con le tre donne che erano fuoriuscite dalla sabbia nella puntata precedente. Le donne mezzenude e con addosso peli di animali sembrano le sole a poter aiutare Kira con il problema della volpe, abbastanza incazzata, che è dentro di sé. Le Skinwalker decidono di far fare una prova alla ragazza, e se la supera, potrà iniziare un allenamento per non essere più dominata da essa.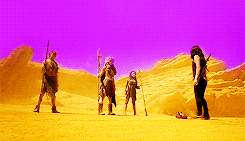 Ma non finisce qui! Ci sono alcune condizioni di cui parla la mamma di lei: se Kira non supera la prova, dovrà rimanere per l'eternità con le skinwalker e se la supera dovrà, sempre, rimanere con loro, ma fin quando la volpe non decide di tranquillizzarsi e quindi dovrebbe rinunciare alla sua vita a Beacon Hills (non che a qualcuno importi eh…forse a Scott..ma lui può trovarsi n'altra ). Ma se non supera la prova e, rimanendo con quelle, non riesce a trovare una soluzione, il Kitsune la consumerà. QUINDI? Qual è la soluzione per farla rimanere viva e vegeta? Scusatemi, ma non capirò mai il fine di questo personaggio. Nella seconda scena, c'è l'incontro tanto atteso tra Liam e Scott. E cosa fa il nostro piccolo beta? Starete sicuramente pensando: " Beh, gli avrà chiesto scusa, è il minimo", e INVECE NO. Liam lo guarda per qualche secondo e gli dice che il branco di Theo è di nuovo vivo, cosa che Scott già sapeva, e che anche lasuaamataHayden lo è. Il ragazzino gli chiede se può andare con loro in Messico a cercare Kira, ma Scott gli risponde subito di no, che non può andare con lui e Stiles. Così Liam dice una frase che mi ha colpito, che mi ricorda molto la lite a fine metà stagione tra gli Sciles.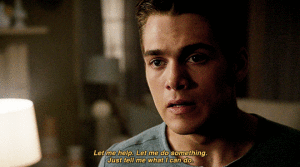 Ricorda troppo Stiles, sopratutto per la faccia da cucciolo.
# #
Nella terza scena, vediamo Theo e la ragazza Kanima( di cui non ricordo assolutamente il nome ) intenti a cercare The Beast e non solo la trovano, ma è anche bella arrabbiata.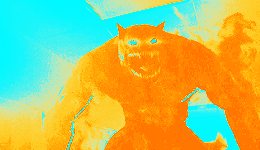 # #
I due ragazzi ci danno degli indizi su The Last Chimera, ossia che è un ragazzo qualunque, che durante la notte si trasforma in bestia. I Dread Doctors compaiono dal nulla e dicono al nostro gran bel figone, che in questa puntata ha dato il meglio di sé, di non cercarla più e che lui non è più un loro problema. Da quello che si capisce durante l'intera puntata, è che i dottori stanno cercando di far dimenticare al ragazzo chi è realmente e cosa, invece, deve essere.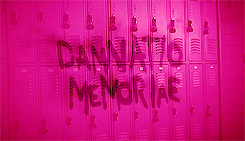 Nelle scene seguenti ci mostrano Stiles e Scott intenti a cercare Kira in Messico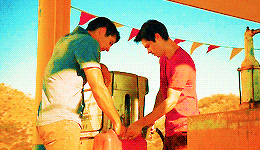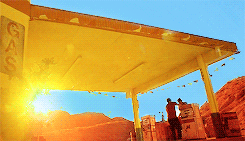 Liam e Hayden che continuano a bisticciare, ma si sa come va a finire in certi casi!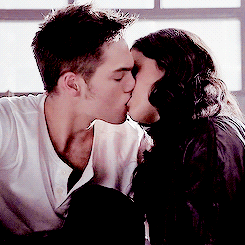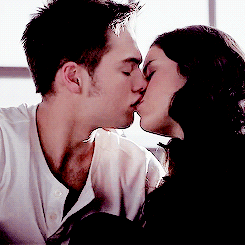 Mason che ci prova spudoratamente con Corey. In questa puntata mi sono piaciuti particolarmente, quindi vi metto le due scene in cui appaiono insieme.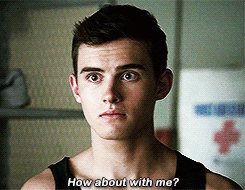 Poi ci sono Theo e Malia e io mi chiedo come le persone non riescono a shipparli. Sono troppo belli insieme e vogliamo parlare dei sorrisetti che fa il ragazzo quando la guarda? Io non so come lei non gli sia ancora saltata addosso.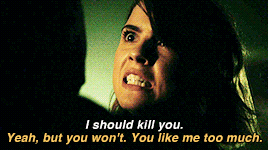 E, di nuovo, Scott e Stiles che riescono a trovare Kira e la salvano da quelle tre pazze. Ma vogliamo parlare dell'imbarazzo di Stiles e Kira's mama quando gli Scira iniziano a baciarsi? Ma poi, cosa cavolo c'entra?? E il fatto che la mamma la porta lì per non essere più dominata dal Kitsune e poi decide che se ne devono andare, capendo che non è il caso di lasciarla?? Io mi scuso ancora, ma proprio non capisco l'utilità di Kira.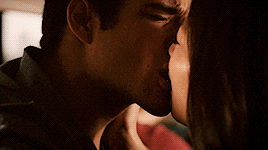 Ora. Vorrei soffermarmi su questi due personaggi. Sarà che i due attori sono migliori amici e quindi le scene sono molto spontanee, ma io non ho mai conosciuto due persone così in sintonia da sembrare fratelli. Vi giuro, ogni volta che ci sono state scene così tra Stiles e Scott, io ho pianto. Ma ho pianto come una bambina, perché loro due sono perfetti insieme e si crea sempre un'atmosfera magnifica. Quelle che ci propone Jeff in questa puntata, sono delle scene che stavamo aspettano da un sacco. Finalmente Stiles e Scott parlano di quella notte. Di quando il primo ha ucciso Donovan e di come si sentisse quando non ha potuto raccontarlo all'altro.
E la scena successiva di Scott è meravigliosa: lui si scusa con l'amico per non averlo ascoltato, che se l'avesse fatto, avrebbe capito subito chi era il cattivo e chi non, e che "avrebbe dovuto essere lui", avrebbe dovuto lui sporcarsi di sangue le mani, non gli altri del branco. Sappi che noi ti amiamo sempre, anche se hai dato un po' di aceto nelle ultime stagioni.
E infine, la scena finale. La più bella. Liam e Mason capiscono cosa vuole Theo e cosa sta cercando. Deucalion. Potrei impazzire. Lo so che si è visto nel trailer della stagione, ma sentir dire dai personaggi il suo nome, io salto dalla gioia. Non so se molti di voi saranno d'accordo con me, ma io veramente l'ho adorato! Sarà che ho adorato tutta la terza stagione, quindi questo ritorno mi piace particolarmente. Solo io penso che questi ritorni sono solo perché Jeff ha capito che doveva realizzare le stagioni come quelle della terza, magari non continuando storie inutili come quelle di Kira?! Bah, vedremo. 
Per concludere, volevo dire che la parte migliore di tutta la puntata è stata la ricomparsa di ROSCOE(per chi non lo sapesse, è la jeep di Stiles), a cui tutti noi siamo affezionati.
love you, Roscoe.