I social media rappresentano, ormai, al giorno d'oggi il veicolo principale attraverso il quale passano notizie e mode. Affinché qualcosa prenda davvero piede nel mondo reale, deve prima passare sotto la "supervisione" e l'approvazione di milioni di figure fittizie attive nel web e in special modo su social come Twitter e Instagram (Facebook già da qualche tempo è passato di moda). Anche serie tv come Stranger Things, quindi, cercano in primis di conquistare il vasto pubblico del web.
Per riuscirci, esiste un gruppo di persone specifico, che agisce nell'ombra come Daredevil, che si occupa di pubblicizzare lo show nel miglior modo possibile, così facendo riescono quasi sempre ad assicurarsi le prime posizioni nei trend dei social più famosi.
Nell'articolo di oggi parliamo di quelle serie tv maggiormente seguite sui social e che proprio da questi ultimi continuano a ottenere un enorme riscontro. 
1) THE WALKING DEAD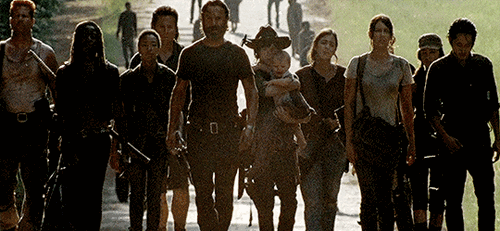 The Walking Dead sa giocare molto bene le proprie carte. Lo fa dai tempi della prima stagione e, nonostante ci siano stati più bassi che alti negli ultimi tempi, rimane comunque uno show di punta perché sa bene come assicurarsi il proprio pubblico. I social media svolgono un ruolo importantissimo nella promozione di The Walking Dead, attraverso campagne pubblicitarie costruite ad hoc e un grande lavoro di hype attorno alla "morte stagionale".
SPOILER L'uscita di scena di Rick Grimes è stata, per esempio, largamente anticipata e pubblicizzata in maniera febbrile su social come Twitter e Instagram.