# #
Guardare un prodotto con grandi aspettative e rimanerci deluso ti fa veramente incazzare arrabbiare. Se poi decidi di farci su un pezzo, la cosa migliore è far passare qualche giorno da quando lo hai terminato, in modo da vedere le cose con maggior freddezza e distanza e da essere più lucido e obiettivo nel giudicarlo. E' quanto successo a me con la miniserie targata HBO, Show Me a Hero, trasmessa in America ad Agosto e arrivata da noi grazie al solito Sky Atlantic a fine Novembre. Ho aspettato che terminasse per vederla tutta insieme, avevo grandi aspettative e, alla fine, sono rimasto sinceramente deluso. Ma non è tutto da buttare e in queste righe proverò a spiegarvi il perché.
# #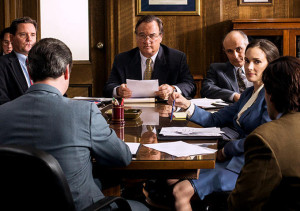 COSA VA:
# #
Senza ombra di dubbio la cosa migliore di questa miniserie è il cast! Protagonista principale è Nick Wasicsko, magistralmente interpretato da Oscar Isaac, tanto da aver vinto il Golden Globe 2016 come Miglior Attore in una Miniserie. L'interpretazione del sindaco Wasicsko non era facile ma Isaac ci ha messo dentro tutto se stesso e il risultato è stato eccellente. Jim Belushi interpreta il sindaco uscente Angelo Martinelli, Alfred Molina è nei panni di Henry Spallone, consigliere e successivamente anch'esso sindaco; la bravissima Winona Ryder è l'abilissima Vinni Restiano, collaboratrice di Martinelli prima, poi amica di Wasicsko e infine rivale dello stesso. Bob Balaban interpreta l'inflessibile giudice Leonard Sand e infine Carla Quevedo la futura signora Wasicsko. Lavoro ottimo da parte di tutto il cast, senza dubbio meritevole di elogi.
Oltre al cast, la scelta della colonna sonora è di prim'ordine. Bruce Springsteen, The Boss, la fa da padrone, con 12 tracce presenti nella colonna sonora, tra cui alcune delle sue più celebri canzoni come "All That Heaven Will Alove", "Valentine's Day", "Racing in the Streets" e "Gave it a name". Ma non solo l'eterno Bruce, all'interno della miniserie sono presenti anche altri brani dell'epoca, autentici classici del rock come "Walk of Life" dei Dire Straits, del pop come "I wanna dance with somebody" della mitica Whitney Houston fino all'hip pop con gli eterni Public Enemy ("Welcome to the terrordome"). La musica di altissima qualità, insomma, non manca ma, anzi, addirittura abbonda e rende certamente più godibile la storia.
E qui veniamo all'ultimo punto "promosso" della serie: la Storia. La storia di Show Me a Hero narra le vicende di Nick Wasicsko, realmente accadute, che diventa sindaco della cittadina di Yonkers sul finire degli anni '80 costretto suo malgrado a rispettare un'ordinanza esecutiva del giudice Sand sulla costruzione di 200 alloggi per neri nei quartieri "bianchi" della cittadina, con l'obiettivo di abbattere la segregazione razziale. Uno spaccato d'America a cavallo tra il finire degli anni '80 e gli albori dei '90 con l'integrazione razziale e la sommossa popolare dei bianchi al centro del racconto. E le promesse fatte e puntualmente mai mantenute dai politici. Una storia senza dubbio molto importante che ci racconta le difficoltà incontrate dalla minoranza degli afro-americani a integrarsi con la popolazione dei bianchi.