2017. Spike Lee presenta il suo nuovo/vecchio progetto a vari network, incluso il gigante dello streaming, Netflix il quale è l'unico ad accettarlo. Nel farlo, ha ricevuto gli spavaldi complimenti dallo stesso regista:
È questione di cultura. Semplicemente, gli altri non ci sono arrivati. É sempre così.
Spike Lee torna alle origini del suo cinema. She's Gotta Have It è un remake in forma seriale del suo omonimo film degli anni Ottanta.
Chi è Nola
Adattata e costruita intorno alla figura di Nola, donna concentrata su sé stessa e sui suoi obiettivi, che rivendica con decisione la propria libertà e vive con disinvoltura la propria sessualità. Nola rifiuta qualsiasi etichetta e ci spinge alla riflessione con la sua radicale libertà e le sue provocazioni.
Ella necessita di imporre la propria identità su quello che la circonda, senza sottostare a convenzioni e schemi sociali. In quanto donna di colore, però, si ritrova sommersa dai tentativi di "incasellamento". Ogni azione e ogni gesto diventano per lei il modo per inserirsi a forza nel mondo.
La mano di Spike Lee, su di lei, si sente più che mai: le prese di posizione del personaggio vengono amplificate con una serie di brevi monologhi con sguardo in camera che rompono la quarta parete e, in cui vengono spiegate motivazioni e ragioni che guidano i comportamenti. Si rendono necessari per la volontà di She's Gotta Have It di essere una serie manifesto, ben più grande delle storie dei suoi personaggi.
Infatti, la caratterizzazione dei personaggi, in sceneggiatura, è volutamente molto marcata e spesso i tratti (negativi) delle loro personalità sono estremizzati. Tutti, dalle amiche di Nola ai tre amanti – Mars, Jaime e Greer – vogliono rappresentare diversi ideal tipi possibile, rafforzati da quel tocco di originalità che ne ridefinisce ancor di più l'essenza. È il territorio migliore in cui da sempre si misura il regista, quello delle contraddizioni che si scontrano tra di loro tramite le persone che le incarnano.
È con questo sistema che She's Gotta Have It diventa il modo attraverso il quale Spike Lee racconta le mutazioni di Brooklyn e in particolare della zona di Fort Greene.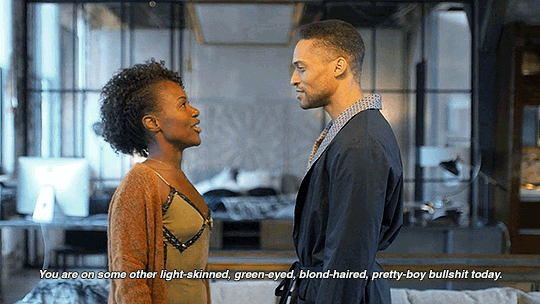 È evidente da quante immagini, quanti luoghi diversi, quanti dialoghi sono impiegati per parlare della zona e del melting pot artistico che la contraddistingue, e quanto i personaggi esistano o non esistano in relazione ad essa (il tipico autoctono, chi si è trasferito da poco, il nuovo padrone di casa in seguito alla gentrificazione…).
Dalle strade ai palazzi e ai grattacieli, fino ai camerini dei locali, la serie esplora un po' tutta Brooklyn e, di conseguenza, sia gli stereotipi – di cui la comunità nera è contemporaneamente vittima e fautrice – sia l'integrazione della cultura afroamericana. Chiaramente ad essere in ballo è l'identità del territorio, di quella che era storicamente una zona di neri e ormai non lo è più. Anch'essa, come la società, è in continua trasformazione e come per ogni cosa nella produzione di Spike Lee, di nuovo, quest'identità è frutto di una negoziazione tra le varie razze che condividono un po' a forza i medesimi metri quadrati.
Nella seconda stagione esplora, invece, Porto Rico, anche qui arricchendola di particolari fin quasi a diventare una docu-fiction sul paese nel after-Maria, l'uragano che ha colpito l'isola nel settembre scorso. Una menzione particolare va fatta alla colonna sonora, resa alla stregua di un vero e proprio campionario di musica nera degli ultimi anni: da Jorja Smith a Tyler the Creator, passando per 6Lack, Shaggy, Syd e Bryson Tiller.
In sostanza She's Gotta Have It è tutto un altro tipo di serie
She's Gotta Have It è un'opera superiore. Un grande cineasta ha deciso di usare il mezzo televisivo per trasmettere un messaggio personalissimo, ma condivisibile da chiunque si senta coinvolto, e non poteva creare un'opera migliore di così. La serie fa venir voglia di vivere la propria vita diversamente, consapevoli che quella vita, quella che ci viene mostrata così sfacciatamente, non potrà mai essere reale.
LEGGI ANCHE – She's Gotta Have It: il trailer