Il nuovo anno è ormai alle porte, ma il primo gennaio 2017 non sarà come tutti gli altri e sapete perché? Mancano soltanto 35 giorni all'uscita della nuova stagione di Sherlock e noi non riusciamo più ad aspettare!
Sembrava impossibile ma questa lunga ed estenuante attesa sta per finire e nel frattempo i produttori si lasciano sfuggire tanti succulenti indizi su questo quarto appuntamento con l'investigatore più famoso al mondo.
Recentemente sono state diffuse alcune foto dal set che mostrano il Dottor John Watson, interpretato da Martin Freeman, alle prese con il suo nuovo mestiere, dopo medico e "aiuto investigatore": fare il papà!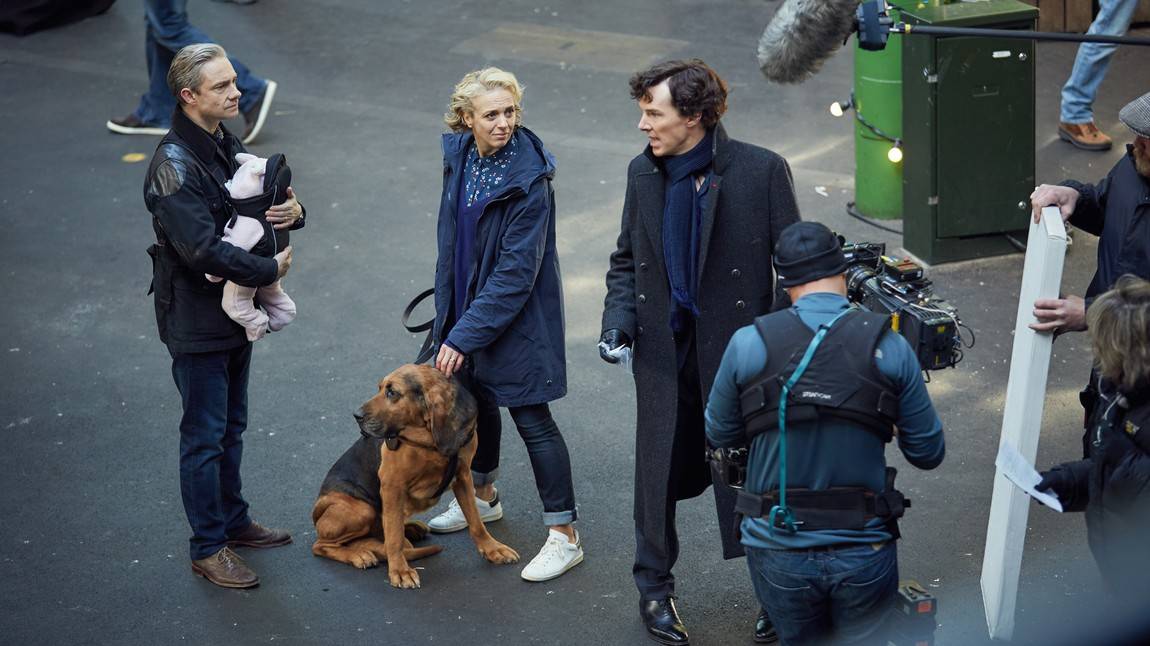 Come è stato infatti annunciato alla fine della terza stagione, è atteso un fiocco rosa in casa di John e Mary e Sherlock dovrà calarsi del difficile ruolo di zio. In più, oltre al sempre presente Mark Gatiss, interprete del premuroso fratello maggiore di Sherlock, Mycroft, ha fatto la sua comparsa una nuova nemesi: Culverton Smith, interpretato da Toby Jones, e sarà il villain del secondo episodio della nuova stagione, intitolato The Dying Detective, un adattamento contemporaneo di The Lying Detective, episodio nato dalla penna di Sir Arthur Conan Doyle, in cui Holmes finge di essere affetto da una malattia rara.
Il primo episodio della show, invece, sarà intitolato The Six Thatchers, anch'esso ispirato a uno dei numerosi racconti di Doyle, il cui titolo originale è L'Avventura dei sei Napoleoni, in cui la distruzione di alcune statue che ritraggono il leader francese porterà ad un omicidio.
In ogni caso Toby Jones non sarà l'unica novità nel cast, gli ultimi rumors parlano di una più che probabile partecipazione di Sam Heughan, il giovane e affascinante protagonista di Outlander, in onda su Fox Life. Il giovane attore, infatti, potrebbe volare dalla Scozia a Londra per affiancare Benedict Cumberbatch nei nuovi episodi di Sherlock e accantonare, provvisoriamente, il ruolo di Jamie Fraser, virile Highlander, che lo ha reso famoso, rivelandolo il suo talento al grande pubblico.
Insomma basta aspettare, pronti o no, Sherlock sta per tornare!