Fin dalla notte dei tempi, le storie che l'umanità ha saputo produrre ruotano attorno al dicotomico rapporto tra bene e male. Ovviamente nel corso dei secoli la questione si è complicata. Non ci troviamo quasi più dinnanzi all'originale eroe contro il cattivo. Ma le sfumature e le scale di grigi hanno dipinto un affresco di personaggi così complesso e profondo da alterare e talvolta nascondere questa stessa contrapposizione. Basti pensare alla relazione avvincente e drammatica tra Walter White e Gus Fring in Breaking Bad dove è davvero difficile capire chi dei due possa essere considerato il villain. E, se ci pensate bene, in Sherlock questo ribaltamento di ruoli è proprio il tentativo che prova a portare a termine Moriarty per primeggiare.
Buono e cattivo, bene e male, si fondono e confondono in modo mirabile arrivando a generare, in scena, delle relazioni inscindibili tra protagonista e villain. Delle coppie che da sole hanno avuto la forza di trainare un'intera serie o che ne sono invece state la migliore espressione. Un volano accattivante capace di catturare la nostra attenzione e consolidare il nostro coinvolgimento.
Ecco quindi, partendo proprio da Sherlock, le 5 relazioni più avvincenti tra protagonista e villain:
1) Sherlock e Moriarty (Sherlock)
Siamo di fronte alla coppia per eccellenza. I due volti di una medesima medaglia. La potenza evocativa di questi due personaggi accomunati da un'intelligenza straordinaria ha travalicato le intenzioni del loro stesso creatore. La figura di Moriarty come nemesi di Sherlock Holmes compare infatti in un unico racconto di Conan Doyle e viene citato in sole due altre occasioni. Eppure anche grazie all'adattamento della BBC, Moriarty ha consolidato il suo ruolo di stereotipo del supercriminale.
Il rapporto che vediamo svilupparsi tra i due in Sherlock è affascinante oltre ogni misura. La genialità cinica e distaccata dell'uno trova esaltazione e realizzazione negli intricati e sbalorditivi piani criminali dell'altro. I momenti in cui sullo schermo compaiono entrambi raggiungono livelli di tensione e divertimento senza pari.
Difficile immaginare l'uno senza l'altro. L'epicità che raggiunge lo scontro tra due intelligenze sopraffine e diametralmente opposte è l'anima stessa di questa eccellente serie tv. Oltre che uno dei motivi principali per cui vogliamo continuare, a distanza di oltre un secolo, a sentire parlare di Sherlock Holmes e del professor Moriarty.
2) Patrick Jane e John il Rosso (The Mentalist)
Un duello a distanza fatto di tensione e determinazione. Il mentalista da una parte, l'assassino "rosso" dall'altra. Due binari paralleli che paiono non incontrarsi mai. Ma come nella realtà, anche in The Mentalist, Patrick Jane vede che all'orizzonte i due binari s'incontrano.
E tutta la sua vita, da quando venne sconvolta da John, è votata e condizionata allo scovare il brutale autore dell'assassinio della sua famiglia. In ogni puntata questa ossessione tocca Patrick. Qualunque cosa stia facendo, ogni caso nel quale è coinvolto, lasciano sempre un piccolo angolo oscuro nel quale risiede John.
Conosciamo solo il punto di vista del protagonista, ma il legame inscindibile tra questi due personaggi ci investe con tutta la sua potenza visiva e soprattutto emotiva, generando un caleidoscopio di situazioni e dinamiche che rendono questa serie tv un prodotto di gradevolissimo livello, e il loro dualismo perfetto per questo elenco.
3) Ragnar Lothbrok e re Ecbert (Vikings)
La forza evocativa di Vikings è legata a doppio filo a quelle dei suoi personaggi. Le distanze con la Storia reale dei Vichinghi sono tali da permettere di esaltare anziché schiacciare i personaggi che la compongono. Su tutti, due spiccano in modo eclatante, come il riverbero del sole sui ghiacci: Ragnar Lothbrok e re Ecbert.
Buono e cattivo, protagonista e villain perdono quasi di significato davanti a loro. Sono la punta dell'iceberg di una pletora di personaggi che affascinano e coinvolgono in modo superbo.
"La forza di Vikings risiede nei suoi personaggi profondi e ben costruiti. I conflitti tra di loro non sono mai banali o senza senso. Se combattono, se tradiscono, c'è sempre un valido motivo. […] Uno show in cui lo spettatore non sa mai da che parte schierarsi perché il buono può sempre tradire e il cattivo può sempre redimersi."
Con queste parole, che trovate all'interno di questo approfondimento scritto mirabilmente dalla mia collega Chiara (e che vi invito a leggere), si chiarisce perfettamente il legame inscindibile e affascinante che si crea tra i due personaggi. Un rapporto profondo dove uno rappresenta la perfetta nemesi dell'altro.
4) Ryan Hardy e Joe Carroll (The Following)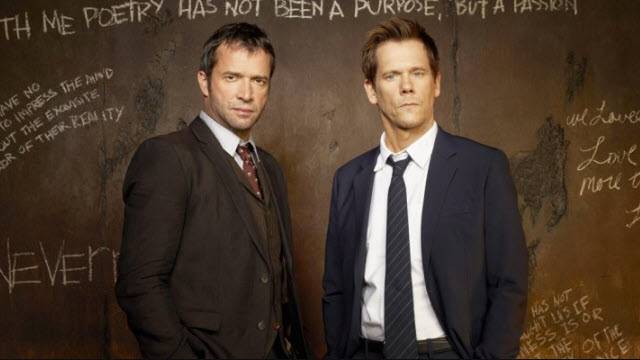 Anche in questo caso abbiamo una situazione alla "Patrick Jane e John il Rosso". Un rivalità dicotomica da buono contro cattivo. In questo caso però abbiamo anche delle situazioni di confronto diretto tra i due.
Dopo il rientro in servizio di Ryan a seguito dell'evasione del serial killer, The Following ci mostra un rapporto che si svolge su due linee principali. Quella psicologica – dominante nella serie – e quella fisica, negli scontri tra i due. Anche per Hardy, come per il già citato Patrick, riportare in galera Joe diviene una vera e propria ossessione. Deve porre fine al panico che sta seminando Carroll con le sue tecniche di controllo e di organizzazione innovative e drammatiche.
Due personaggi profondamente diversi sotto certi aspetti come lo possono essere i valori verso cui tendono. Ma simili in molti altri. Su tutti per esempio il riuscire a capire la mente, la psicologia umana. Odio e rispetto si alternano tra i due in modo perfettamente equilibrato portandoli a legarsi in un modo quasi innaturale. Ma perfettamente inserito nello sviluppo della serie. Nemici che si rispettano e questo rispetto li porta a sopravvivere l'uno all'altro. La vera forza di The Following si trova proprio in questo rapporto folle e incredibile. Una partita a scacchi tra l'eroe e il villain, che ci appassiona e ci lega alla serie dalla prima all'ultima puntata.
5) Will Graham e Hannibal Lecter (Hannibal)
Non riesco a immaginare rapporto più affascinante, crudele e affettuoso tra due personaggi come quello messo in scena tra Will Graham e Hannibal Lecter. Descrivere il turbinio di emozioni, pensieri, azioni che coinvolgono i due protagonisti di questa straordinaria serie televisiva sarebbe impossibile. E in ogni caso riduttivo ogni tentativo in tal senso.
Hannibal e Graham sono legati in modo quasi inscindibile. Vi è un senso di appartenenza reciproca che travalica le normali condizioni sociali. Vi è tra loro una relazione sublime e distruttiva che rasenta la follia. Follia ovviamente per le persone "normali". Non certo per menti superiori e spiriti raffinati come sono entrambi.
Un'affinità simbiotica che sfocia nel dramma. Dal primo secondo sulla scena fino all'ultimo fotogramma è la loro relazione ad alimentare la percezione di affascinante malessere che riescono a trasmettere. Come due magneti che si attraggono e respingono vorticosamente, sapendo di essere destinati a rompere questo equilibrio per respingersi definitivamente o chiudersi in un eterno abbraccio.