L'interazione tra romanzi, produzioni televisive/cinematografiche e videogames è oggi un must: casi in cui una storia ha inizio sfogliando pagine di un libro e continua sul piccolo o grande schermo o viceversa sono all'ordine del giorno. Basti pensare per esempio ai romanzi di Thomas Leo "Tom" Clancy, che nel tempo hanno dato vita a diversi film, tra cui la saga di Jack Ryan, e soprattutto a una famosissima serie di videogames (Splinter Cell, Rainbow Six, Ghost Recon). Proprio la popolarità raggiunta nel mondo nell'ultimo decennio ha permesso all'industria dei videogiochi di superare come fatturato quella cinematografica, passando sempre più spesso dal joypad alle sale cinematografiche o sugli scaffali di una libreria.
Alcuni tra i più celebri videogames si avvicinano sempre di più al mondo del cinema. con questo trend che ha coinvolto negli anni titoli molto popolari come per esempio Call of Duty, una saga dedicata alla guerra che abbraccia diversi periodi storici. In uno degli ultimi capitoli compare addirittura in qualità di villain Kevin Spacey, che interpreta e doppia un personaggio molto simile al Frank Underwood di House of Cards. Lo stesso è accaduto ad Hayden Panettiere nel survival horror Until Dawn e a Kristen Bell in Assassin's Creed. Questo ha visto, per esempio, oltre a una ormai lunga serie di videogames, anche numerose produzioni letterarie che a volte ripercorrono la storia del gioco, e in altre invece storie inedite. Insomma di casi ce ne sono tanti, tutti importanti e significativi.
Il sogno di spegnere la console e continuare la propria avventura sul piccolo schermo, magari su Netflix, appare oggi sempre più realizzabile. Quali potrebbero essere i risultati? Vediamo 5 esempi di videogames che potrebbero diventare delle perfette Serie Tv.
1) Bioshock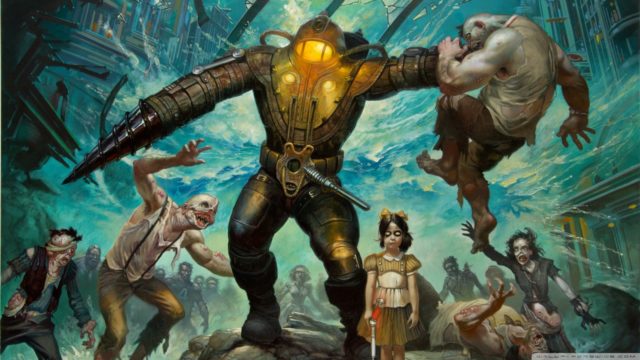 Pubblicato per la prima volta nel 2007, BioShock è uno sparatutto in prima persona, ambientato a Rapture, un'immensa città sottomarina segretamente costruita nel 1946 nelle profondità dell'Atlantico, totalmente alimentata dall'energia geotermica di un complesso di vulcani sottomarini e rifornita di ossigeno dalle migliaia di piante cresciute in enormi serre e da condotti d'aria comunicanti con la superficie. Rapture era stata pensata come la soluzione all'oppressione delle autorità politiche e religiose a favore della libera iniziativa dell'individuo, nonché come rifugio per un'eventuale guerra atomica dopo Hiroshima e Nagasaki.
E il nemico? I Big Daddy, grossi protettori rinchiusi in scafandri corazzati che vigilano sulla città. Per questo sono stati prelevati degli uomini (principalmente criminali) che, tramite un processo di modificazioni genetiche, sono stati trasformati in Big Daddy. Le premesse per un capolavoro ci sono tutte, lo stesso videogioco presenta una trama molto profonda, che permette di esplorare non solo quella città così strana, ma anche i meandri della mente umana e le reali motivazioni che hanno portato alla nascita di questo mondo sottomarino.