È più che risaputo che le serie tv, con le loro ambientazioni, ci fanno viaggiare in posti che non conosciamo, siano essi reali o totalmente inventati, da Storybrooke fino a Twin Peaks.
Questo è un po' anche il bello della magia televisiva e del suo modo di raccontare storie. Effettivamente con ogni serie tv lo spettatore intraprende un viaggio, anche emotivo, per conoscere nuovi personaggi e nuovi luoghi.
Ma a volte le serie hanno anche un altro pregio: quello di farci viaggiare tra universi paralleli. Abbiamo tantissimi esempi a riguardo, come Twin Peaks o, direttamente dalla DC Comics, The Flash.
Non si vede certo tutti i giorni! Se il telefilm che stiamo guardando ha il pregio di sforare nella fantascienza la possibilità di viaggiare in universi paralleli chiaramente aumenta, ma non è necessariamente detto che un genere definisca una storia.
Per questo oggi abbiamo trovato cinque serie tv che ci hanno fatto vedere altri universi, e mostrato luoghi che probabilmente non dimenticheremo mai. Vi viene in mente qualcosa che non abbiamo citato? E allora ricordatevi di farcelo sapere.
1) Fringe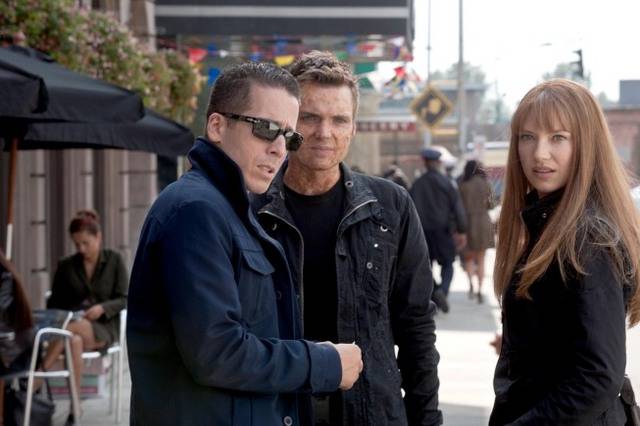 Cominciamo proprio con una serie tv di matrice fantascientifica, che ha però il pregio di averci fatto conoscere gli universi paralleli ben prima dell'arrivo di The Flash. Fringe, infatti, nel corso delle sue cinque stagioni, vedrà i suoi protagonisti combattere con mutaforma di un universo alternativo.
Ma non solo. La squadra combatterà anche contro i suoi doppi di un altro universo, molto simile all'originale. Questo ci rimanda a una teoria ben nota, quella del multiverso, secondo cui da ogni nostra piccola scelta potrebbero nascere altre infinite realtà. Interessante, no?