The Path è una drama series il cui pilot mette sul piatto diversi elementi che dovrebbero accompagnarci per tutte le 10 puntate di cui si compone. La serie di Jessica Goldberg ha debuttato mercoledì 30 marzo sulla piattaforma Hulu e, a quanto si è visto, potrebbe essere destinata a restarci a lungo; chissà arrivando forse un giorno in Italia.
Dunque The Path, che potremmo tradurre con "Il percorso", si costituisce di sfumature mistico-religiose fin dai primi minuti: la trama infatti ci presenta una coppia, Eddie (Aaron Paul) e Sarah (Michelle Monaghan), che appartiene ad un'organizzazione basata sul Meyerismo, cioè fondata da Steve Meyer, il quale ha nel suo libro "The Ladder" (La Scala) raccolto le sue visioni e il suo rapporto con la Luce. In pratica, sembra che questa setta si occupi dei più bisognosi, inducendoli sulla retta via (gli aderenti sono principalmente tossicodipendenti, alcolizzati, orfani), con la promessa di "smettere di soffrire". Inoltre, coloro che fanno parte di questa organizzazione sembrano divisi in "gradi" (R6, R8…), che comprendono fra i progetti quello di recarsi in Perù per testimoniare direttamente la nascita della Luce. Come detto, sembra: infatti Eddie ritorna dal Perù con poche certezze e molti dubbi sulla genuinità dell'organizzazione, iniziando ad indagare con una ragazza, Alison, che ha "trasgredito": deve fare i conti però con la determinazione di uno dei più importanti esponenti della setta, Cal (Hugh Dancy).
The Path porta sul piccolo schermo diverse tematiche e problematiche: ci vengono presentate in serie l'idillio (corrispondente a questa presunta sacralità della setta), individuabile nei giardini, la calma e la gentilezza presente nella sede dell'organizzazione; le bugie (quelle dette a Eddie su a cosa corrisponda la Luce e quelle dette da Eddie per non far insospettire Sarah sulle sue indagini per scoprire la verità); il sospetto: molto strano che nella situazione idilliaca che vuole essere fatta passare il sospettare sia la prima azione di tutti (Eddie verso l'organizzazione, Sarah verso Eddie, Cal verso Eddie). Non si dimentichi inoltre il simbolo, simile ad un occhio, che sembra osservare le azioni di Eddie in ogni frangente: esso è il simbolo della setta meyerista.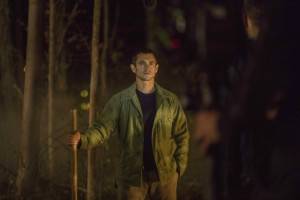 Questa puntata trasmette emozioni principalmente per la bravura degli attori (già impressionante l'interpretazione di Aaron Paul) e per l'intrigo creato dalla trama; va inoltre sottolineato l'ottimo connubio che The Path crea fra gli eventi e le musiche: lente, a tratti addirittura malinconiche, che potrebbero ricordare quelle della Chiesa ma che mirano ad evidenziare l'angoscia e i dubbi del protagonista Eddie. Neanche il momento del ritorno di Eddie dal Perù viene accolto da musiche trionfanti o allegre: questo la dice lunga sullo sviluppo drammatico a cui probabilmente assisteremo. Inoltre, fin dalla sigla The Path crea un notevole mix di ritmi lenti e accelerazioni, che saranno poi, insieme ai colori (nella sigla il giallo è il protagonista) riprodotti nella puntata. Tecnicamente, è notevole la scena d'apertura, in cui per circa 5 minuti le riprese permettono di sentire le urla di disperazione, di inquadrare le gambe dei soggetti in difficoltà, ma non ci mostrano le loro facce: un espediente che accresce la suspense e che se ben dosato può risultare l'arma in più della serie.
Fondamentalmente il pilot di The Path ha posto le basi per un'ottima serie tv, che potrebbe contare non solo sulla bravura dei suoi protagonisti ma anche su una trama ben sostenuta: la poca chiarezza mostrata nei primi 60 minuti si può trasformare in ansia di sapere e di conoscere. Siamo dunque in attesa di capire se riusciremo a vedere La Luce.