The Big Bang Theory è stata per anni una delle sitcom più viste, più amate, ma soprattutto più premiate. Sebbene la trama di fondo fosse prevedibile (il secchione che si innamora della ragazza bella ma stupida), la sitcom era riuscita a brillare di originalità unendo umorismo, scienza e un gruppo di personaggi buffi e stereotipati. E la formula si era mostrata vincente, finora…In questa nona stagione invece The Big Bang Theory sembra aver perso ciò che la caratterizzava ed ha finito per deludere i fan. Gli assi nella manica degli sceneggiatori non sono riusciti a salvare la nave dal naufragio. E pensare che era partita bene! La rottura con Amy aveva dato a Sheldon la possibilità di maturare e fare ammenda dei suoi errori ed il matrimonio di Leonard e Penny lo aveva messo di fronte all'obbligo di separarsi dal suo coinquilino e crescere. Sheldon stava per evolversi e le premesse per un grosso cambiamento c'erano tutte, ma alla fine tutto si è risolto in un nulla di fatto ed in troppe occasioni sprecate.
Voglio analizzare dunque insieme a voi cosa non mi ha convinto di questa nona stagione di The Big Bang Theory!
PERSONAGGI TROPPO SNATURATI O STATICI?
Ho sentito molto i fan della serie lamentarsi  dell'eccessivo snaturamento dei protagonisti che hanno smesso di essere i nerd impacciati e timidi che ci facevano tanto ridere. E' innegabile che sia così: Howard, l'immaturo ragazzino con uno strano rapporto con la madre, sta per diventare padre; Leonard ha sposato Penny; il timido Raj  non solo ha cominciato a parlare con le donne, ma si è persino fidanzato; Sheldon ed Amy sono andati a letto insieme. Questa evoluzione, però, a mio parere è più apparente che reale. La loro comicità infatti continua ad essere la stessa così come le situazioni, in cui sono calati, si ripetono sempre uguali. Che importa se Leonard si sia sposato se continua a vivere e litigare con il suo coinquilino? Cosa cambia se Howard sta per avere un bambino se continua ad essere l'immaturo di sempre? Non fraintendetemi: sono felice che restino gli stessi, ma vorrei che ci fossero delle novità che ci facciano ridere come un tempo. Pensate al personaggio di Stuart! Sono stata felice quando ho visto che in questa stagione gli era stata data una maggiore visibilità, ma mi sono presto dovuta ricredere: in fin dei conti non ha fatto altro che ripetere le stesse battute per ventiquattro episodi autocommiserandosi e piangendosi addosso all'infinito.
LA SCIENZA: LA GRANDE ASSENTE 
Finora The Big Bang Theory era stata innovativa ed originale per la sua capacità di unire scienza e gag comiche, ma sembra che questa unione vincente stia venendo meno. Le formule scritte alle lavagne ed i continui cenni alla scienza erano tanti da spingere gli autori ad assumere David Saltzberg affinché supervisionasse che tutti i riferimenti scientifici fossero esatti. Man mano che i quattro amici si sono integrati nel mondo mondano che li circondava, la scienza ha cominciato a sparire sempre di più ed in questa nona stagione in particolare ha fatto capolino poche volte. Sebbene vi siano state molte occasioni per parlare di questo argomento, non sono stati fatti che rapidi e sommari accenni. E' il caso del progetto di Howard di cui si è parlato in un paio di episodi e basta! E ricordate il dottor Cooper capace con i suoi complessi discorsi di scienza di mandare in confusione Penny e talvolta anche noi? Che fine ha fatto e da quando si è ridotto a fare Sheldon lo strambo?
ERRORI NELLA TRAMA
The Big Bang Theory ha sempre dato maggiore importanza alle gag rispetto alla trama, ammettiamolo. E' anche vero che in una sitcom si alternino episodi più divertenti ad altri più noiosi e piatti. Questo però non può giustificare il disastro che gli sceneggiatori hanno fatto in alcuni episodi. Volete qualche esempio? La madre di Leonard che lo ringrazia per non essere stata invitata al suo matrimonio e che dopo qualche episodio si mostra risentita per questo. Mary Cooper che non viene invitata al compleanno di Sheldon, ma che è presente alla cerimonia per il rinnovo delle promesse di Leonard e Penny. Penny e Leonard che litigano per il tradimento del ragazzo e poi fanno pace rapidamente senza un'apparente ragione. Ma potrei citare tantissimi altri esempi! Anche il triangolo amoroso di Raj poteva essere gestito decisamente meglio! Avremmo potuto vederlo districarsi, goffo com'è, in diverse situazioni imbarazzanti e arrancare per fare in modo che nessuna delle due ragazze sapesse dell'altra. E invece se ne è parlato per non più di due-tre episodi e Claire ha subito scoperto tutto. Nemmeno sappiamo se Raj abbia continuato a vedere Emily oppure no o se tenesse a Claire… Un'altra occasione sprecata!
Non possiamo però dimenticare che anche questa stagione ha riservato degli episodi validi e divertenti!
Se è vero che la scienza è sparita, per fortuna il mondo nerd ha ancora una grande spazio nelle vite dei nostri quattro amici! Abbiamo visto un episodio dedicato alla scomparsa di Leonard Nimoy, uno all'uscita del nuovo capitolo della saga di Star Wars, uno a Game of Thrones, uno a Suicide Squad, abbiamo visto Howard e Raj esibirsi in "Thor and Doctor Jones"… insomma Sheldon ed i suoi amici resteranno per sempre dei veri nerd!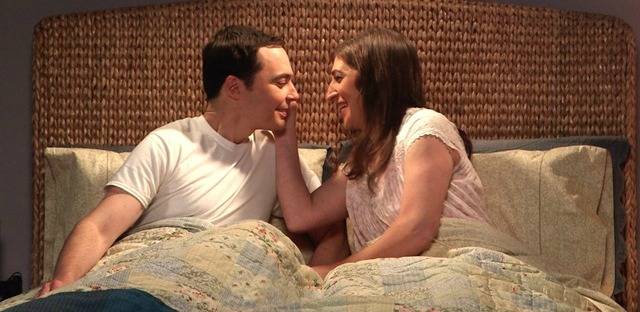 In alcuni episodi comunque ci sono state diverse scene che hanno risollevato lo show e dato un senso alla trama. Questa è stata la stagione in cui Penny e Leonard sono scappati a Las Vegas per sposarsi, quella in cui Bernadette ha scoperto di essere incinta e in cui finalmente Sheldon ed Amy sono andati a letto insieme! Ma anche la stagione in cui abbiamo potuto conoscere finalmente il padre di Leonard e la nonna di Sheldon, di cui avevamo tanto sentito parlare! Merita una speciale menzione anche l'addio al celibato di Leonard, Sheldon, Howard e Raj che oltre ad averci mostrato un addio al celibato in versione nerd con un episodio decisamente old style, ci ha anche fatto sentire Sheldon cantare i Queen!
Insomma queste sono le luci e le ombre di una stagione che poteva essere curata e sviluppata meglio, poiché da The Big Bang Theory ci aspettiamo un livello superiore. E' davvero la fine per la qualità di questa geniale e divertente serie? Speriamo di no, del resto c'è un'altra stagione in cui i produttori possono rifarsi e chiudere in bellezza questa sitcom che ha ridimensionato e reso popolare il mondo della scienza e dei nerd. Chuck Lorre confidiamo in te!
Grazie alle pagine The Big Bang Theory Italia – Fanpage, Kaley Cuoco Italian Fans, Le migliori frasi di The Big Bang Theory e Dr.Sheldon Cooper Italia!)