È di pochi giorni fa la notizia (ne abbiamo parlato qui) che sarà Jon Favreau a occuparsi della realizzazione della prima Serie Tv a tema Star Wars per la piattaforma di streaming Disney. Si tratta del caso più recente di un trend che negli anni sembra aver subito una netta inversione. È Hollywood a strizzare l'occhio e a fare la corte al piccolo schermo e non più viceversa. In principio fu David Lynch a compiere per primo il grande salto, dimostrando che è possibile realizzare prodotti d'autore anche per la TV. Oggi, dopo il boom degli anni 2000, sono tantissimi i registi che hanno accettato di calarsi nei panni dello showrunner e di dedicarsi a progetti televisivi.
Da Scorsese a Soderbergh, da Fincher al nostro Sorrentino. C'è un nome però che manca all'appello. Un autore che, a nostro modo di vedere, avrebbe tutte le carte in regola per realizzare una Serie degna delle sue pellicole più acclamate. Come avrete capito, parliamo di Quentin Tarantino.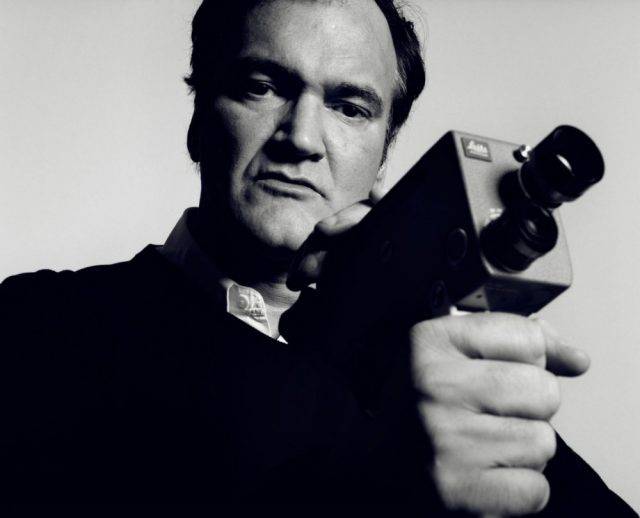 Sono anni in realtà che si fantastica più o meno concretamente riguardo a un ipotetico esordio del regista di Pulp Fiction nel mondo della serialità.
Qualche anno fa, in un'intervista rilasciata alla rivista francese Première, fu lo stesso Tarantino ad alimentare le voci, dichiarando di essere in possesso dei diritti di Forty Lashes Less One, romanzo western di Elmore Leonard. L'intenzione di Quentin, che da un'altra opera di Leonard (Rum Punch) aveva tratto il suo Jackie Brown, era quella di realizzarne un adattamento per una miniserie televisiva. Tuttavia, a oggi, il progetto sembra esser stato messo in naftalina. Come sempre con Tarantino i tempi saranno tutt'altro che brevi, visto e considerato che al momento è impegnato nella realizzazione del suo nono lungometraggio, Once upon a time in Hollywood.
Una volta conclusi i lavori di quest'ultimo, in uscita nell'agosto del 2019, non resterebbe dunque che un solo film da realizzare per Tarantino. La sua intenzione infatti è quella di dire basta col cinema una volta ultimata la sua decima pellicola. Sempre che non torni sui suoi passi, il Maestro ha affermato a più riprese di considerare giunta ai titoli di coda la sua esperienza da cineasta.
La regia è per i giovani, e personalmente mi piace l'idea di una filmografia di dieci film. Se a 75 anni avrò qualcosa da dire valuterò, ma dopo il ritiro ho intenzione di dedicarmi ad altro. Potrei scrivere pièce teatrali, libri. Invecchierò con grazia.
Si prospetta dunque un futuro all'insegna della scrittura per Tarantino, ed è risaputo quanto sia prolifico armato di carta e penna. Ogni sua sceneggiatura richiede anni di lavoro, litri di inchiostro e tonnellate di carta straccia. Per Bastardi senza gloria arrivò a scartare qualcosa come 500 pagine; materiale per una trilogia, o magari…per una Serie.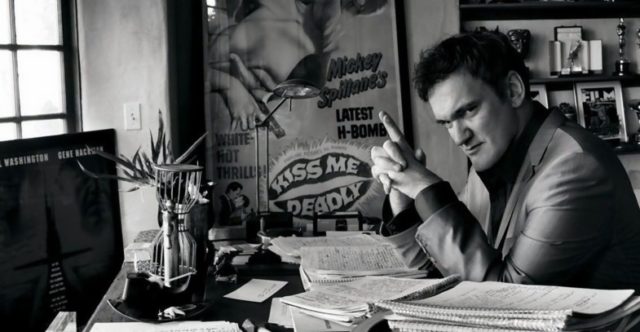 Diciamocela tutta: il modus operandi di Quentin sembra calzare perfettamente con quello dello showrunner. Ragioniamo per assurdo e immaginiamolo alle prese con uno show tutto suo. Lavorando su una Serie avrebbe modo di creare storie a più ampio respiro, senza essere costretto a cestinare tutto quel ben di Dio di materiale per rientrare nelle due ore imposte dai distributori del grande schermo. Avrebbe la possibilità di lavorare e sviluppare i propri personaggi in un arco narrativo potenzialmente infinito. Potrebbe farli crescere, raccontare il loro passato, ruotarne le vicende in diverse sequenze temporali, sbizzarrendosi con il montaggio e divertendosi a farci impazzire come in Pulp Fiction.
Immaginate poi la quantità di dialoghi leggendari, disseminati nel corso di episodi e stagioni. Immaginate cosa potrebbe ancora partorire con ore e ore da riempire la mente che creato icone del calibro di Mr. Wolfe, Hans Landa e il Maggiore Marquis. E il bello è che non servirebbero nemmeno budget stratosferici. Tutt'altro. Basterebbe un set minimalista da interni con un tavolo, due persone (in pieno stile The Booth at the End), una tazza di caffè. La penna del Maestro farebbe il resto. Qualora partecipassero al progetto alcuni dei suoi attori feticci, quali Samuel L. Jackson o Tim Roth, siamo certi che nessuno si opporrebbe.
In fondo si tratterebbe di riproporre in salsa televisiva ciò che Tarantino con Four Rooms già nel 1995 aveva brillantemente realizzato per il cinema. Magari con l'ausilio del sodale Robert Rodriguez o dei suoi numerosi figli e figliocci artistici proliferatisi nel corso degli anni.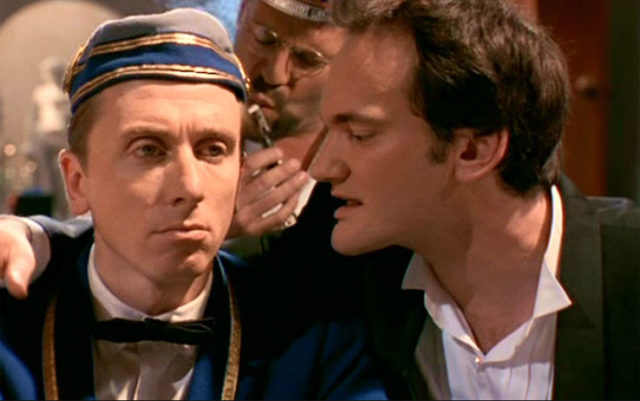 C'è un altro aspetto da considerare che sicuramente farebbe gola al Maestro. Dopo l'addio alla Miramax, per le note vicende legate ad Harvey Weinstein, Tarantino è riuscito a ottenere dalla nuova produzione il Final Cut su Once upon a time in Hollywood, ossia il controllo quasi assoluto sulla sua opera, in particolare sul finale. Com'è noto, fin dai tempi di Blade Runner sono i produttori ad avere il coltello dalla parte del manico. Sono loro a decidere se il finale funzioni o meno, se vada bene o vada rigirato in una certa maniera per venire incontro ai gusti del pubblico.
Questa libertà creativa ambitissima e non comune sul grande schermo, in quanto concessa una tantum solo ad artisti del suo calibro, non sarebbe neanche da discutere nel mondo televisivo. Il nostro Quentino avrebbe carta bianca e godrebbe della totale indipendenza senza neanche il minimo sforzo qualora si decidesse a produrre o a creare una Serie. Non ci sarebbero test screening o sessione di riprese aggiuntive imposte dall'alto in nessun caso. Anzi, siamo certi che HBO, Netflix e Amazon farebbero carte false per accaparrarsi il primo prodotto televisivo a firma Quentin Tarantino. A qualsiasi cifra e qualsiasi condizione. Probabilmente non ci sarebbe neanche il tempo di accomodarsi al tavolo della trattativa.
Tra l'altro non sarebbe neanche un esordio assoluto quello del cineasta sul piccolo schermo, visto e considerato che già un paio di volte ha messo la firma su due tra gli show più noti di fine anni 90 ed inizio 2000.
Per chi non ne fosse a conoscenza, nel 1994 diresse l'episodio 1×24 di ER. Una regia chirurgica e pulita, come il Dr Ross del suo amico George Clooney, condita ugualmente con qualche virtuosismo come lo splendido piano sequenza dei titoli di testa:
Non si limitò invece a star dietro la macchina da presa quando dopo circa dieci anni tornò in Tv a scrivere e dirigere il finale della quinta stagione di CSI. Grave Danger (Sepolto vivo in italiano) è un doppio episodio da 90 minuti totali, un autentico gioiello che Tarantino, da tempo fan della Serie, volle regalare agli amanti di Grissom e soci.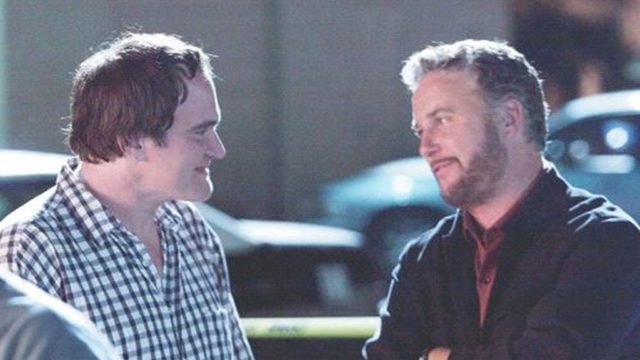 Insomma, non sappiamo una volta conclusa (sempre che mantenga la parola) la sua carriera cinematografica cosa ne sarà del Maestro e della sua arte. Possiamo solo sperare che segua prima o poi l'esempio dell'amico e collega Aaron Sorkin, premio Oscar e autore della sua Serie preferita in assoluto, The Newsroom. Pensaci Quentin, noi in ogni caso ti aspetteremmo a braccia aperte.