C'era una volta un modo sano ed equilibrato di guardare le Serie Tv. Seriamente: ma vi ricordate cos'era aspettare impazienti l'appuntamento del pomeriggio televisivo, con l'ansia di fare tardi e perdersi la puntata giornaliera?
Sicuramente il santo streaming ha salvato ogni Serie Tv addicted dal pericolo del non sapere mai come continuava il proprio telefilm preferito. Ma un caro prezzo: il binge watching, nemico naturale delle nostre teste doloranti e l'incubo degli occhi stanchi e sofferenti.
E visto che, come ci disse il caro Ulisse, fatti non foste a viver come bruti, ognuno di noi sa esattamente come reagire a questa tentazione: cedendovi.
Perciò ecco 10 Serie Tv che ho finito nel giro di una settimana.
1) How To Get Away With Murder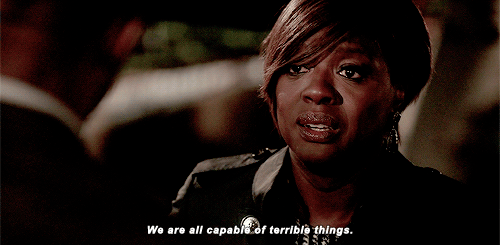 Al primo posto della mia lista non possono assolutamente mancare Annalise Keating e la sua squad. Perché se si ha fortuna/sfortuna di inziare questa Serie Tv quando ormai almeno una delle sue stagioni è già conclusa, allora non c'è niente che possa fermarci: il binge watching è assicurato.
Nello specifico, ho iniziato How To Get Away With Murder poco dopo la fine della sua season two. In piena sessione d'esami. E si sa che le storie di Annalise e dei suoi sottoposti sono così assuefanti che è semplicemente impossibile staccarsi dallo schermo anche solo per una pausa bagno. Figurarsi scegliere coscienziosamente di rimandare a momenti migliori la visione dell'episodio successivo.
Così, a distanza di più di un anno, nel scrivere questo articolo non ho davvero nessun rimpianto (in pieno stile 883), solo una scomoda domanda: ma come ho fatto a trattenermi e far durare la maratona per ben una settimana, e non concluderla prima?